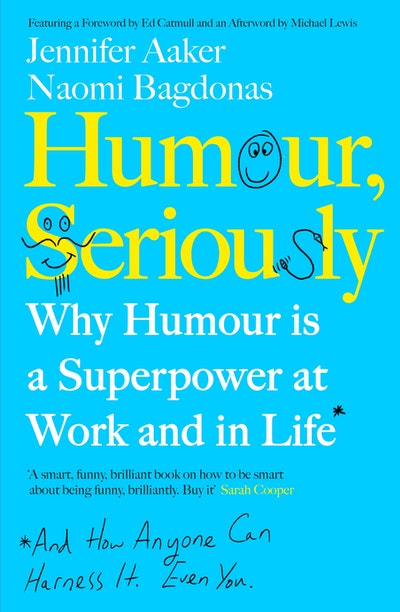 Published:

17 September 2020

ISBN:

9780241986813

Imprint:

Penguin eBooks

Format:

EBook

Pages:

272
Humour, Seriously
Why Humour Is A Superpower At Work And In Life
---
---
---
Humour is a superpower in business. If you're not using it, the joke's on you!
Some people think the workplace is no place for funny business. But a recent survey of more than 700 CEOs showed that 98% prefer job candidates with a sense of humour, and 84% think that funny employees do better work.
Psychologist Dr Jennifer Aaker and comedian Naomi Bagdonas' research has shown that humour makes us feel more competent and confident, strengthens relationships and boosts resilience during difficult times.
Based on their popular course "Humour: Serious Business" at Stanford's Graduate School of Business, (where they help some of the world's most hard-driving, blazer-wearing business minds build levity into their organizations and lives), Humour, Seriously will show you how to use humour to:
· enhance creativity and problem-solving
· influence and motivate others
· increase likability and status
· build bonds and defuse tension within teams
· create a culture where colleagues feel safe, appreciated and joyful

If you think being funny is unprofessional, think again. Humour is the most under-leveraged tool for power in the working world. No joke!
Published:

17 September 2020

ISBN:

9780241986813

Imprint:

Penguin eBooks

Format:

EBook

Pages:

272
Praise for Humour, Seriously
Humour is magical. It can make fear and pomposity vanish and creativity and resilience appear in their place. The ultimate guide to using the magical power of funny as a tool for leadership and a force for good, Humour, Seriously is an intoxicating mix of science, strategy, and slapstick - a knee-slapping, mind-expanding tour de force

Daniel H. Pink, #1 New York Times-bestselling author of When,, Drive, and A Whole Mind
A smart, funny, brilliant book on how to be smart about being funny, brilliantly. And I'm not just saying that because they say I am smart, funny, and brilliant in it. Buy it

Sarah Cooper, Comedian and author of 100 Tricks To Appear Smart In Meetings
I've learned (often the hard way) that the best way to be taken seriously is to not take yourself too seriously. My teams are always at their best when approaching problems with levity, which entails both humility and optimism and always engenders trust. Plus, it's more fun - like this book!

Eric Schmidt, former CEO and Executive Chair of Google (Alphabet)
A sharp, incisive, and genuinely funny read. Humour, Seriously translates the knowledge of the world of comedy to tools that actually work in the world of business

Anne Libera, Director of Comedy Studies at The Second City
If you think your workplace would work better if everyone laughed more, this is your playbook

Chip Heath, #1 New York Times-bestselling author of Power of Moments
I've always used humour as a secret weapon at Spanx. Jennifer and Naomi make a scientific case for the importance of humour and show it's an incredible way to connect with customers and build culture. This book will help anyone embrace the power of laughter

Sara Blakley, Founder and CEO of Spanx
Humour is an act of social courage that, when used correctly, has a transformative effect. Humour, Seriously gives us the tools we need to deploy humour expertly in any environment

Susan Cain, #1 New York Times-bestselling author of Quiet
Eye-opening, hilarious, and absolutely original, Humour, Seriously will change the way you think on the job, about the world, and in your life

Leslie Blodgett, Founder and former CEO of Bare Essentials
Of all the known ways to ruin humour, the most common start with the words 'research,' 'analyze,' and 'professor.' The bad news is that this book features all of those words. Prominently. The good news is that against all odds, you'll actually have fun reading it. It probably won't turn you into Ali Wong, Dave Chappelle, or Hannah Gadsby, but it will give you a much deeper appreciation of how they think-and teach you some new ways to make people laugh

Adam Grant, New York Times-bestselling author of Originals and Give And Take, host of the TED podcast WorkLife
In this eye-opening, important and utterly enjoyable book, Jennifer Aaker and Naomi Bagdonas use science to explain how humour at work (and in life) helps alleviate stress, anxiety, and burnout. Come for the humour, stay for the insights

Arianna Huffington, co-founder of The Huffington Post and CEO of Thrive Global
If this book and Brad Pitt walked into a bar, and I could only pick one, I'd take the book home with me

Nancy Lublin, Former CEO, Crisis TextLine and DoSomething.Org
Jennifer Aaker and Naomi Bagdonas have written a remarkable book for a remarkable moment in history. I long ago learned that when weighed down by serious matters, one may best be taken seriously by seeking out a certain light-heartedness as an expression of humility, optimism and confidence on the road to the serious business of nurturing trust and leading others

Joel Peterson, Chairman of Jetblue Airways
This myth-busting, grin-inducing, data-driven humdinger of a book simply nails what I've clung on to for years: that humour can be more than ephemeral entertainment. When appropriately curated, it creates the right culture for success. In fact, its absence should be a cause for concern. You may eat your five a day and walk ten thousand steps but when did you last check if there was enough laughter in your life, in your team, in your business? If you had a centuries-old tried and tested tool that enhances rapport, creativity, collaboration, resilience, leadership, mental and physical health, sales and more - why wouldn't you use it?

Neil Mullarkey Author, speaker, improviser and Co-founder, London's Comedy Store Players
I've been a comedian for ages, and this book has finally convinced me that joking around can actually be important and helpful.

Ed Gamble