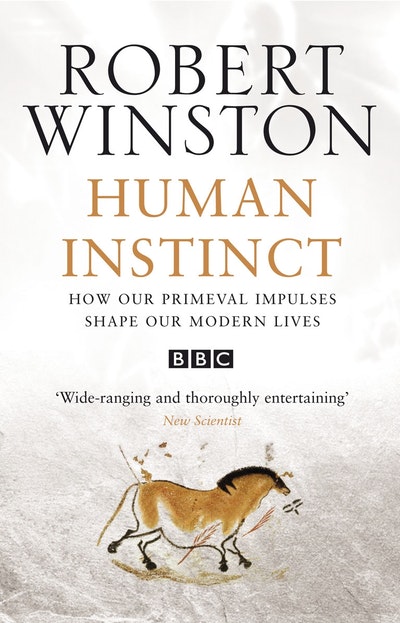 Published:

31 May 2011

ISBN:

9781446486412

Imprint:

Transworld Digital

Format:

EBook

Pages:

432
Human Instinct
---
---
---
How our primeval impulses shape our modern lives.
From caveman to modern man ...
Few people doubt that humans are descended from the apes; fewer still consider, let alone accept, the psychological implications. But in truth, man not only looks, moves and breathes like an ape, he also thinks like one.
Sexual drive, survival, competition, aggression - all of our impulses are driven by our human instincts. They explain why a happily married man will fantasize about the pretty, slim, young woman sitting across from him in the tube and why thousands of people spend their week entirely focused on whether their team will win their next crucial match.
But how well do our instincts equip us for the twenty-first century? Do they help or hinder us as we deal with large anonymous cities, stressful careers, relationships and the battle of the sexes? In this fascinating book, Robert Winston takes us on a journey deep into the human mind. Along the way he takes a very personal look at the relationship between science and religion and explores those very instincts that make us human.
Published:

31 May 2011

ISBN:

9781446486412

Imprint:

Transworld Digital

Format:

EBook

Pages:

432
Praise for Human Instinct
Wide-ranging and thoroughly entertaining

New Scientist
Wide-ranging and thoroughly entertaining

New Scientist
Wide-ranging and thoroughly entertaining

New Scientist
Wide-ranging and thoroughly entertaining

New Scientist
Devastaingly good...Every chapter bursts with clear logic, style, wit and imagination.

Brian May, Guitarist for Queen
Devastaingly good...Every chapter bursts with clear logic, style, wit and imagination.

Brian May, Guitarist for Queen
Devastaingly good...Every chapter bursts with clear logic, style, wit and imagination.

Brian May, Guitarist for Queen
Devastaingly good...Every chapter bursts with clear logic, style, wit and imagination.

Brian May, Guitarist for Queen