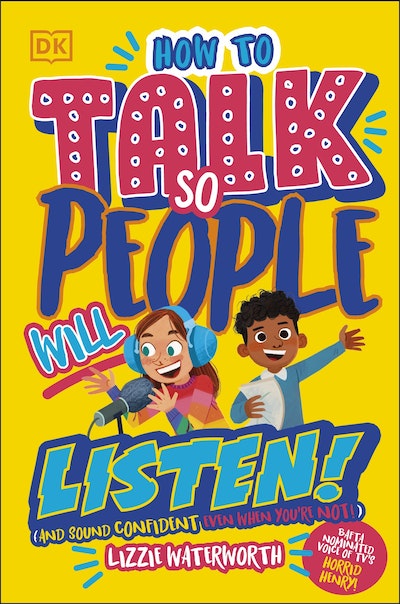 Published:

7 November 2023

ISBN:

9780241623459

Imprint:

Dorling Kindersley

Format:

Paperback

Pages:

176

RRP:

$22.99
How To Talk So People Will Listen
And Sound Confident (Even When You're Not)
---
---
---
Learn how to feel confident and own any public speaking scenario
Find your voice and own the room, even when your legs are shaking!
Professional cartoon voice artist Lizzie Waterworth tells you all about her strategies for confident speaking, from breathing exercises to what to do with your hands, and how to conquer that pesky inner voice that whispers "what if...?".
Packed with funny stories from Lizzie's world of cartoons, and top tips from a host of professional voice artists and public figures, such as Stephen Fry, David Menkin, and BBC presenter Ben Shires, this book is full of practical advice to help you find your voice!
'We teach our children reading and writing but we forget listening and speaking, which are essential life skills. Lizzie brilliantly fills that gap for speaking in this fun, easy to read manual for children of all ages (and parents too!). Every child should have this!' - Julian Treasure, top-10 TED speaker and author of How To Be Heard
'The book looks really brilliant - I will definitely be using it for homework sessions with my younger ones.' - Dr Natalie Cawley, counselling psychologist and psychotherapist
'Lizzie has a terrific way of helping folks overcome natural fears about speaking in front of others, and this book very much captures her spirit and energy. In How to Talk so People Will Listen, she draws on her professional knowledge and experience to treat the topic seriously while also making it fun.' - James Tierney, Yale University English Language Programs
'This book is perfect for helping young ones learn essential skills and grow self-confidence all whilst having fun reading!' - Claudia Dalley, Head of POP Channels
'This book is great because it's instructional without being full of jargon...and it's funny too! Definitely one for children and adults even!' - Monique Berry, Headteacher
'It's like a cartoon on the outside and inside the playfulness continues. I really think this book is an invaluable resource. Although this book is designed for young people, Lizzie's advice is applicable to people of any age.' - Ranny Levy, Founder and President, KIDS FIRST! / Coalition for Quality Children's Media
Published:

7 November 2023

ISBN:

9780241623459

Imprint:

Dorling Kindersley

Format:

Paperback

Pages:

176

RRP:

$22.99