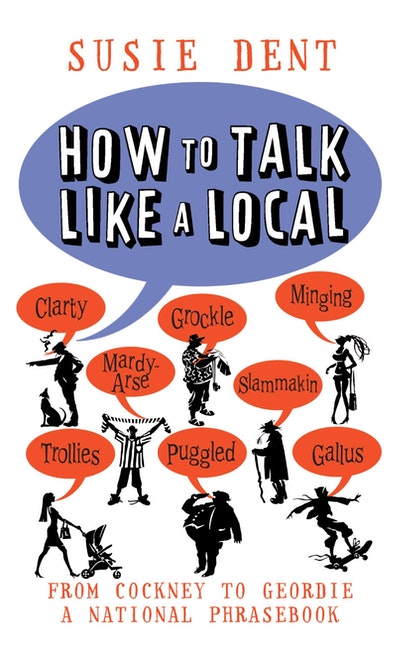 Published:

1 July 2010

ISBN:

9781409061946

Imprint:

Cornerstone Digital

Format:

EBook

Pages:

256
How to Talk Like a Local
From Cockney to Geordie, a national companion
---
---
---
The first collection of local words and phrases to take in every region of the country
If you were a Londoner visiting Cornwall would you know how to recognise a grammersow?
If you were from the West Country and took a trip up to Scotland, would you be bewildered if someone described you as crabbit?
And what if you left your native Belfast for Liverpool, would you understand if someone called you a woollyback?
How to Talk Like a Local is an entertaining guide that gathers together and explains hundreds of words that you would never find in an ordinary dictionary. From dardledumdue, which means day-dreamer in East Anglia, through forkin robbins, the Yorkshire term for earwigs, to clemt, a Lancashire word that means hungry, it covers the enormously rich variety of regional words that pepper the English language.
Not only does it pick out unique and unusal local words, it also draws together the dozens of terms from all over the country that mean the same thing, such as knee-knabbed, crab-ankled and hurked-up for knock-kneed, and obzocky, butters and maftin for ugly. In addition, it digs down to uncover the origins of these words, tracing their routes in to the language. Many terms meaning left-handed, for example, are related to the Kerr family of Ferniehirst Castle in Scotland, who preferred left-handed warriors. And many seemingly new coinages have been around for centuries, such as chav, which derives from a Romany word meaning child, or scouse, which probably comes from lapskaus, a Norwegian word for a sailors' stew.
If you're intrigued by these colourful words and phrases, if you're interested in how English is really spoken, or if you want to discover how our language has evolved over the years, How to Talk Like a Local will prove irresistible - and enlightening - reading.
Published:

1 July 2010

ISBN:

9781409061946

Imprint:

Cornerstone Digital

Format:

EBook

Pages:

256