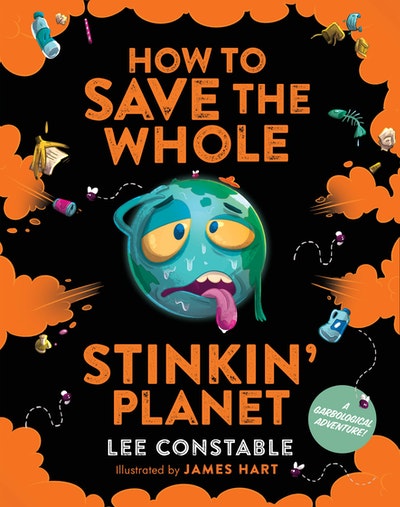 Published:

4 June 2019

ISBN:

9781760890261

Imprint:

Puffin

Format:

Paperback

Pages:

256

RRP:

$19.99
How to Save the Whole Stinkin' Planet
A Garbological Adventure
---
---
Let's go on a journey – it's going to be stinky, sticky and pretty gross, but if you want to be a waste warrior it's the most important journey you'll ever take.
How to Save the Whole Stinkin' Planet will take you on a garbological adventure like no other. From diving into the rubbish bin and delving into landfill, to rummaging through the recycling and digging about in compost.
As a waste warrior in training, you will earn badges as you work your way through each chapter, completing activities, DIYs and eco-experiments. Every part of this training will enhance your understanding of waste management and the impact our household rubbish is having on the (stinkin') planet.
Published:

4 June 2019

ISBN:

9781760890261

Imprint:

Puffin

Format:

Paperback

Pages:

256

RRP:

$19.99
Praise for How to Save the Whole Stinkin' Planet
This book succeeds masterfully in demonstrating to kids the many ways they can reduce their carbon footprint, while also having a good giggle.

Amelia Lush, The Guardian
There are hands-on activities and simple explainers on waste science that bring it all together so that everyone can learn to be Waste Warriors.

Heather Zubek, West Australian
. . . Constable and Hart have done a marvellous job of creating a book crammed with information and activities that are interesting, inventive and appealing to young minds.

Mic Macrossan, Magpies
This is an excellent classroom and home resource complete with a Grossary, written and illustrated with humour to both teach and entertain.

Sandy Fussel, Sunday Telegraph
With short quizzes, small eco-experiments and imagined journeys into stinking heaps of rubbish or along recycling conveyor belts, this is a simple but effective educational approach which utilises humour that would appeal to young readers.

Carolyn Hull, Read Plus
This is probably the best book I've encountered for proactively motivating and engaging young readers on environmental issues. Captain Garbology rules, so join her and get amongst it!

Robert O'Hearn, Booktopia
This is an excellent guide for children who are keen to make a difference and shape the future of our fragile world. It contains scientific knowledge (in readily understandable format), DIY projects, and suggestions for action plus loads more.

Sue Warren, Just So Stories
A mix of scientific facts and practical activities encouraging children to become 'Waste Warriors'. A funny, gross approach to talking all things rubbish and waste, starting with your own home.

Lisa Harvey-Smith, Female.com.au