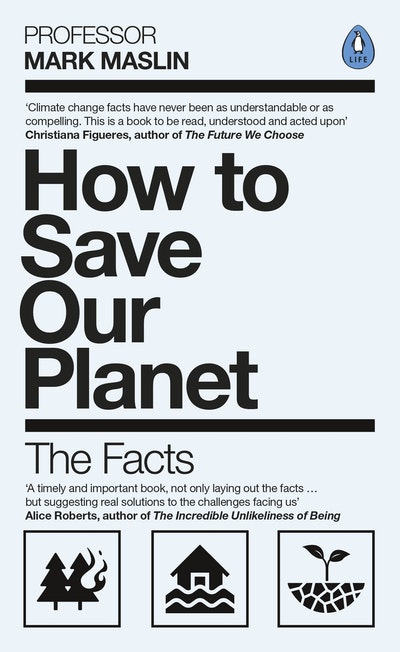 Published:

22 April 2021

ISBN:

9780241472538

Imprint:

Penguin eBooks

Format:

EBook

Pages:

256
How To Save Our Planet
The Facts
---
---
---
The ultimate handbook of irrefutable facts for saving the planet and fighting against climate change.
How can we save our planet and survive the 21st century? How can you argue with deniers? How can we create positive change in the midst of the climate crisis? Professor Mark Maslin has the key facts that we need to protect our future.
Global awareness of climate change is growing rapidly. Science has proven that our planet and species are facing a massive environmental crisis. How to Save Our Planet is a call to action, guaranteed to equip everyone with the knowledge needed to make change.
We need to deal with: climate change, environmental destruction, global poverty and ensure everyone's security. We have the technology. We have the resources. We have the money. We have the scientists, the entrepreneurs and the innovators. We lack the politics and policies to make your vision of a better world happen.
Thisis your go-to handbook for saving our precious planet. From the history of our planet and species, to the potential of individuals and our power to create a better future, Maslin inspires optimism in these bleak times. It's time to face the facts and save our planet from, and for, ourselves.
Published:

22 April 2021

ISBN:

9780241472538

Imprint:

Penguin eBooks

Format:

EBook

Pages:

256
Praise for How To Save Our Planet
How to Save Our Planet: The Facts is a much needed evidence-based handbook and rallying cry for urgent climate action. Professor Mark Maslin unfolds the magnitude of what humans have done to our precious planet while pointing to how we can solve the climate emergency before it is too late

Jennifer Morgan, Executive Director, Greenpeace International
Climate change facts have never been as understandable or as compelling as in Professor Maslin's book. This is a book to be read, understood and acted upon

Christiana Figueres, former Executive Secretary of the United Nations Framework Convention on Climate Change (UNFCCC) 2010-2016, author of The Future We Choose
Mark Maslin is an environmental pathologist stripping away the superfluous and cutting to the very heart of the problem with a brilliant clarity. This book is a roadmap to recovery for humanity, informing and inspiring in equal measure. It is a book every human needs to have to hand as we tackle this crisis head on

Bella Lack, Conservationist and Environmental Activist
Mark Maslin's book is a fact-bomb, one that blasts through climate denial to clear a path for action on the greatest threat that our planet faces

Roger Highfield, Science Director, Science Museum
Ideological debates on Global Warming often produce a fog of confusion in public life. This book cuts through that fog and suggests a way forward. The handy list of salutary and indisputable facts that Maslin has assembled here will ensure that How to Save Our Planet will serve as a much-needed guidebook that will help us negotiate our disorienting times

Dipesh Chakrabarty, author of The Climate of History in a Planetary Age (forthcoming March 2021)
A timely and important book, not only laying out the facts - what we know and how we know it - but suggesting real solutions to the challenges facing us

Professor Alice Roberts, Anatomist, author & broadcaster, Professor of Public Engagement in Science, University of Birmingham
A compelling and crystal clear narrative. By marshalling all the facts, by giving a reference for every single one of them, he has made this slim volume both a sword of truth and the doorway to a much deeper understanding of the facts

Vivienne Parry OBE, Writer and broadcaster
A valuable resource, in that epic struggle, now underway, to head off apocalypse. Mark does not pull punches about the nightmare that we are staring down the barrel of. He is helpfully clear that we cannot now prevent disasters: they are here, and we are going to have to adapt to a rising tide of them. He is right that there is enormous scope for us to act, collectively, to slow down that rising tide - and even perhaps, even now, to create an ecotopia on Earth

Prof. Rupert Read, former Extinction Rebellion spokesperson; author, PARENTS FOR A FUTURE, and co-author, FACING UP TO CLIMATE REALITY
From the big bang to the future of our fast-warming world, Mark takes us at breakneck speed through the ways humanity is shaping the planet, and presents with amazing clarity steps everyone can take to make the world a better place

Will McCallum, Head of Oceans at Greenpeace UK and author of How to Give Up Plastic
There are some books which are important, and there are others which are a necessity. This is certainly the latter. It's powerful, honest and really cleverly written. I am left feeling more informed of the solutions and more empowered to make a difference

Megan McCubbin, Wildlife TV Presenter BBC Springwatch, Zoologist, photographer
A book for anyone who needs a crash course on the condition of our planet and what can be done about it, and it offers a perfect balance of climate realism and climate optimism

Jamie Margolin, Climate Justice Activist and Zero Hour Founder & Co-Executive Director
Professor Mark Maslin has produced what is an essential guide to climate solutions and a must for all our communities in order to tackle the minefield of climate action

Mya-Rose Craig, Birdgirl, Founder & President Back2Nature
More than anything this book is about empowerment. A reminder that facts and action matter, and that every one of us can make a difference. Professor Maslin has packed a rucksack for change. Pick it up and let's go save our planet!

Peter C. Kjærgaard, PhD, FLS Museum Director & Professor of Human History
A brilliantly crafted book that addresses one of the huge issues underlying the climate crisis: having the right tools and knowledge to clearly communicate facts, counter misinformation and offer up solutions. So we can effectively spread the word about how to collectively fix our planet

Edzard van der Wyck, CEO & Co-Founder Sheep Inc.
In a strikingly original and accessible format, Mark Maslin's book provides a fascinating collection of the most important facts about the climate crisis and how to tackle it

Prof. Peter Stott, leader of the Climate Monitoring and Attribution team at the Hadley Centre for Climate Prediction and Research at the UK Met Office
Fascinating, terrifying, but ultimately hopeful, How To Save Our Planet is an important call to arms for the most important battle of all - the fight to secure our future. It injects much-needed clarity and offers practical advice for a problem that for many of us has felt too complex and overwhelming to face, let alone fix. Saving the world is no small thing, but picking up this book's a good start

Paris Lees, Contributing Editor at British Vogue, campaigner
Don't let anyone tell you climate change is an insoluble problem. It can be solved, and in time to avoid the worst impacts. In this vital book Mark Maslin - punchily and entertainingly - tells us how

Mark Lynas, author of OUR FINAL WARNING: SIX DEGREES OF CLIMATE EMERGENCY
A handbook of clearly established, authoritative facts and figures about the terrible toll we as humans have taken of our planet, plus ways in which we can lessen the impact. For laypeople like me, who can see what is happening but haven't always got the precise statistics to hand, it's hugely valuable. I think everyone should read it and absorb its contents: sobering, certainly, and more than a little frightening, but at least we won't be able to claim ignorance as we blunder on our destructive way

John Simpson CBE, BBC World Affairs Editor, Broadcaster, Author & Columnist
The facts should speak for themselves, but we hardly ever let them. Each line of Mark Maslin's brilliant and comprehensive accounting offers a mesmerizing glimpse of humanity's appetite and ambition, blindness and brutality and capacity for self-destruction. Perhaps, one hopes, self-renewal, too. For that, we will have to wait and see, but How to Save Our Planet is an eye-opening start

David Wallace-Wells, author of 'The Uninhabitable Earth'
This book is for everyone. Climate change is happening to us all and we all have a responsibility to understand what is going on to be able to make a difference, this book is your quick and accessible guide to understanding the science and what it's going to take for each and every one of us to save our planet

Sara Essa, Founder of Sustainability Hub & Sustainability Club on Clubhouse
I love it. My kids love it

Chris Evans, Virgin Radio Breakfast Show
Everyone should have this book

Rick Edwards, BBC Radio 5 Live
Amazing book

Chris Evans, Virgin Radio Breakfast Show
A no-nonsense crib sheet on the state of the world and how to help it

The I Newspaper
If his book falls into the hands of the powerful then it could just save the planet. At the very least, it will provide some thought-provoking facts

The I Newspaper
Punchy and to the point. No beating around the bush. This brilliant book contains all the information we need to have in our back pocket in order to move forward

Christiana Figueres, author of The Future We Choose