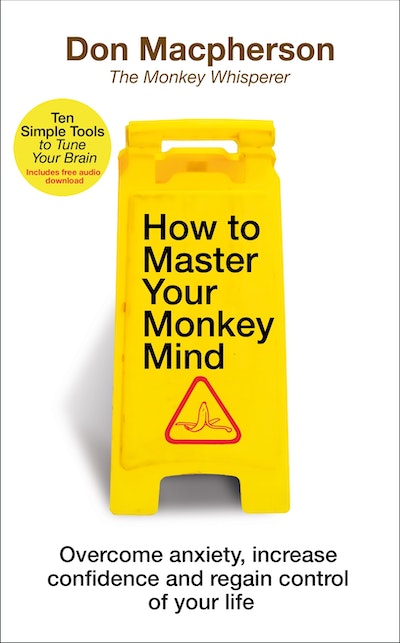 Published:

30 March 2021

ISBN:

9781787633575

Imprint:

Bantam Press

Format:

Trade Paperback

Pages:

256

RRP:

$35.00
How to Master Your Monkey Mind
Overcome anxiety, increase confidence and regain control of your life
---
---
---
One of Britain's leading mind coaches shares ten tools to tune your brain and regain control of your life.
- 'An excellent book that will be of great benefit to those who feel lost and overwhelmed. Don Macpherson has a gift for guiding us gently back to the path.' DAMON HILL OBE, 1996 Formula One World Champion
- 'I guarantee this book can help everyone in some shape or form.' ANTHONY WATSON, England Rugby International
Are you a worrier?
Do stress and anxiety cloud your mind?
Do you ever really sleep properly?
For the first time, in this book, renowned mind coach Don Macpherson will share his ten simple tools to help you turn down the volume on the negative chatter in your head and take back control of your life.
With more than 25 years' experience in his field, his techniques have turned around the performances of countless elite sports stars from the worlds of Formula One, rugby union and tennis.
Don will show you how to find your inner confidence, be more assertive and change your life for the better.
*Includes FREE audio download*
Published:

30 March 2021

ISBN:

9781787633575

Imprint:

Bantam Press

Format:

Trade Paperback

Pages:

256

RRP:

$35.00
Praise for How to Master Your Monkey Mind
More and more of us are realising that we need some help to make sense of ourselves and our world. The problem is that the human condition is so massively complicated that the solution can seem ultimately unfathomable. You could read every book under the sun and be none the wiser. But do not despair! You may need to read just one! It is a massive relief to find someone like Don MacPherson who has a gift for guiding us gently back to the path. He does it brilliantly. He makes it all seem so simple and achievable in his own unique, reassuring and gently humorous way. This is an excellent book that will be of great benefit to those who feel lost and overwhelmed. Just take it one chapter at a time. And everything will be OK.

Damon Hill OBE and 1996 Formula One World Champion
I guarantee this book can help everyone in some shape or form.

Anthony Watson, England Rugby International
One area people don't invest enough time in these days is the mental side... Don gives you the tools to go away and use, to ensure you're training your brain... The tools he has given me have helped me massively as a player on the field.

George Ford, England Rugby International
I found Don's work truly beneficial and his knowledge of the pro sportsperson's mind impressive... Don has the ability to understand and navigate what can be a minefield of distractions and issues.

Pat Cash, 1987 Wimbledon Champion
I am now calmer, cooler... In taming my monkey mind, Don has brought me to heights that I didn't think I would ever reach, not only in tennis but in life.

Coco Vanderweghe, US Grand Slam Doubles winner and twice Grand Slam Singles semi-finalist
Don's practices of achieving mental clarity have stayed with me every time that I have stepped into a race car for the past five years, as well as on a daily basis in my normal life. I can truly say that I wouldn't be where I am today without his help.

Alexander Rossi, American IndyCar Racer and winner of the Indy 500
My sessions on meditation, breathing, visualization, are still clearly in my mind and these are my assets even now. I believe these techniques are useful not only in extreme conditions but also on a daily basis... I hope this book will find many people who need help!

Kazuki Nakajima, Formula One Driver and three-time 24-Hours of Le Mans winner
Quite simply, Don knows what works and what doesn't, so you can trust his advice, just as some of the world's most successful athletes have.

Dr Kerry Spackman, Cognitive Neuroscientist
Don gave me Tools and helped me to enjoy life more and to be a better person.

Mike Ford, Leicester Tigers coach and former England and Ireland Rugby Union coach
Whether it is performing at the top of your game through visualisation or coping with adversity, Macpherson is providing a player with the tools to help himself as he outlines in his book How to Master Your Monkey Mind.

Daily Telegraph