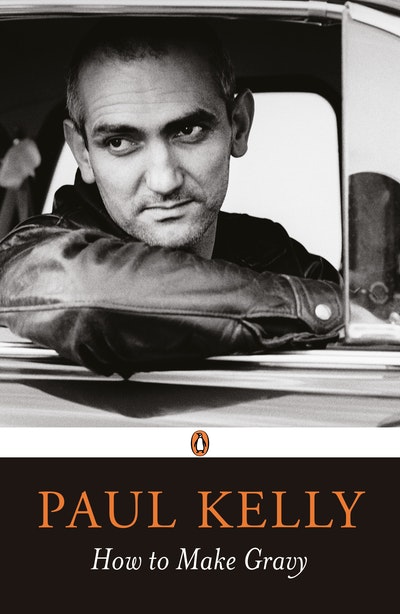 Published:

3 December 2018

ISBN:

9780143795995

Imprint:

Penguin

Format:

Paperback

Pages:

576

RRP:

$24.99
How to Make Gravy
---
---
---
A memoir in a hundred songs – classy storytelling from Australia's most prodigious singer-songwriter.
Paul Kelly is a uniquely gifted storyteller. For thirty years he has written songs of uncommon directness about everything from love and land rights to cricket and cooking. 'Before Too Long', 'To Her Door', 'Leaps And Bounds', 'Don't Start Me Talking', 'Dumb Things', 'From Little Things Big Things Grow', 'How To Make Gravy' – his songs connect generations of listeners across the country.
In a memoir that has been greeted with acclaim by critics and adulation by fans, Kelly takes the lyrics of his songs as starting points to tell the stories of his life – the highs and lows of performing, the art of songwriting, being on the road with the band, tales of his childhood, family, friends and fellow musicians. All illuminate Kelly's wide sources of inspiration, offering an unequalled portrait of the creative mind.
Playful and honest, insightful and intimate, How To Make Gravy is an irresistible reflection on both the big and little things in life.
Kelly's specially recorded versions of the A to Z songs, stripped back to their essentials as solo or duo performances, are available digitally and in a companion CD boxed set that included a 64-pages booklet of photographs.

'A carnival of ideas . . . The flavour of Kelly – his openness and honesty and passion for the detail of life – he suffuses the book . . . The closest we've come to an insight into the thoughts and work methods of this great poet.' Weekly Review
'The pre-eminent writer of his generation. His body of work stands against any novelist, playwright or filmmaker as the definitive narrative of recent decades.' Weekend Australian

'Perhaps the finest and most unflinching autobiography ever written by an Australian musician.' Noel Mengel
Published:

3 December 2018

ISBN:

9780143795995

Imprint:

Penguin

Format:

Paperback

Pages:

576

RRP:

$24.99
Australian Book Industry Awards
Winner • 2011 • Biography of the Year
Australian Book Industry Awards
Shortlisted • 2011 • Book of the Year
Indie Award
Shortlisted • 2011 • Non-Fiction
Nielsen BookData Booksellers Choice Awd
Shortlisted • 2011 • Prize for Writing for Young Adults
Prime Minister's Literary Award
Shortlisted • 2011 • Non-Fiction
National Biography Award
Shortlisted • 2012 • Prize for Writing for Young Adults
NSW Premier's Literary Awards
Shortlisted • 2012 • Douglas Stewart Prize
Melbourne Prize for Literature
Shortlisted • 2013 • Best Writing Award
Article