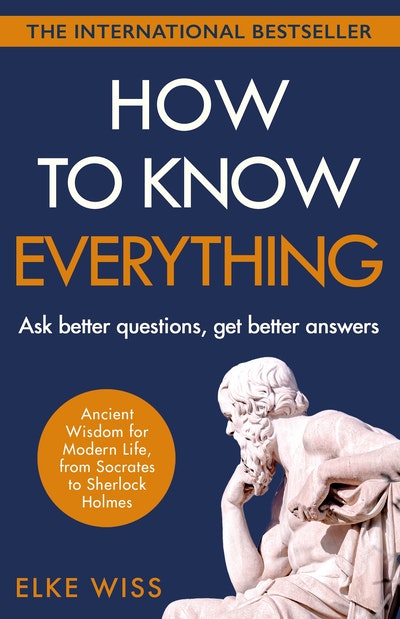 Published:

15 June 2021

ISBN:

9781787467682

Imprint:

Arrow

Format:

Paperback

Pages:

320

RRP:

$22.99
How to Know Everything
Ask better questions, get better answers
---
---
---
Learn how to sharpen your thinking, bridge difficult divides, and deepen your relationships with Elke Wiss's internationally bestselling guide to asking better questions.
The international bestseller that will sharpen your mind, broaden your perspective and transform your relationships.
_____________________________________________________
WHY ARE WE SO BAD AT ASKING GOOD QUESTIONS?
In an increasingly polarized world, asking better questions in our daily and working lives is a radical shortcut to personal and professional success. It can create space for us to rethink our positions, find answers together, and even change our minds for the better.
Drawing on the lessons of Socrates and other great thinkers, practical philosopher Elke Wiss lays out an essential toolkit to help you:
· Transform debates into dialogues
· Embrace your doubts like a true philosopher
· Ditch your ego and become an active listener
· Discover an open and curious Socratic attitude
· Learn Sherlock Holmes's powers of observation
· Open conversations up or dig down deeper with key question types
· Explore thorny issues and avoid classic question pitfalls
· Face your fear of asking and start connecting
The right questions can unlock the answers to anything - and help you know everything, without being a know-it-all.
_____________________________
WHAT READERS ARE SAYING:
'Read this book, it will enrich your life!'
'A disarming and urgent book in today's world!'
'A great book for anyone who wants to better understand themselves and others!'
'Everyone should read this. What fascinating conversations we would have then!'
'A clear and practical book for brave thinkers who want to start having better, deeper conversations.'
'I found this book so valuable! A real enrichment to my daily life.'
'What a gem this book is!'
'Highly recommended for anyone who usually gets bogged down in discussions, quarrels, disagreements that lead to nothing.'
'A ray of hope in a time of dispute and polarization.'
'Elke Wiss makes practical philosophy manageable for everyone. A must read!'
'A cheerful, unconventional book.'
'An inspiring, easy-to-read book, full of practical exercises to get yourself started right away. For me it's a must read!'
'Its powerful message urges us to connect more with each other and with ourselves.'
'Some books can actually change your worldview or your daily actions, and as far as I'm concerned this is one of them. I recommend it to everyone.'
Published:

15 June 2021

ISBN:

9781787467682

Imprint:

Arrow

Format:

Paperback

Pages:

320

RRP:

$22.99