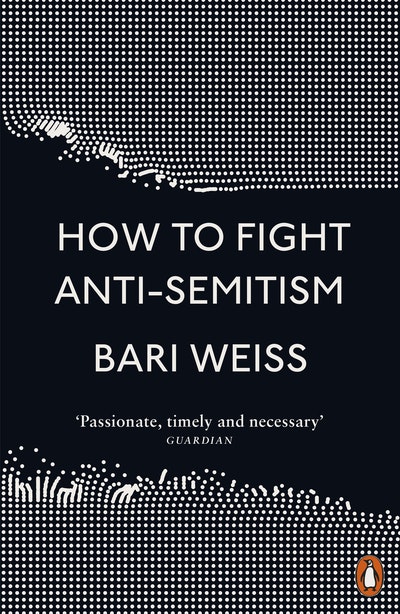 Published:

1 June 2021

ISBN:

9780141992136

Imprint:

Penguin Press

Format:

Paperback

Pages:

224

RRP:

$22.99
How to Fight Anti-Semitism
---
---
---
An urgent wake-up call, exposing the alarming rise of anti-Semitism and showing what we can do about it
On 27 October 2018 the synagogue where Bari Weiss became a bat mitzvah was the site of the deadliest attack on Jews in American history. For most of us, the massacre in Pittsburgh came as a total shock. But to those who have been paying attention, it was only a more violent, extreme expression of the broader trend that has been sweeping Europe and the US for the past two decades.
No longer the exclusive province of the far right and far left, anti-semitism finds a home in identity politics and the reaction against identity politics, in the renewal of "America first" isolationism and the rise of one-world socialism. An ancient hatred increasingly allowed into modern political discussion, anti-semitism has been migrating toward the mainstream in dangerous ways, amplified by social media and a culture of conspiracy that threatens us all.
This timely book is a powerful case for renewing liberal values to guide us through this uncertain moment.
Published:

1 June 2021

ISBN:

9780141992136

Imprint:

Penguin Press

Format:

Paperback

Pages:

224

RRP:

$22.99
Praise for How to Fight Anti-Semitism
Her childhood synagogue in Pittsburgh was the site of last year's Shabbat morning massacre. This passionate, vividly written, regularly insightful book is her pained, fighting

Guardian
A brave book. . . . a praiseworthy and concise brief against modern-day anti-Semitism

The New York Times
This acutely argued book will engender a thousand conversations

Cynthia Ozick
They said 'Never Again', yet here we are again. Bari Weiss' neat exposition of modern anti-Semitism traces this hate to what I call 'the triple threat': the far-left, the far-right, and Islamist theocrats. Jews are the canary in the coal mine. And if our Jewish friends are raising the alarm, we'd all better hear them, before it's too late

Maajid Nawaz
This is the most important book you will read this year. Concise, morally certain, it's a bullet train from the first sentence to the last. There needs to be a copy in every classroom in the country. If you think something dark is rising, you're right. What can you do? This is what you do

Caitlin Flanagan, author of To Hell With All That
While European anti-Semitism has put Jews in mortal danger for too long, the 'shining city upon a hill' -- America -- has descended into this same toxic darkness. Bari Weiss's book is a powerful wake-up call against complacency and should push all free-thinkers on both sides of the Atlantic to take a stand against new guises of the oldest form of hate in the world

Bernard-Henri Lévy, author of The Empire and the Five Kings
How to Fight Anti-Semitism is violently stunning. It broke my heart-and then made me want to repair someone else's. In these pages and everywhere else, Bari Weiss is heroic, fearless, brilliant and great-hearted. Most importantly, she is right

Lisa Taddeo, author of Three Women
Urgent, frank and fearless. There is something here to offend everyone - because there is something here to awaken everyone

Rabbi David Wolpe, author of David: The Divided Heart
A liberal humanist whose guiding principle is free expression in art, love, and discourse. . . Weiss's work is heterodox, defying easy us/them, left/right categorization

Vanity Fair
Weiss's book feels like one long, soul-wrenching letter, written in a charmingly accessible style by a proud American reeling from the realization that the haters are on the rise

Jewish Chronicle