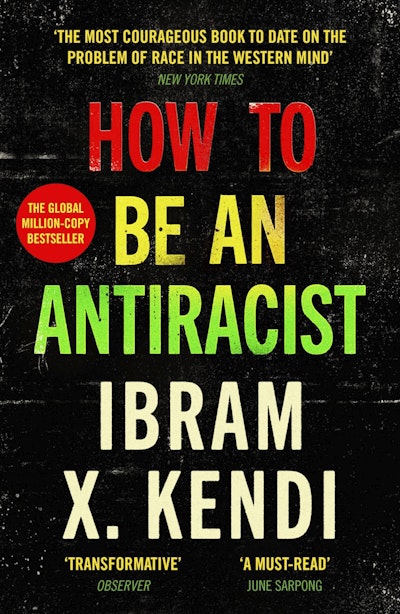 Published:

23 May 2023

ISBN:

9781529111828

Imprint:

Vintage

Format:

Paperback

Pages:

400

RRP:

$24.99
How To Be an Antiracist
THE GLOBAL MILLION-COPY BESTSELLER
---
---
---
The global million-copy bestseller that transformed the world's understanding of racism and helped mobilise a global movement.
In this rousing and deeply empathetic book, Ibram X. Kendi, one of the world's most influential scholars of racism, shows that neutrality is not an option: until we become part of the solution, we can only be part of the problem.
Using his extraordinary gifts as a teacher and story-teller, Kendi helps us recognise that everyone is, at times, complicit in racism whether they realise it or not, and by describing with moving humility his own journey from racism to antiracism, he shows us how instead to be a force for good. Along the way, Kendi punctures all the myths and taboos that so often cloud our understanding, from arguments about what race is and whether racial differences exist to the complications that arise when race intersects with ethnicity, class, gender and sexuality.
In the process he demolishes the myth of the post-racial society and builds from the ground up a vital new understanding of racism - what it is, where it is hidden, how to identify it and what to do about it.
Published:

23 May 2023

ISBN:

9781529111828

Imprint:

Vintage

Format:

Paperback

Pages:

400

RRP:

$24.99
Praise for How To Be an Antiracist
Groundbreaking, brilliant, fearless

David Olusoga (on Stamped from the Beginning), Observer
You should read it for its arguments about what racism is. Nor should you dodge it on the basis that you knew all this already – like me, you almost certainly didn't

David Aaronovitch (on Stamped from the Beginning), The Times
Lucid, accessible, unyielding. Kendi's most important insight might help rethink anti-racist activism

Sadiah Qureshi (on Stamped from the Beginning), New Statesman
Transformative and revolutionary ... offers us a necessary and critical way forward

Robin DiAngelo, author of White Fragility
So vital. As a society, we need to start treating antiracism as action, not emotion - and Kendi is helping us do that

Ijeoma Oluo, author of So You Want to Talk About Race
No less than a road map for social change through a remarkable, personal and deeply touching journey. If you take the business of fighting oppression seriously and want to make a difference, this is something you need to read

Leslie Thomas, QC
Gives us the tools to make changes in our own lives and society at large. A must-read

June Sarpong, author of Diversify
Makes clear how we all must engage in the essential soul-searching to understand our own racism and the personal action required to become antiracist

Lord Herman Ouseley, former Chair of the Commission for Racial Equality and of Kick It Out
This is no guidebook to getting woke ... Never wavering, Kendi methodically examines racism through numerous lenses: power, biology, ethnicity, body, culture, and so forth. This unsparing honesty helps readers, both white and people of colour, navigate this difficult intellectual territory. Essential

Kirkus
An electrifying combination of ethics, history, law and science, bringing it all together with an engaging personal narrative … an essential work for anyone who wants to go beyond an awareness of racism to the next step

The Voice
Could hardly be more relevant ... it feels like a light switch being flicked on

Owen Jones
Vital... Whether you're an institution ... or an individual in moral paralysis, dumbfounded by the febrile emotions now at large ... you are not alone; hope is on its way

Colin Grant, Observer
Shocking and provocative … he uses his personal story to make his arguments so skilfully that the book is both a memoir and a strident call to arms

Irish Times
One of the pre-eminent intellectuals on race

Owen Jones
Everyone should have a copy of this important, poignant and timely book

Christofere Fila, Amnest International UK
The most courageous book to date on the problem of race in the Western mind

New York Times
A work of immense moral authority, brilliantly told, it's deeply humane, revolutionary, essential

Thomas Penn, History Today
An incredible book

Gina Rubel, Techregister
One of the US's most respected scholars of race and history... Kendi's argument is brilliantly simple ... His honesty ... is one of the most powerful elements in this compelling book

Afua Hirsch, Guardian