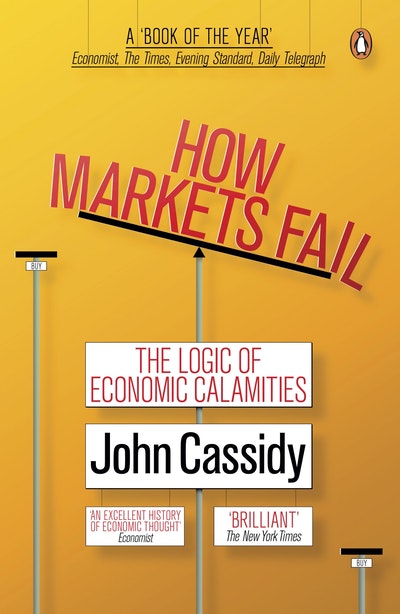 Published:

31 January 2013

ISBN:

9780141939421

Imprint:

Penguin eBooks

Format:

EBook

Pages:

400
How Markets Fail
---
---
How did we get to where we are? John Cassidy shows that the roots of our most recent financial failure lie not with individuals, but with an idea - the idea that markets are inherently rational. He gives us the big picture behind the financial headlines, tracing the rise and fall of free market ideology from Adam Smith to Milton Friedman and Alan Greenspan. Full of wit, sense and, above all, a deeper understanding, How Markets Fail argues for the end of 'utopian' economics, and the beginning of a pragmatic, reality-based way of thinking.
A very good history of economic thought Economist
How Markets Fail offers a brilliant intellectual framework . . . fine work New York Times
An essential, grittily intellectual, yet compelling guide to the financial debacle of 2009 Geordie Greig, Evening Standard
A powerful argument . . . Cassidy makes a compelling case that a return to hands-off economics would be a disaster BusinessWeek
This book is a well constructed, thoughtful and cogent account of how capitalism evolved to its current form Telegraph Books of the Year recommendation
John Cassidy ... describe[s] that mix of insight and madness that brought the world's system to its knees FT, Book of the Year recommendation
Anyone who enjoys a good read can safely embark on this tour with Cassidy as their guide . . . Like his colleague Malcolm Gladwell [at the New Yorker], Cassidy is able to lead us with beguiling lucidity through unfamiliar territory New Statesman
John Cassidy has covered economics and finance at The New Yorker magazine since 1995, writing on topics ranging from Alan Greenspan to the Iraqi oil industry and English journalism. He is also now a Contributing Editor at Portfolio where he writes the monthly Economics column.
Two of his articles have been nominated for National Magazine Awards: an essay on Karl Marx, which appeared in October, 1997, and an account of the death of the British weapons scientist David Kelly, which was published in December, 2003. He has previously written for Sunday Times in as well as the New York Post, where he edited the Business section and then served as the deputy editor.
In 2002, Cassidy published his first book, Dot.Con. He lives in New York.
%%%How did we get to where we are? John Cassidy shows that the roots of our most recent financial failure lie not with individuals, but with an idea - the idea that markets are inherently rational. He gives us the big picture behind the financial headlines, tracing the rise and fall of free market ideology from Adam Smith to Milton Friedman and Alan Greenspan. Full of wit, sense and, above all, a deeper understanding, How Markets Fail argues for the end of 'utopian' economics, and the beginning of a pragmatic, reality-based way of thinking.
A very good history of economic thought Economist
How Markets Fail offers a brilliant intellectual framework . . . fine work New York Times
An essential, grittily intellectual, yet compelling guide to the financial debacle of 2009 Geordie Greig, Evening Standard
A powerful argument . . . Cassidy makes a compelling case that a return to hands-off economics would be a disaster BusinessWeek
This book is a well constructed, thoughtful and cogent account of how capitalism evolved to its current form Telegraph Books of the Year recommendation
John Cassidy ... describe[s] that mix of insight and madness that brought the world's system to its knees FT, Book of the Year recommendation
Anyone who enjoys a good read can safely embark on this tour with Cassidy as their guide . . . Like his colleague Malcolm Gladwell [at the New Yorker], Cassidy is able to lead us with beguiling lucidity through unfamiliar territory New Statesman
John Cassidy has covered economics and finance at The New Yorker magazin
Published:

31 January 2013

ISBN:

9780141939421

Imprint:

Penguin eBooks

Format:

EBook

Pages:

400