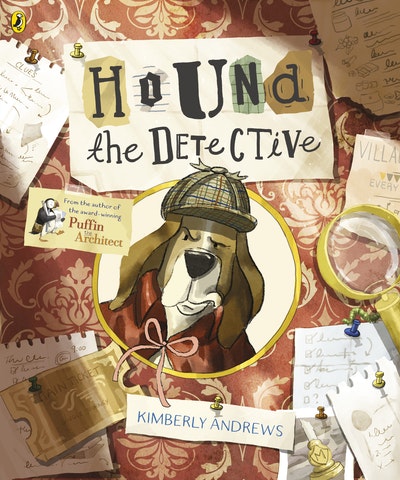 Published:

4 August 2020

ISBN:

9780143774655

Imprint:

Picture Puffin

Format:

Paperback

Pages:

32

RRP:

$17.99
Hound the Detective
---
---
Meet Hound, a brilliant detective who ALWAYS solves his case. But this latest trail of clues has him perplexed - could it be that he's missed something important?
Search for clues hidden in the pictures and help Hound to solve the riddle in this delightful return to the world of Puffin the Architect.
I'm Hound! And I'm a sleuth.
I solve all types of cases.
I sniff and snuff until my nose
detects the clues and traces.

Missing jewels, stolen cars —
I always solve the crime.
My latest case arrived by post.
Ha ha — detecting time!
This gorgeous, multi-layered and engaging whodunnit by an award-winning writer has a delightful surprise at the end. Readers will love studying each action-packed illustration, poring over the details of Hound's secret passages and map, spotting the adorable animals lurking in the pictures, and finding the caterpillar hidden on every page.

Read all the books in Kimberly Andrews' award-winning series!
Published:

4 August 2020

ISBN:

9780143774655

Imprint:

Picture Puffin

Format:

Paperback

Pages:

32

RRP:

$17.99
Praise for Hound the Detective
[I]f you love solving things, this is the perfect book for you! It will make you puzzle, and then it will put a smile on your face!...Kimberly has created an extra cool story that is fun to read, exquisitely illustrated, and leaves you feeling good. At the moment the good feeling that books can give you is worth its weight in gold. Fabulous!

Paula Green, Poetry Box
this new tale will delight young readers in story-telling time or to read themselves in this interactive solve-it-mystery... Puffin features too in amongst fabulous illustrations.

Kapiti News
The first of Puffin the Architect's clients to go solo, Hound is modelled on the author's family dog, a three-legged beagle who overcame his disability...our sleuth is out and about in an English village, following clues, making lists and drawing maps in his notebook. Who will be next?

Ann Packer, NZ Listener Best Children's Books 2020
Hiding bear and a baking platypus, suspicious packages and the village map enthralled the gang as they tried to follow Hound's paw steps and place the clues he's sniffed out. The elaborate illustrations truly set the scene from beginning to end, and beginning to end again… and again.

Ronnie Swainston, Kidspot
According to the Year 4 pupils at Mangatawhiri School, who range in age from 7 – 9, this book will appeal to kids aged 5 – 10 as well as older kids and adults who like mysteries. It features Hound, a dogged detective who always solves his cases but, facing his latest whodunnit, is puzzled by the clues before him. Can readers help him? The clever rhyming language, which repeated and grew word patterns, and the pictures, packed full of detail, interesting colours and drawings of animals from all over the world, engaged nearly all those who read it and they enjoyed tracking down clues.

Dionne Christian, Kete
...charming and ingenious...I think kids will love this book. They will pore over its pages (for ages!) looking for the clues that thread the story together in such a clever way.

Vasanti Unka, Magpies
Kimberly Andrews wrote and illustrated the stunning picture book Hound the Detective (Puffin). It's a spinoff of Puffin the Architect and set in the same world – imagine Grand Designs, except the clients are animals. Andrews is extraordinarily skilled with light and perspective...Her books are happy and clever, with strong stories to string the art together. You'll still be spotting fresh details on your 74th read-through. There is an arm-pump moment at the end of Puffin the Architect where it's casually revealed that the kick-ass puffin architect is female and there's an equally cool element in Hound, but I'm not going to spoil it.

Catherine Woulfe, The Spinoff, 'Twenty books that were a tonic in 2020'
Storylines Notable Picture Book Award
Highly commended • 2021 • Highly Commended
New Zealand Book Awards for Children & Young Adults
Finalist • 2021 • Best Picture Book
Video
Work in progress: Hound the Detective by Kimberly Andrews
Kimberly Andrews shows us the process of creating the rough illustration for one of her favourite spreads from her book, Hound the Detective. Learn more about the book here: https://www.penguin.co.nz/books/hound-the-detective-9780143774655
Article
Hound the Detective activity pack
Search for clues hidden in the pictures and help Hound to solve the riddle in this delightful return to the world of Puffin the Architect.