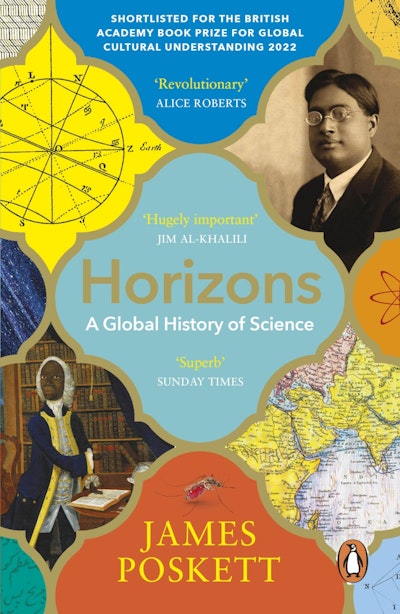 Published:

4 April 2023

ISBN:

9780241986264

Imprint:

Penguin General UK

Format:

Paperback

Pages:

464

RRP:

$26.99
Horizons
A Global History of Science
---
---
---
A radical retelling of the history of science that foregrounds the scientists erased from history
In this major retelling of the history of science from 1450 to the present day, James Poskett explodes the myth that science began in Europe.
The blinkered Western gaze focusing on individual 'genius' - Copernicus, Newton, Darwin, Einstein - was only one part of the story. The reality was an utterly global, non-linear pattern of cross-fertilization, competition, cooperation and outright conflict. Each rupture in history carved fresh channels for global exchange.
Here, for the first time, Poskett celebrates how scientists from Africa, America, Asia and the Pacific were integral to this very human story. We meet Graman Kwasi, the African botanist who discovered a new cure for malaria; Hantaro Nagaoka, the Japanese scientist who first described the structure of the atom; and Zhao Zhongyao, the Chinese physicist who discovered antimatter.
Published:

4 April 2023

ISBN:

9780241986264

Imprint:

Penguin General UK

Format:

Paperback

Pages:

464

RRP:

$26.99
An important milestone

British Journal for the History of Science, on Materials of the Mind
An important milestone

British Journal for the History of Science, on Materials of the Mind
The freshest history of the strangest science

Alison Bashford, author of Global Population, on Materials of the Mind
The freshest history of the strangest science

Alison Bashford, author of Global Population, on Materials of the Mind
Ambitious, riveting, Poskett tracks the global in so many senses . . . vital reading on some of the most urgent concerns facing the world history of science

Sujit Sivasundaram, University of Cambridge, on Materials of the Mind
Ambitious, riveting, Poskett tracks the global in so many senses . . . vital reading on some of the most urgent concerns facing the world history of science

Sujit Sivasundaram, University of Cambridge, on Materials of the Mind
Terrific . . . [Makes] a substantial contribution to understanding the universalizing properties of science and technology in history

Janet Browne, Harvard University, on Materials of the Mind
Terrific . . . [Makes] a substantial contribution to understanding the universalizing properties of science and technology in history

Janet Browne, Harvard University, on Materials of the Mind
This is the kind of history we need: it opens our eyes to the ways in which what we know today has been uncovered thanks to a worldwide team effort

Michael Scott, author of Ancient Worlds
This is the kind of history we need: it opens our eyes to the ways in which what we know today has been uncovered thanks to a worldwide team effort

Michael Scott, author of Ancient Worlds
The righting of the historical record makes Horizons a deeply satisfying read. We learn about a fascinating group of people engaged in scientific inquiry all over the world. Even more satisfyingly, Horizons demonstrates that the most famous scientists - Copernicus, Darwin and Einstein among them - couldn't have made their discoveries without the help of their global contacts

Valerie Hansen, author of The Year 1000
The righting of the historical record makes Horizons a deeply satisfying read. We learn about a fascinating group of people engaged in scientific inquiry all over the world. Even more satisfyingly, Horizons demonstrates that the most famous scientists - Copernicus, Darwin and Einstein among them - couldn't have made their discoveries without the help of their global contacts

Valerie Hansen, author of The Year 1000
A provocative examination of major contributions to science made outside Europe and the USA, from ancient to modern times, explained in relation to global historical events. I particularly enjoyed the stories of individuals whose work tends to be omitted from standard histories of science

Ian Stewart, author of Significant Figures
A provocative examination of major contributions to science made outside Europe and the USA, from ancient to modern times, explained in relation to global historical events. I particularly enjoyed the stories of individuals whose work tends to be omitted from standard histories of science

Ian Stewart, author of Significant Figures
A wonderful, timely reminder that scientific advancement is, and has always been, a global endeavour

Patrick Roberts, author of Jungle
A wonderful, timely reminder that scientific advancement is, and has always been, a global endeavour

Patrick Roberts, author of Jungle
A useful corrective that brings us closer to a more accurate history of Western science - one which recognises Europe, not as exceptional, but as learning from the world

Angela Saini, author of Superior
A useful corrective that brings us closer to a more accurate history of Western science - one which recognises Europe, not as exceptional, but as learning from the world

Angela Saini, author of Superior
This treasure trove of a book puts the case persuasively and compellingly that modern science did not develop solely in Europe. Hugely important

Jim Al-Khalili, author of Paradox
This treasure trove of a book puts the case persuasively and compellingly that modern science did not develop solely in Europe. Hugely important

Jim Al-Khalili, author of Paradox
Remarkable. Challenges almost everything we know about science in the West

Jerry Brotton, author of A History of the World in 12 Maps
Remarkable. Challenges almost everything we know about science in the West

Jerry Brotton, author of A History of the World in 12 Maps
From palatial Aztec botanic gardens to Qing Dynasty evolutionary theories, Horizons upends traditional accounts of the history of science, showing how curiosity and intellectual exploration was, and is, a global phenomenon

Rebecca Wragg Sykes, author of Kindred
From palatial Aztec botanic gardens to Qing Dynasty evolutionary theories, Horizons upends traditional accounts of the history of science, showing how curiosity and intellectual exploration was, and is, a global phenomenon

Rebecca Wragg Sykes, author of Kindred
This perspective-shattering book challenges our Eurocentric narrative by spotlighting the work of historically neglected scientists

Caroline Sanderson, The Bookseller, 'Editor's Choice'
This perspective-shattering book challenges our Eurocentric narrative by spotlighting the work of historically neglected scientists

Caroline Sanderson, The Bookseller, 'Editor's Choice'
Brilliant . . . In this revolutionary and revelatory book, James Poskett not only gives us a truly worldwide history of science, but explains how international connections have stimulated scientific advances through time

Alice Roberts, author of Ancestors
Brilliant . . . In this revolutionary and revelatory book, James Poskett not only gives us a truly worldwide history of science, but explains how international connections have stimulated scientific advances through time

Alice Roberts, author of Ancestors
Superb . . . Poskett rightly highlights the shamefully overlooked contributions of Indian, Chinese and Japanese scientists

Stephen Bleach, Sunday Times
Superb . . . Poskett rightly highlights the shamefully overlooked contributions of Indian, Chinese and Japanese scientists

Stephen Bleach, Sunday Times
A fundamental retelling of the story of science . . . Poskett deftly blends the achievements of little-known figures into the wider history of science . . . brims with clarity

Chris Allnutt, Financial Times
A fundamental retelling of the story of science . . . Poskett deftly blends the achievements of little-known figures into the wider history of science . . . brims with clarity

Chris Allnutt, Financial Times
European scientists for centuries served the political goals of empire building, which was based on slave trading, military power, oppression and violence . . . Poskett hopes for a future where the historic truth about how scientific progress has been made is universally accepted, where all cultures are valued, and where global scientific collaboration unleashes the creativity to solve problems such as climate change

Sean Duke, Irish Times
European scientists for centuries served the political goals of empire building, which was based on slave trading, military power, oppression and violence . . . Poskett hopes for a future where the historic truth about how scientific progress has been made is universally accepted, where all cultures are valued, and where global scientific collaboration unleashes the creativity to solve problems such as climate change

Sean Duke, Irish Times
Poskett's book is invaluable, an important and timely reminder that the world we live in has never been small or unknown, but that sharing knowledge, as well as credit, and working together, is the key to a better future

Matt Lewis, History Hit
Poskett's book is invaluable, an important and timely reminder that the world we live in has never been small or unknown, but that sharing knowledge, as well as credit, and working together, is the key to a better future

Matt Lewis, History Hit
Horizons shows that the story of science has always been a planetary one: a non-linear process of cross-fertilisation, competition, cooperation and conflict . . . What makes the book so engrossing is that Poskett's grasp of historical contexts is as firm as his scientific knowledge

Matthew d'Ancona, Tortoise
Horizons shows that the story of science has always been a planetary one: a non-linear process of cross-fertilisation, competition, cooperation and conflict . . . What makes the book so engrossing is that Poskett's grasp of historical contexts is as firm as his scientific knowledge

Matthew d'Ancona, Tortoise
An honest conversation about the history of science is therefore not just of moral importance - it is part of what makes discovery possible

Will Dunn, New Statesman
An honest conversation about the history of science is therefore not just of moral importance - it is part of what makes discovery possible

Will Dunn, New Statesman
A lively story of global collaboration in the study of nature from 1500 to the present day . . . rich and lucid

Dmitri Levitin, Literary Review
A lively story of global collaboration in the study of nature from 1500 to the present day . . . rich and lucid

Dmitri Levitin, Literary Review
Science's internationalism is well recognized. But scientists tend to regard it as a recent phenomenon that arose from the 'big science' of the twentieth century, rather than one with a history of more than 500 years going back to the Islamic science that inspired astronomer Nicolaus Copernicus, and beyond, observes historian James Poskett. His revisionary "global history" boldly rebuts this

Andrew Robinson, Nature
Science's internationalism is well recognized. But scientists tend to regard it as a recent phenomenon that arose from the 'big science' of the twentieth century, rather than one with a history of more than 500 years going back to the Islamic science that inspired astronomer Nicolaus Copernicus, and beyond, observes historian James Poskett. His revisionary "global history" boldly rebuts this

Andrew Robinson, Nature
Generation after generation, people in western countries have been educated to believe that the history of modern science began primarily in the 17th century in western Europe. In a book of breathtaking range and high quality, Poskett dismantles that narrow version of events and produces a genuinely global history

Best Summer Books of 2022: History', Financial Times
Generation after generation, people in western countries have been educated to believe that the history of modern science began primarily in the 17th century in western Europe. In a book of breathtaking range and high quality, Poskett dismantles that narrow version of events and produces a genuinely global history

Best Summer Books of 2022: History', Financial Times
Horizons forces me to think outside my Eurocentric box and puts science at the centre of world history

David Reynolds, New Statesman, Books of the Year 2022
Horizons forces me to think outside my Eurocentric box and puts science at the centre of world history

David Reynolds, New Statesman, Books of the Year 2022
I've been really impressed by Horizons: A Global History of Science by James Poskett. The book is exactly what it says on the cover: it's a way of looking at the world of science and the development of technology from a genuinely global perspective. The narrative starts with the Aztec capital of Tenochtitlan [on the site of modern-day Mexico City] and the engineering marvels that were present there, built long before the Spanish turned up during their conquest in the early modern era. Poskett also discusses Arab science, Chinese science and the story of science in the west, which is better known. So it's a truly global and really well-written and engaging account

Rana Mitter, BBC History Magazine, Books of the Year 2022
I've been really impressed by Horizons: A Global History of Science by James Poskett. The book is exactly what it says on the cover: it's a way of looking at the world of science and the development of technology from a genuinely global perspective. The narrative starts with the Aztec capital of Tenochtitlan [on the site of modern-day Mexico City] and the engineering marvels that were present there, built long before the Spanish turned up during their conquest in the early modern era. Poskett also discusses Arab science, Chinese science and the story of science in the west, which is better known. So it's a truly global and really well-written and engaging account

Rana Mitter, BBC History Magazine, Books of the Year 2022