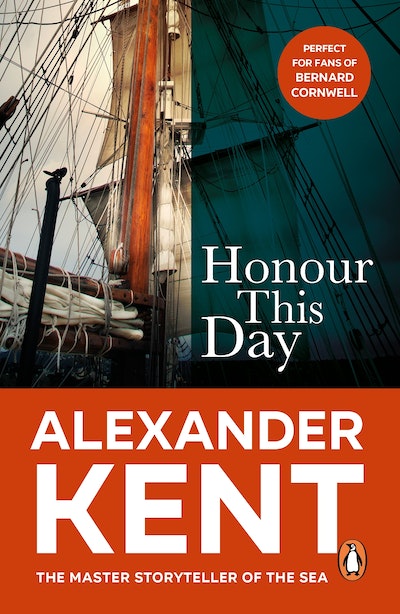 Published:

5 March 2020

ISBN:

9781448107124

Imprint:

Cornerstone Digital

Format:

EBook

Pages:

304
Honour This Day
(Richard Bolitho: Book 19)
---
---
---
The Bolitho legend continues with another stiring adventure!
In September 1804, England stands alone against France and the fleets of Spain, daily expecting an invasion. Entrusted with an urgent mission for the King, Vice-Admiral Richard Bolitho hoists his flag above the veteran seventy-four-gun ship Hyperion and sets sail with a new squadron for the Caribbean. Plagued by the knowledge that both his troubled marriage and the eye injured in his last battle with Contre-Amiral Jobert are worsening, Bolitho is eager to quit the land less than three months after his return home. But even his beloved old ship Hyperion, hastily restored from an ignominious existence as a hulk, is full of tormenting memories and lost faces.
Ordered to plan and effect a daring raid on the Spanish Main, Bolitho spares himself nothing. It is more like a death-wish than a mission. He himself leads the dawn attack against enemy mortars in La Guaira, capturing after a bloody battle the rich prize of His Catholic Majesty's biggest treasure-ship laden with gold and silver. In Antigua once more, he is roused from his darkness of soul by the rediscovery of a passion which defies convention and every risk to his reputation. His future is full of uncertainty as he sails east to Gibraltar, for a rendezvous that all who follow his flag will remember. For the year is 1805, an historic year for the English fleet, and Hyperion is set to fight her last great battle as she clears the way for victory.
Published:

5 March 2020

ISBN:

9781448107124

Imprint:

Cornerstone Digital

Format:

EBook

Pages:

304
Praise for Honour This Day
Praise for Alexander Kent: 'One of our foremost writers of naval fiction' Sunday Times
'Shipwreck, survival ... a spirited battle ... a splendid yarn' The Times