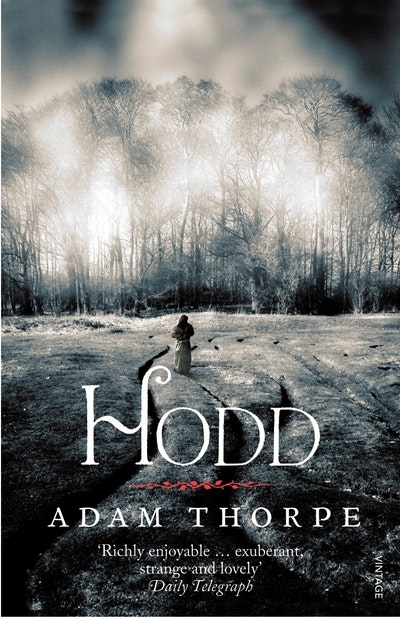 Published:

15 June 2010

ISBN:

9780099503668

Imprint:

Vintage

Format:

Paperback

Pages:

320

RRP:

$19.99
Hodd
---
---
---
A brilliant new novel from a truly great writer - a return in style to his great novel Ulverton. Hodd is an historical novel which thrillingly uncovers the real story of Robin Hood.
Who was Robin Hood? Romantic legend casts him as outlaw, archer, and hero of the people, living in Sherwood Forest with Friar Tuck, Little John and Maid Marian, stealing from the rich to give to the poor - but there is no historical proof to back this up. The early ballads portray a quite different figure: impulsive, violent, vengeful, with no concern for the needy, no merry band, and no Maid Marian.Hodd provides a possible answer to this famous question, in the form of a medieval document rescued from a ruined church on the Somme, and translated from the original Latin. The testimony of an anonymous monk, it describes his time as a boy in the greenwood with a half-crazed bandit called Robert Hodd - who, following the thirteenth-century principles of the 'heresy of the Free Spirit', believes himself above God and beyond sin. Hodd and his crimes would have been forgotten without the boy's minstrel skills, and it is the old monk's cruel fate to know that not only has he given himself up to apostasy and shame, but that his ballads were responsible for turning a murderous felon into the most popular outlaw hero and folk legend of England, Robin Hood.
Written with his characteristic depth and subtlety, his sure understanding of folklore, his precise command of detail, Adam Thorpe's ninth novel is both a thrilling re-examination of myth and a moving reminder of how human innocence and frailty fix and harden into history.
Published:

15 June 2010

ISBN:

9780099503668

Imprint:

Vintage

Format:

Paperback

Pages:

320

RRP:

$19.99
Adam Thorpe's novel is richly enjoyable on many levels...no prior knowledge of the Robin Hood legend is necessary to appreciate the lustrous prose, the humanity and the exuberant inventiveness of this strange and lovely book.

Jane Shilling, Daily Telegraph
beguiling new novel... Hodd displays all of Thorpe's gifts for impersonation, translation and self-made "sources", since this is a novel served up as a curated text

Richard T Kelly, Financial Times
a tour de force around an elusive thirteenth-century figure who may, or may not, have been the original fantasy Robin Hood we think we know and love. Let's hope this year's Booker lot are up to estimating this wonderfully subtle and layered book at its true worth

Gillian Tindall, Literary Review
The sounds and smells - Thorpe is particularly strong on stinks and stenches, rotten food and worse drinks, infections and cancers - ring horribly true...if Robin Hood did exist, this is probably what he and his not so merry men were like

Fordyce Maxwell, Scotland on Sunday
Writing both as the monk and as the translator from 1926 who scatters the text with footnotes, Thorpe plays a double role, and emerges from this tour de force of the historical imagination with distinction

Alastair Mabbott, Sunday Herald
[Thorpe] has an uncanny ability to create and inhabit a peculiar consciousness... the result is a fascinating and complex novel - as remarkable in its way as Ulverton, but in no way resembling it.

Henry Power, TLS
marks a return to [Adam Thorpe's] literary roots

David Robson, Sunday Telegraph
Thorpe's questions about the power of words and the fine line between history and myth are valid ones and, stylistically, he is spot on

Martin Hemming, New Statesman
A novel of sly and powerful ironies in which, at every turn, a kind of visionary fundamentalism trumps the humanities of its narrator.

M John Harrison, Guardian
Extraordinary narrative...It is full of horrors, yet not without humour, gripping and unrelenting in its remarkable portrayal of the underside of medieval society...no-one who reads this will think of Robin Hood and his merry men in quite the same way again.

Allan Massie, The Scotsman
It's brilliantly conceived and so convincingly executed that one can't fail to be impressed.

www.bookgeeks.co.uk
An ambitious piece of work...utterly consistent and compelling.

www.bookgeeks.co.uk
Richly enjoyable on many levels, with a world view trembling always between dread and delight... no prior knowledge of the Hood legend is necessary to appreciate the humanity and exuberant inventiveness of this strange and lovely book.

Sunday Telegraph
Thorpe's customary inventiveness and his consummate ventriloquial skill make this a highly entertaining read.

DJ Taylor, Waterstones Books Quarterly
Hodd is a densely imagined evocation of medieval England's green and bloody land, and not a merry man in sight

Phil Baker, The Times
A dense retelling of Robin and the Monk. Robin here is a sinister monster, a roadside thief permanently high on magic mushrooms, who harangues his embarrassed outlaws with his lunatic cod-spiritualist theories

Dan Jones, The Times
A testament to Thorpe's talent as a storyteller ... Medieval England, in all its brutality, is brought vividly to life by Thorpe's insight and impressive scholarship

Francesca Segal, Observer
Brilliant and original novel

Doug Kemp, Historial Novels Review
Subtle and profound

Untitled Books, Hilary Mantel
Richly enjoyable on many levels. But no prior knowledge of the legend is necessary to appreciate the lustrous prose, the humanity and the exuberant inventiveness of this strange and lovely book.

Jane Shilling, Daily Telegraph
Carefully crafted, densely imagined

Phil Baker, Sunday Times
An expertly crafted take on the tale of Robin Hood

The Times
Ridley Scott's film Robin Hood is likely to be one of this summer's box-office successes, but if you prefer your history with grisly authenticity then I can recommend this dark and ingenious version of that most enduring of English myth

Simon Shaw, Mail on Sunday
A highly distinctive account

Emma Hagestadt, Independent
Learned and dramatic, a clever yarn doused in medieval scholarship and crude vigour

James Smart, Guardian
A sharp and confident re-casting of popular myth

Financial Times
Robin Hood is recast as a half mad bandit in Thorpe's realistic and ugly re-imagining of medieval England's green and bloody land

The Sunday Times Summer Reading