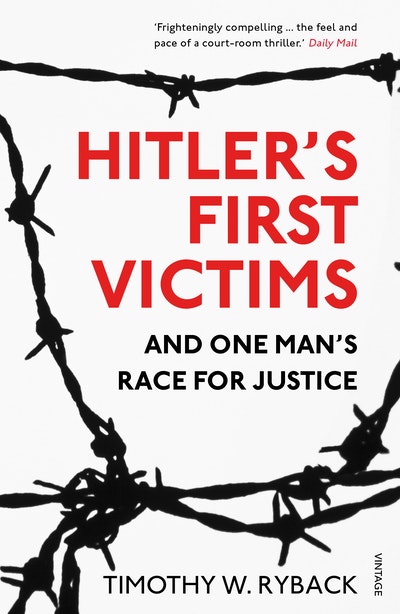 Published:

5 February 2015

ISBN:

9781473520172

Imprint:

Vintage Digital

Format:

EBook

Pages:

304
Hitler's First Victims
And One Man's Race for Justice
---
---
---
Forensically researched and grippingly told, the astonishing attempt by a German prosecutor to expose the Nazis as murderers on the eve of the Holocaust.
At 9am on 13 April 1933 deputy prosecutor Josef Hartinger received a telephone call summoning him to the newly established concentration camp of Dachau, where four prisoners had been shot.
The SS guards claimed the men had been trying to escape. But what Hartinger found convinced him that something was terribly wrong. Hitler had been appointed Chancellor only ten weeks previously but the Nazi party was rapidly infiltrating every level of state power. In the weeks that followed, Hartinger was repeatedly called back to Dachau, where with every new corpse the gruesome reality of the camp became clearer.
Hitler's First Victims is both the story of Hartinger's race to expose the Nazi regime's murderous nature before it was too late and the story of a man willing to sacrifice everything in his pursuit of justice, just as the doors to justice were closing.
Published:

5 February 2015

ISBN:

9781473520172

Imprint:

Vintage Digital

Format:

EBook

Pages:

304
Praise for Hitler's First Victims
Frighteningly compelling ... the feel and pace of a court-room thriller. As it approaches its climax, you almost believe this dogged, decent man is going to win through ... superbly researched and tautly written

Dominic Sandbrook, Daily Mail Book of the Week
Tremendous ... Ryback's tenacity as forensic researcher and huge storytelling flair make this a compelling page-turner

Independent
Gripping – and thoroughly chilling … The haunting question at the heart of this book is this: if there had been a few more like Hartinger … was there any way the Nazi terror might have been averted? … a fascinating reconstruction

Telegraph
The genius of the book is to present Ryback's thorough research as a kind of duel between Hartinger and Wäckerle, adopting some of the conventions of modern crime drama … few [Germans] have been held up as war heroes. Ryback's brilliant book makes a powerful case for honouring Hartinger, an honest man in dishonest times

Roger Boyes, The Times
Gripping … anyone who thinks that Nazism came to power legally and without violence needs to read this account

Guardian
Forensic, unflinching and utterly compelling … the story of the first killings at Dachau has scarcely been more urgent

Glasgow Sunday Herald
An extraordinary, gripping and edifying story told extraordinarily well. I read it with a sense of amazement at the capacity of one good man to stand tall in the face of evil

Richard Bernstein, author of Dictatorship of Virtue
Amazing … This is history come alive in your hands

Robert Littell, author of The Company
Horrifying and heartbreaking … By recounting such striking heroism, he allows us at least to ponder whether, had more good Germans come forward, it all might just have been stopped

David Margolick, author of Beyond Glory
Inspiring ... In the gathering shadow of the Holocaust, Josef Hartinger's dogged decency may redeem the German race

Geoffrey Robertson QC, author of Crimes Against Humanity
All the more startling and important for bringing to life an episode so little known

Raymond Bonner, author of Anatomy of Injustice
Finely researched and deeply disturbing

Alan Riding, author of And the Show Went On
Gripping, revelatory account

Bookseller
Absorbing

Nicholas Shakespeare, Daily Telegraph