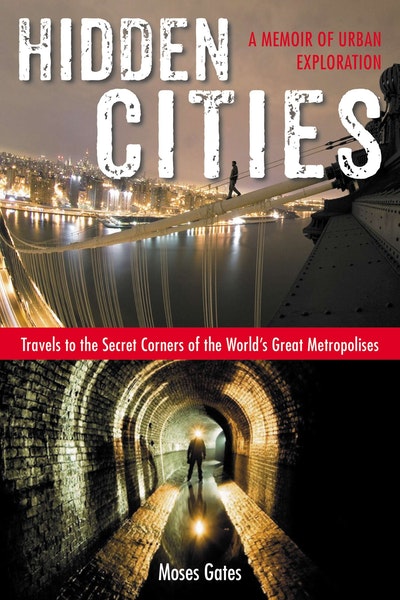 Published:

21 March 2013

ISBN:

9781585429349

Imprint:

Tarcher

Format:

Paperback

Pages:

368

RRP:

$31.99
Hidden Cities
Travels to the Secret Corners of the World's Great Metropolises
---
---
In this fascinating glimpse into the world of urban exploration, Moses Gates describes his trespasses in some of the most illustrious cities in the world from Paris to Cairo to Moscow.
Gates is a new breed of adventurer for the 21st century. He thrives on the thrill of seeing what others do not see, let alone even know exists. It all began quite innocuously. After moving to New York City and pursuing graduate studies in Urban Planning, he began unearthing hidden facets of the city—abandoned structures, disused subway stops, incredible rooftop views that belonged to cordoned-off buildings. At first it was about satiating a nagging curiosity; yet the more he experienced and saw, the more his thirst for adventure grew, eventually leading him abroad. In this memoir of his experiences, Gates details his travels through underground canals, sewers, subways, and crypts, in metropolises spanning four continents.
In this finely-written book, Gates describes his immersion in the worldwide subculture of urban exploration; how he joined a world of people who create secret art galleries in subway tunnels, break into national monuments for fun, and travel the globe sleeping in centuries-old catacombs and abandoned Soviet relics rather than hotels or bed-and-breakfasts. They push each other further and further—visiting the hidden side of a dozen countries, discovering ancient underground Roman ruins, scaling the Brooklyn, Manhattan, and Williamsburg bridges, partying in tunnels, sneaking into Stonehenge, and even finding themselves under arrest on top of Notre Dame Cathedral.   
Ultimately, Gates contemplates why he and other urban explorers are so instinctively drawn to these unknown and sometimes forbidden places—even (and for some, especially) when the stakes are high. Hidden Cities will inspire readers to think about the potential for urban exploration available for anyone, anywhere—if they have only the curiosity (and nerve!) to dig below the surface to discover the hidden corners of this world.

Published:

21 March 2013

ISBN:

9781585429349

Imprint:

Tarcher

Format:

Paperback

Pages:

368

RRP:

$31.99
"Urban exploration with Gates makes for wildly entertaining reading. A solidly entertaining ride for those seeking a gritty travel experience." —Publishers Weekly "Gates's travelogue does more than introduce the reader to the gritty undergrounds and highest climbing spots of the world's greatest cities--Hidden Cities ultimately celebrates the urban history and architectural evolution of mankind. For those of us who will never get to experience such places, Gates is a perfect travel companion." —Roni K. Devlin, owner, Literary Life Bookstore for Shelf Awareness for Readers "Hidden Cities offers a thrilling glimpse into the secret worlds that surround us. Moses Gates has crafted an endlessly absorbing book that succeeds on many levels—as a compelling travelogue, a nuts-and-bolts how-to manual, and a deep-feeling and highly relatable personal memoir. Anybody who reads it will emerge invigorated by possibility." —Davy Rothbart, creator of Found Magazine, author of My Heart is an Idiot, and frequent contributor to NPR's This American Life "Hidden Cities is a measured and heartfelt look at some wild times in some crazy places, but it is most of all a paean to curiosity and where it takes you."—Robert Sullivan, author of Rats and My American Revolution "An intrepid urban Sherpa's impassioned salute to 'the joy of trespassing.' Part guidebook, part social history, part coming of age story. Dig in: you'll never look at cities the same way again.—Robert Neuwirth, author of Stealth of Nations and Shadow Cities "Follow Moses Gates and others as they truly experience the world's great cities in ways far removed from how Frommer's, Fodor's, or any Michelin guide would encourage you to. Hidden Cities is a rollicking travelogue packed with secrets of the world's metropoli that the local constabulary would rather you not discover."—Kevin Walsh, author of Forgotten New York "Lonely Planet for the realm beyond the "No Trespassing" signs." —Kirkus Reviews "A great city at night is a massive playground, a wonderland imprinted by the dreams, desires and accomplishments of those millions that have lived and do yet live there. Moses Gates knows this and has beautifully described that yearning some humans have to explore the built environment."  —John Law, co-author of Tales of the San Francisco Cacophony Society,   Suicide Club member emeritus and co-founder of the Burning Man Festival