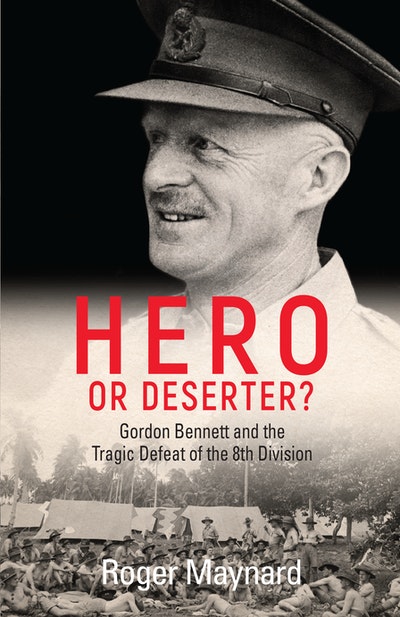 Published:

28 August 2017

ISBN:

9780143783930

Imprint:

Random House Australia

Format:

EBook

Pages:

384
Hero or Deserter?
Gordon Bennett and the Tragic Defeat of 8th Division
---
---
---
The story of Major General Henry Gordon Bennett, the Commanding Officer of 8th Division
Major-General Gordon Bennett played a decisive role in the defence of Malaya and Singapore in World War II. A colourful character, known to sport a straw hat with a rainbow scarf tied around it, his officers found him at times abrasive and cocky, but he was also known as an outstanding commander. He is, however, best remembered for his escape by boat from Singapore in the dying days of the Japanese invasion, which led to the imprisonment of 15,000 Australian servicemen.
Bennett's decision to leave his men to their fate is one of the most controversial episodes in the fall of the island. Though he was exonerated by Prime Minister John Curtin on his return to Australia, 8th Division's commander was never forgiven by the military's top brass for what many viewed as a clear case of desertion. While Bennett alone cannot be blamed for the defeat – there were many other factors, including Britain's military failings in both tactics and defence – he was and remains a ready scapegoat.
In this vivid and comprehensive history of the 8th Division and its stoic force of fighting men, Roger Maynard investigates their conflicted leader, whose reputation as an outstanding soldier was shattered by war's end. He also examines Bennett's legacy through the prism of today's military standards to establish whether he was, indeed, a hero or deserter.
Published:

28 August 2017

ISBN:

9780143783930

Imprint:

Random House Australia

Format:

EBook

Pages:

384