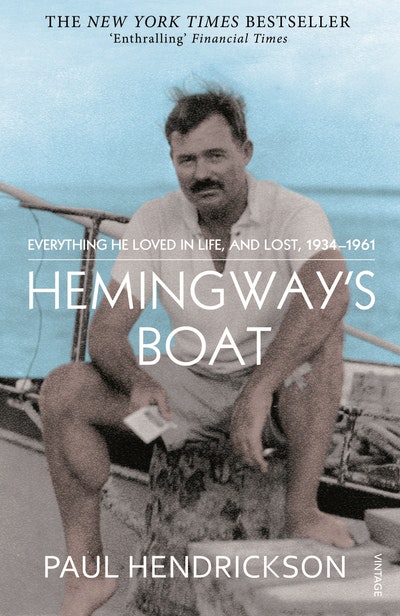 Published:

16 January 2013

ISBN:

9780099565994

Imprint:

Vintage

Format:

Paperback

Pages:

720

RRP:

$47.99
Hemingway's Boat
Everything He Loved in Life, and Lost, 1934-1961
---
---
---
This is a literary tour de force, an invaluable, unforgettable and original portrait of Ernest Hemingway and his beloved boat, Pilar.
THE NEW YORK TIMES BESTSELLER
'She'd been intimately his, and he hers, for twenty-seven years - which were his final twenty-seven years. She'd lasted through three wives, the Nobel Prize, and all his ruin. He'd owned her, fished her, worked her and rode her, from the waters of Key West to the Bahamas to the Dry Tortugas to the north coast and archipelagos of Cuba.'
Even in his most accomplished period, Hemingway carried within him the seeds of his tragic decline and throughout this period he had one constant - his beloved boat, Pilar. The boat represented and witnessed everything he loved in life - virility, deep-sea fishing, access to his beloved ocean, freedom, women and booze and the formative years of his children.
Paul Hendrickson focuses on the period from 1934 to 1961, from the pinnacle of Hemingway's fame to his suicide. He has delved into the life of Hemingway and done the seemingly impossible: present him to us in a whole new light.
Published:

16 January 2013

ISBN:

9780099565994

Imprint:

Vintage

Format:

Paperback

Pages:

720

RRP:

$47.99
Praise for Hemingway's Boat
An admirably absorbing, important, and moving interpretation of Hemingway's ambitions, passions, and tragedies during the last 27 years of his life. Hendrickson offers fascinating details and sheds new light on Hemingway's kinder, more generous side.

Publishers' Weekly
Paul Hendrickson is the most innovative and creative nonfiction writer I know. Just read Hemingway's Boat and you'll see what I mean. He has an almost saintly compassion for both the greatness and the foibles of Hemingway. A landmark publishing event.

Professor Douglas G. Brinkley, author of The Great Deluge
Hendrickson offers a moving, highly evocative account of Hemingway's turbulent later years, when he lost the favor of critics, the love of wives and friends and, ultimately, his ability to write. This beautifully written, nuanced meditation deserves a wide audience.

Kirkus (Starred review)
Hemingway's Boat had me hooked from beginning to end... An exceptionally lively biography, that offers a vivid new picture of Hemingway

Ian Thomson, Sunday Telegraph
Rich, magisterial... Unforgettable

Ed Caesar, Sunday Times
Bewitchingly beautiful... Hendrickson is a miraculously lovely writer. He twists and turns through time, moving sensitively between the books and life.

Olivia Laing, Observer
A beautifully written and loving understanding of a very troubled genius

Jeffery Taylor, Sunday Express
The author, an accomplished storyteller, interprets myriad tiny details of Ernest Hemingway's life, and through them says something new about a writer everyone thinks they know.

The Economist, Books of the Year
Hendrickson has at times an almost slangy yet intoxicatingly lyrical style in this scrupulously researched book. And, like most of the most entertaining biographies of recent years, he works in his own literary quest and detective work. There are dizzying passages of travel writing about Miami, Key West and Havana - places much visited by writers - that here feel completely fresh.

Olivia Cole
Paul Hendrickson duly set about getting to the core of Hemingway's relationship with Pilar. And how! His research is flat-out phenomenal... It works.This is, as promised, a book that finds much in Hemingway that has been generally overlooked.

Sam Leith, Spectator
To use Hemingway's favourite term of praise, it is not just enthralling, it is 'fine'

Michael Prodger, Financial Times
Hemingway's Boat is a fair consideration of the most difficult years in Hemingway's life and written with sympathetic interest

Metro
Hendrickson is a large-hearted but honest judge... His luminous and merciful book goes a long way towards completing our picture of a tortured man...remarkable book

Theo Dorgan, Irish Independent
Paul Hendrickson has another theme more interesting than Hemmingway's boat: the writers deadly effect on his sons

Peter Lewis, Daily Mail
This is a measured and thoughtful, sometimes lyrical book that adds considerably to the Papa story

Ronan Farren, Irish Independent
Hendrickson has a tremendous feel for Hemingway, as both writer and man; his own writing is vivid and personal... What he says about Hemingway is usually dead on target

Sarah Churchwell, Guardian
Hemingway's Boat... turns a seemingly trivial search for an old boat up on cinder blocks in a Havana yard and a potentially mawkish concentration on the latter end of a life into a powerful meditation on what made Hemingway tick and what made him great. Though one needs other books for the first 35 years of the life, it supersedes them all.

Brian Morton, Sunday Herald
Masterly... Heartbreaking... Brilliant

New York Times
I read [Hemingway's Boat] without a pause...an eye-opener of a book, full of unexpected riches, fascinating digressions... It just may be the best book I've read this year, and certainnly the best book I've read about an American writer in a long, long time

Michael Korda, Newsweek, Favorite Books of the Year
Hendrickson has a fluent, engaging tone...he brings us closer to understanding Hemingway as a man who loved and lost - as opposed to the archtypal misogynist bully he is widely regarded as

Big Issue in the North
More a portrait than a biography, this book is a dazzling late example of "New Journalism"...the result is touching, revelatory and utterly absorbing

Independent
Unmissable

The Lady
While much of Hemingway's life may have been hellish, Hendrickson's writing is a delight. A fine work

Fachtna Kelly, Sunday Business Post
His life was spectacular, and, somehow, went spectacularly wrong. Hendrickson tells the story of the man and the boat, and the fish, and the women, and the writing. And then the moment when, at the age of 61, Hemingway woke up early one morning and shot himself. In the head. On purpose. Some story. Very well told

William Leith, Evening Standard
Rich, magisterial account...Other books on Hemingway have tended to focus on his post-1930s literary decline and his machismo. The portrait that emerges from these pages is altogether more human

Ed Caesar, Sunday Times
He has a tremendous feel for Hemingway, as both writer and man

Sarah Churchwell, Guardian
This is a portrait of the author which is likely to leave one feeling more warmly disposed towards him

Herald
Very well told

William Leith, Scotsman
Paul Hendrickson writes with a great deal of passion…

Nudge
An album of fascinating snapshots of Hemingway

Simon Shaw, Mail on Sunday
This is the best, most understanding portrait of Hemingway yet written

Allan Massie, Telegraph
A terrific and fresh approach to the man

Daniel Woodrell, Financial Times