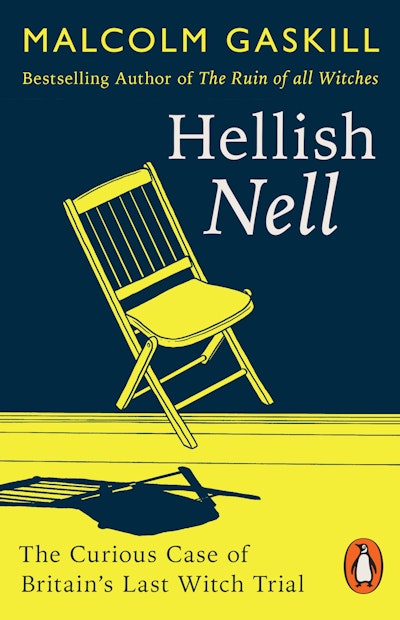 Published:

26 October 2023

ISBN:

9781802062007

Imprint:

Penguin eBooks

Format:

EBook

Pages:

496
Hellish Nell
Last of Britain's Witches
---
---
---
The strange and poignant story of a Second World War witchcraft trial, from the bestselling author of The Ruin of All Witches
One of the last criminal trials using the 1735 Witchcraft Act was, improbably, in London in 1944. The accused was Helen Duncan, a middle-aged Scotswoman. This is her extraordinary story.
Helen Duncan - known since childhood as 'Hellish Nell', for her uncontainable nature - was one of the most popular mediums of the twentieth century, holding seances around the country where she was believed to manifest the spirits of the dead.
What happens when we die? It was the question of the age for a generation which had endured one world war and now was living through another. Mrs Duncan's seances offered an answer. But when she started foretelling naval disasters, she also attracted the unwelcome attention of the secret service. And so just weeks before the Normandy landings, absurdly, anachronistically, she was prosecuted for witchcraft and jailed. Was Nell a conjurer, a martyr or a security risk?
Hellish Nell was first published in 2001 to widespread acclaim. It remains in this revised edition a fascinating window into the unsettled spiritual and psychological mood of the times: a sensational tale of spectacle, credulity and cruelty, and of Britain's last witch.
Published:

26 October 2023

ISBN:

9781802062007

Imprint:

Penguin eBooks

Format:

EBook

Pages:

496
Malcolm Gaskill's brilliant book ... not only offers an indelible account of a paranoid country at war with enemies tangible and supernatural, but teasingly invites us to take our own position on witchcraft, and its unlikely practitioner.

Alexander Larman, The Observer
A fascinating book.

Daily Mail
A great strength of Malcolm Gaskill's book is that it provides ... a piece of working-class history: he makes Spiritualism comprehensible in the context of the utter bleakness of the lives he describes.

Hilary Mantel, London Review of Books
Malcolm Gaskill has researched the whole story of Helen Duncan's life with exemplary thoroughness: his account sparkles with dry humour, but it is not without sympathy too.

Noel Malcolm, Sunday Telegraph
Full of quirky detours into Spiritualism's uniquely odd hall of fame. But its chief fascination, I think, lies in the way it shows how the Spiritualist movement, for a certain group of women, proved to be more liberating than winning the vote.

Rachel Cooke, New Statesman
Malcolm Gaskill's book is full, admirably researched, and in parts reads as if it had been dictated from the other world.

Daily Telegraph
Extremely readable ... full of trenchant phrases and vivid analogies. It is balanced, fair and a salutary reminder, in our secularised society, that belief in the supernatural is still endemic.

Literary Review
A tremendous story ... The human relationship with magic is one in which tragedy and farce are constantly intermixed, and Malcolm Gaskill shows how vividly this was true in early twentieth-century Britain.

Ronald Hutton, Times Literary Supplement
The colourful story of Britain's last witch trial ... Superbly researched, densely written but mostly entertaining.

Irish Times