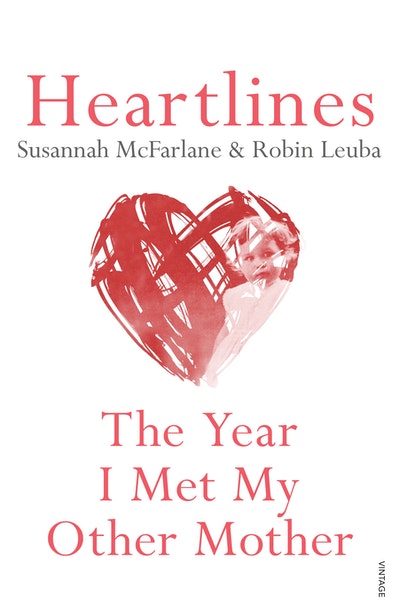 Published:

2 May 2016

ISBN:

9780143780243

Imprint:

Vintage Australia

Format:

Trade Paperback

Pages:

336

RRP:

$34.99
Heartlines
The Year I Met My Other Mother
---
---
---
This is what happened the year I met my other mother.
This is what happened the year I met my other mother.
In 1965, Robin, unmarried and pregnant, comes to Melbourne to give birth and give her baby up for adoption, then returns to Perth to resume her life having never seen her baby. After 10 days alone, the baby, is taken home, named Susannah, and made part of a wonderful family that loves her. The adoption laws at the time guarantee that there can be no contact between birth mother and child. Ever.
In 1984, the law is changed and sealed files can be opened. In 1989 Robin tries to make contact with Susannah who is now the same age as Robin was when she had her. Susannah replies to Robin in a letter, declining contact.
In 2014, Susannah, at the same age Robin was when she wrote her first letter, writes Robin a different letter. The heartlines open. After nearly fifty years apart, a mother and daughter are reunited. But the path to a relationship is not smooth. Very few adoption reunions result in meaningful, long-term reconnection. The fragile relationships stumble and fall under the weight of years of repressed anger, hurt, grief and loss, different beliefs and of whole lives spent apart. A feeling of connection isn't enough. You have to fight for a relationship.
This is the story of two women who did. The raw openness of their writing and the breakneck speed of their reconnection is compelling. Heartlines is at once both unique and universal. It's a story of courage and what can happen when you open rather than close your heart; when you decide to stay just as every fearful instinct tells you to run away.
Heartlines is about connection and reconnection and why relationships are worth the fight. It is a piercingly honest and often hilarious story of what it takes to reconnect – and stay there – after a lifetime apart.
Fast-paced, warm and funny, this is an adoption story that pulls the reader on to a wonderful if wobbly rollercoaster ride, exploring themes of family, motherhood, loss, belonging, hope, courage and the importance of never giving up.
Published:

2 May 2016

ISBN:

9780143780243

Imprint:

Vintage Australia

Format:

Trade Paperback

Pages:

336

RRP:

$34.99
Raw and emotional, this true story of an adopted daughter reconnecting with her birth morhter after 50 years reveals why even the most difficult relationships are worth fighting for. While the themes - abandonment, anger, love and courage - might be universal, this distinctly personal retelling is unique. You'll laugh, cry and reflect on your own childhood ... and then tell everyone you know to read this book!

Woman's Day
What a ripping story … so compelling!

Patricia Karvelas, ABC Radio National
Heartlines is … the heart-warming adoption reunion story you have to hear.

John and Garry, Radio 2UE
A brave account of their personal, ultimately rewarding experience of reconnection. This is a book for those who have tried and failed to find each other or perhaps want to try again.

Diane Dempsey, The Age
Heartlines is recommended for all parties involved in adoption search and reunion – adopted people, birth parents, adoptive parents and extended family on both sides – as it respectfully engages with difficult events and the myriad of emotions that emerge and flow from exploring the fragility and strengths of human relationships, particularly the indivisible bond between mothers and their children.

Thomas Graham, Ipsify
Article