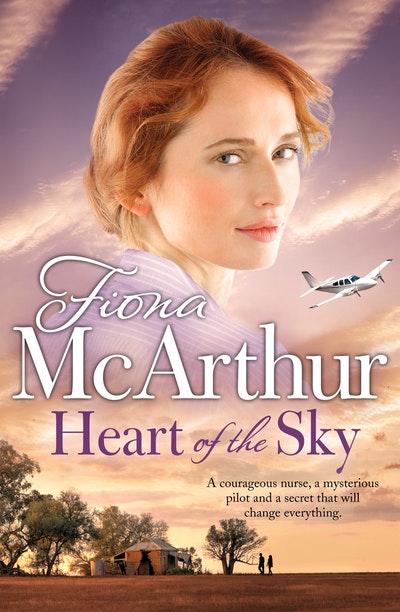 Published:

30 January 2017

ISBN:

9780143799832

Imprint:

Michael Joseph

Format:

Trade Paperback

Pages:

288

RRP:

$32.99
Heart of the Sky
Extract
The red-and-white Mica Ridge Flying Doctor Service aircraft taxied past the window of her new office and Tess Daley recognised with gratitude the tiny wobble of excitement in her chest.
Ushered further into the room by the brisk young office clerk, Tess could see past the aircraft, over the shimmering tarmac to rugged red hills that rose craggily in the distance.
Across the road, the morning sun burnished the saltbush and rocky ground the colour of copper behind the nodding galahs on the wire fence. So different to the green lushness of home.
The colour of the sky in far western New South Wales – goodness! She couldn't believe the primary blue, like a child's painting dabbed with undiluted colour. She could lose herself in it.
That was the plan. She'd driven most of the daylight hours on the actual anniversary of Vic's death, and now that she'd arrived, the twelve months worth of tension that sat in her shoulders didn't miraculously leave, but it had lightened. Even her heart lifted the way the flock of pink galahs suddenly did as she watched through the window, because another red-and-white aircraft had taxied in.
Maybe everything could begin anew. After all, she had driven the long way from Sydney via Adelaide to Mica Ridge all on her own. Vic had always driven in the past while she'd usually slept. She pushed that thought away.
It had been worth the effort to touch base at the hospitals her patients would rely on for treatment. Any crannies left in her packed-to-the-roof-with-belongings car had been filled with the country music she'd decided to immerse herself in – skipping the sad songs. One needed to prepare when you moved to the outback.
She spared a thought for the new owners in their beautiful beach-suburb home. She wished them well as they soaked in the waves, but she'd been glad to leave for the next twelve months.
She would be here in far western New South Wales and slowly build a new life like a broody chook. But with less brooding, hopefully. Work helped. Work and other people she could lose herself in. And a change of scenery. She glanced again at the sparse landscape. Not a tree change – more like an ochre sunrise on twelve months of adjustment.
Bringing herself back to the present, her eyes skipped with an interest she hadn't felt for too long over the new desk, lilac chairs and empty bookshelves.
She caught the receptionist's shrug. 'Hope you don't mind that I left the boxes unpacked. I thought you might want to arrange the shelves yourself.'
'No, that's great. Thanks. Perfect.' She shut her mouth. Told herself, You're gabbling, Tess.
Industry. Purpose. Vocation. She couldn't wait. Pale cardboard boxes with pamphlets, office supplies and reference material for women and the occasional man were stacked neatly beside the window. On the other side of the room another window looked internally into the hangar, where industrious engineers maintained the FDS aircraft.
The young woman – Tess searched her memory and came up with Soretta – said, 'The window pane is one way, so while you can watch the activity in the maintenance workshop on your down time, your patients will still have privacy from the engineers.' Soretta raised her thick brows. 'There are a couple of good-looking ones, but I've only just started work here two days a week so I'm not sure who's who.'
This girl obviously didn't realise that Tess was a widow. Or that Tess's interest lay more in the planes than the men who serviced them. She'd be flying over isolated homesteads and red creek beds in aircraft like that. Scenery similar to that she'd seen in the calendar Sissy had given her. Scenery that had tempted her by being polar opposite to where she'd come from.
'I won't have time for men.' Not for a long while anyway. The idea seemed completely inconceivable to her that she would replace Vic – ever.
Soretta didn't seem to think that unusual. Which was good in itself. Tess had reached saturation point from being pitied and nudged and skirted around as if grief and loss were contagious.
'I keep meaning to make time for a boyfriend but never seem to get around to it.' Soretta pointed to the jug. 'There's a new electric kettle and some plain white mugs. Daphne said you'd need those for the hundreds of cups of calming tea you'd be making in the coming months.'
Tess recalled Daphne as the obviously pregnant flight nurse she'd met upstairs in the control room. 'I'll be doing it all year,' Tess said, looking around. Yes, a year away from all that reminded her of him. Then she would go home and try to start again.
This room could be made more welcoming. Her fingers itched to rearrange chairs and give homey touches – to ramp up the nurture factor. Dormant memories arose from those house-and-garden magazines she used to adore and hadn't touched since . . .
Tess decided a pretty tea set and tablecloth were in order to celebrate. It had been a mammoth effort to leave the past and take on this contract. The fact that this was a one-year trial for the area hung over her, because there was more at stake than Tess herself. Service for isolated families was being fought for and she vowed she'd give her best to see outreach breast care established permanently. Of course a successor would have to carry it on.
Up in the control room above her head, Daphne had raved about the farm-stay homestead she'd been boarding in before her marriage. Evidently, the base doctor Tess hadn't met yet boarded there with her daughter as well. Daphne had said to ask Soretta.
Tess hadn't been sure because she'd lived alone since . . .
But everyone had their own space and, from her understanding, it seemed you could step out onto the encircling verandah from your room. The concept of early-morning drives to work through rugged landscape grew suddenly more appealing. Besides, she'd almost mastered western ballad melodies in the car.
'Do you know the place Daphne lived in before her marriage?'
Soretta's eyes sparkled and Tess decided the men around here must be a bit slow on the uptake if they weren't chasing this young lady.
'Know it very well.' Her voice resonated with dry amusement. 'It's my grandfather's station. Why? Thinking of living out of town?'
Tess hesitated. Was she? 'Daphne mentioned it and said to ask you.'
Soretta's ponytail swung as she shook her head. 'She's a sweetie. We miss her out at Blue Hills.'
Blue Hills. Even the name sounded evocative of peace. Tess decided then and there that it was exactly where she wanted to live. 'How long does it take to drive in? I looked at the FDS flats – there's so much concrete and steel fencing, and I can't see the open spaces.' She glanced again at the broad expanse that stretched away from the outlying airport. What was the use of living in the outback if all you could see when you woke up were houses?
'Takes about ten minutes to get in, and the base is the first thing you get to when you hit town.'
Perfect. Tess nodded. Now, out the window of the little office, the insignia of the Flying Doctor Service on the plane nearest to her seemed to wink at her in the bright sunshine, and she could feel her smile breaking through.
'Yes, I'd like that. Can I drive out after work this afternoon and take a peek?'
'Sure.' Soretta gave her an approving look. 'You sort yourself here and I'll come find you at the end of the day.' She stood up. 'I'd better get back. It's store-order day, but let me know if you need anything. I'm still getting used to working for a boss.' Then she disappeared.
Tess thought of the boss. Morgan Fraser, senior doctor and base manager of Mica Ridge Flying Doctor Service. They were having a hiring influx, it appeared. Tess had been employed as the inaugural breast care nurse for patients being treated for and recovering from breast cancer. The recently acquired Soretta multitasked as the office assistant, and an extra FDS pilot would be arriving tomorrow to join Hector, the quiet man with the kind eyes, and Daphne's husband, Rex, upstairs.
It seemed like a warm and welcoming workplace. The FDS must have come into new funding. Unless Morgan had been replacing people, but she doubted that. Morgan seemed fair. And Tess knew she was neither incompetent nor lacking in motivation, so she wasn't worried about the axe of eviction falling. Yet. She had a year.
This would be her first out-of-hospital post, and though she'd be dealing with the in-town community as well, Tess knew it was the concept of making a difference to cancer sufferers in the stations far away from services that had fired her interest.
Her newly created position would reduce the number of times remote clients would need to make the long journey into town or even further.
Her brief specified that she would be that contact point for patients diagnosed with breast cancer. Her job was to answer the hundreds of questions that needed correct information and find solutions to concerns in between the visits to the doctor.
She needed to use her ingenuity to source ideas for making things easier for the patients on isolated homesteads so they could rest and recuperate in their own homes. Apart from distance to services, she didn't have any idea of what those challenges were going to be yet. But she would learn.
Her sister-in-law, Beth, had worried when she'd read out the advertisement for this position at Mica Ridge. 'The heat. You'd never survive out there. There are no beaches – there isn't even a river! You'll be miserable in the outback.'
What she'd meant was she'd be miserable without the reminders of Victor.
Unlike her brother Victor, Beth had understood what kept Tess working as an oncology nurse with diagnosed, recovering and sometimes terminally ill people. Tess didn't have any doubts about her vocation. She'd been moved to specialise in breast cancer nursing two years ago, after Beth herself had been diagnosed and Tess had seen the holistic program of support Beth had received. She'd felt the connection, become inspired, and had driven herself to achieve her goal of passing the necessary qualifications to make the change.
Funny how the more she'd gone into what was needed for those on the journey to wellness with breast cancer, the more she'd felt she'd found her real place in life – and that calling had been there after Victor's death, giving her a sense of meaning that she'd clung to. At times she'd found it hard to be inspired about anything, but she'd pushed through and change now, away from the all they'd shared, felt right.
She gazed out the window over the heat-shimmering tarmac and whispered, 'Mica Ridge, I promise I'll give it my best.'
---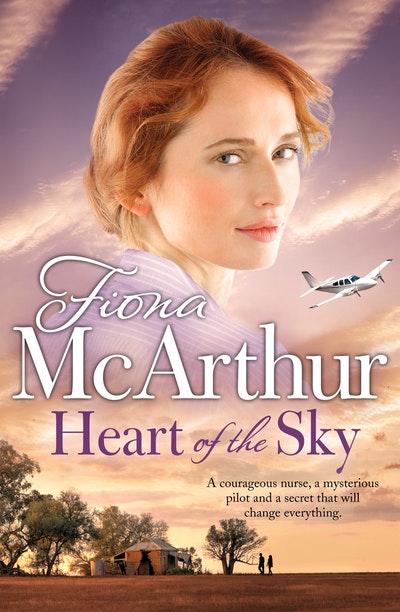 From the internationally bestselling author of TheHomestead Girls and Red Sand Sunrise comes this heartfelt story of friendship, forgiveness and love.
Buy now
Buy now
---