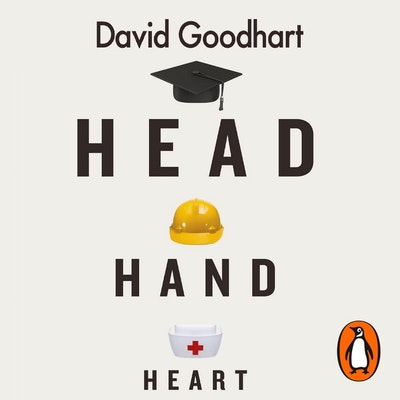 Published:

8 September 2020

ISBN:

9780241491874

Imprint:

Penguin Audio

Format:

Audio Download

RRP:

$27.99
Head Hand Heart
The Struggle for Dignity and Status in the 21st Century
---
---
---
A profound investigation into the deeper reason for our political alienation
A good society needs a balance between aptitudes relating to Head (cognitive), Hand (manual/craft) and Heart (caring/emotional). In recent decades in Western societies they have got out of kilter. One form of human aptitude -cognitive ability - has become the gold standard of human esteem. The cognitive class now shapes society, and largely in its own interests: in the knowledge economy, the over-expansion of higher education and in the very idea of a successful life. To put it bluntly: smart people have become too powerful.
David Goodhart, who in his last book described the divide between the worldviews of the Anywheres and Somewheres, now reveals the story of a cognitive takeover that has gathered pace in the past forty years. As recently as the 1970s most people left school without qualifications, now in the UK almost 40 per cent of jobs are graduate-only. He shows how we are now reaching 'Peak Head' as the knowledge economy needs fewer knowledge workers, yet there is a crisis of recruitment in caring jobs.
A democratic society that wants to avoid widespread disaffection must respect and reward a broad range of achievement covering both cognitive and non-cognitive aptitudes, and must provide meaning and value for people who cannot, or do not want to, achieve in the classroom and professional career market. This is the story of the struggle for status and dignity in the 21st century.
Published:

8 September 2020

ISBN:

9780241491874

Imprint:

Penguin Audio

Format:

Audio Download

RRP:

$27.99
Praise for Head Hand Heart
Utterly compelling ... Goodhart is one of the most important intellectuals in the country, if not Europe. He has consistently been ahead of the curve, no doubt because of his willingness to point out flaws in our liberal consensus before it was fashionable to do so

Sunday Times
Brilliant ... a book every MP should read ... The Road to Somewhere has become a classic and I think Head Hand Heart will become a classic too.

Kenneth Baker, The Telegraph
Voices the predicament of those whose dream - to live an ordinary, decent life - is often thwarted by a cognitive-obsessed society that disdains those who are not natural exam-passers

James Bloodworth, Spectator
Goodhart makes a strong case for reviving the status of work outside the 'knowledge economy', as the age of automation approaches ... by highlighting dimensions of life and work that have been stripped of prestige in an age of individualism, he performs a valuable service.

Julian Coman, Observer
Goodhart and his publishers may reflect on the freakishly good fortune of the book's timing ... joins the dots of Britain's current cultural and economic malaises. Goodhart is impassioned and hopeful, but the underlying ideological message is stark

William Davies, Guardian
It's a topsy-turvy world where the work of the heart and hand is undervalued. It's time for a radical rethink in what we value - and Goodhart's book is a part of this urgent endeavour

Nicci Gerrard
David Goodhart - the man who made the words "anywheres" and "somewheres" must-use terms of reference - turns his searching gaze and his genius for pithy formulation to another cause of division in the West: the fact that, as he puts it, "smart people have become too powerful.

Tom Holland
David Goodhart is among the most insightful analysts of Anglo-American society, and of why the elites in our two countries so badly misunderstand the values, needs, and worth of most citizens. If you dream of a society that is more just and humane, offering more people more routes to dignity, prosperity, and happiness, then you will love Head, Hand, Heart

Jonathan Haidt
Goodhart argues compellingly that an overvaluation of the role of cognitive elites in government and society has blinded us to the importance of the caring professions and vocations based on practical skills. Presenting an agenda that has become all the more urgent since the pandemic, Head, Hand and Heart is a powerful successor to Goodhart's hugely influential Road to Somewhere. For anyone concerned with the state of politics and society, this is a real must-read

John Gray
David Goodhart means to start a reformation. With great clarity and unfailing sympathy for the human condition, he charts a path toward a society in which a fuller range of aptitudes will receive the recognition they are due.

Matthew Crawford