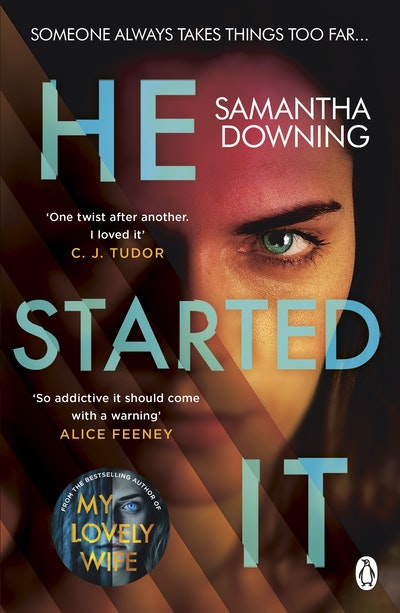 Published:

1 December 2020

ISBN:

9781405943680

Imprint:

Michael Joseph

Format:

Paperback

Pages:

400

RRP:

$22.99
He Started It
The gripping Sunday Times Top 10 bestselling psychological thriller
---
---
---
The bestselling author of My Lovely Wife takes on the most fraught domestic relationship of them all: sibling rivalry
Beth, Portia and Eddie are siblings. Like all siblings, sometimes they don't get along. They just have better reasons than most.
But when their grandfather dies, he leaves a troublingly specific condition in his will. For them to inherit his wealth, they're required to retake a road trip they took with him when they were children, and scatter his ashes at the end of it.
Of course, reuniting after all this time brings back memories of that ill-fated trip. Memories of what went wrong.
But it's not only memories they have to worry about. Someone is following them. Each of them is keeping secrets. And all of them are all too aware of what happened last time.
Because you can't inherit the money if someone kills you first.
Published:

1 December 2020

ISBN:

9781405943680

Imprint:

Michael Joseph

Format:

Paperback

Pages:

400

RRP:

$22.99
My Lovely Wife was one of my top books of 2019. He Started It is even better! Following a dysfunctional-to put it mildly-bunch of siblings on a bizarre and deadly road trip with their grandfather's ashes, He Started It is deliciously twisted, laced with Downing's trademark black humor and packed with one grisly twist after another. I loved it. All hail the new Queen of the psycho thriller!!

C.J. Tudor, Sunday Times bestselling author of The Chalk Man
A wicked-fun read with razor-sharp wit and a killer twist, He Started It is compelling, captivating, and deliciously dark. Samantha Downing writes with a wry, sparse elegance that steadily entangles you until you're utterly addicted.

Christina McDonald, USA Today bestselling author of The Night Olivia Fell
Downing ups her game in this deliciously twisted tale of family deception. He Started It has layers upon layers of clever, shocking twists that begin in the first chapter and never let up. Breathless pacing and terse, impeccable writing create a phenomenal reading experience. I am obsessed!

Wendy Walker, USA Today bestselling author of The Night Before
He Started It is a diabolical drive into a dysfunctional family's past. The story is chillingly twisted, perfectly paced. Once I started reading, I couldn't put it down.

Kaira Rouda, USA Today bestselling author of Best Day Ever
Sibling rivalry reaches new and downright despicable heights in He Started It, a novel where nothing is as it seems, and no one can be trusted. Creepy, unnerving and deliciously evil, Samantha Downing is one of the boldest authors I know. A must read!

Hannah Mary McKinnon, national bestselling author of Her Secret Son and The Neighbors
Samantha Downing is an absolute genius at creating twisted characters you're desperate to follow. He Started It is superbly structured, deliciously dark, and kept me guessing, heart pounding, through every single razor-sharp sentence. A psychological thriller like none other, this addictive read is impossible to put down.

Samantha M. Bailey, author of forthcoming Woman on the Edge
"Samantha Downing has done it again! With her second novel, He Started It, this master of sarcasm and suspense brings us a story that is impossible not to relate to. Initiated by a dead grandfather's will, we find ourselves trapped in a car journey with siblings that loathe each other's presence. As the miles pass, secrets and deceptionsabound, and we are kept guessing until the very last line. Downing's style remains in a league of its own, with to-the-point crisp language and snappy dialogue readers are taken on a gripping and edgy adventure." -

Maureen Joyce Connolly, author of Little Lovely Things
A thrill ride through the darkest parts of the American landscape - funny, scary and twisted until the explosive final page

Michele Campbell, bestselling author of It's Always The Husband
Samantha Downing shows how to pack a punch in her latest phenomenal thriller, He Started It. A twisty, sneaking tale of greed, lies and betrayal, with each character as conniving as the next and an ending that will make your heart stop. This one needs to be on the top of everyone's to-read list!

Mary Kubica, New York Times bestselling author of The Good Girl and The Other Mrs
I absolutely loved it: whip-smart, lean, deliciously dark and addictive. One of the best thrillers I've read in a long time

Ali Land, bestselling author of Good Me, Bad Me
Clever and very twisty: the razor sharp dialogue slices through to the dark heart of sibling rivalry. There are delicious echoes of Succession to savour

Jane Shemilt, bestselling author of Daughter
Once you start reading He Started It you won't want to stop. Dark, twisted, original, and so addictive it should come with a warning

Alice Feeney, bestselling author of Sometimes I Lie
You'll be gripped as siblings Beth, Portia and Eddie set off on a mission that will ensure them each a share of their inheritance but what does their dead grandfather really have in store for them?

Prima
If you like your thrillers dark, then join this road trip from hell. A toxic thrill ride into the ultimate family dysfunction

Sunday Mirror
Smart, twisty

Sun
Utterly compelling

Woman's Own Magazine