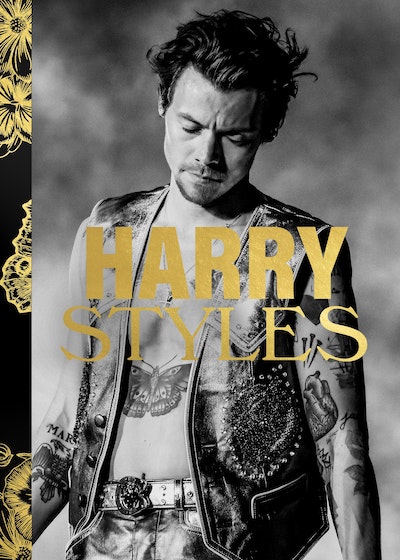 Published:

24 October 2023

ISBN:

9781958395295

Imprint:

Hearst Home Books

Format:

Hardback

Pages:

144

RRP:

$35.00
Harry Styles
---
---
"A stunning new photo-packed book" –E! News
The perfect gorgeous pocket-sized hardcover gift book for all Harry Styles fans, packed with 100+ amazing photos and with a gold-foil stamped cover.
Plus, top cultural, music and fashion contributors discuss Harry's cultural significance and answer the question: Why Harry, why now and just what makes him the man of the moment?
Fabulously dressed with a flair all his own, unapologetic yet vulnerable, talented yet supremely humble: Harry Styles is a cultural phenomenon and icon for our times. This photo-packed, gold-foiled luxe gift book celebrates the global superstar's impact on music and fashion and how his choice of positive and authentic self-expression and tolerance has helped redefine modern masculinity and celebrity worldwide.
Divided into three sections–each with a short introduction about the music, the fashion, and the joyful magic of his appeal– this amazing collection of Harry's signature moments includes:
The Met Gala and his Gucci sheer pussy-bow black blouse and heeled boots The sparkling Coachella performance with Shania TwainThe incredible launch of the #1 hit and video, As It WasHis stunning appearances at red carpets, the Grammys, BRIT Awards, and more!
If a person could be a smile, then that would be Harry–and that essence of Harry is what this exciting book captures. Stylers and Harries will adore and treasure this keepsake.
Contributors include:
Jem Aswad, executive music editor at VarietyAlex Bilmes, journalist and editor-in-chief of Esquire UKNikki Cardiello, music and portrait photographer Aya Kanai, Head of Creative and Editorial at Google Shopping and former fashion editor at Hearst
Published:

24 October 2023

ISBN:

9781958395295

Imprint:

Hearst Home Books

Format:

Hardback

Pages:

144

RRP:

$35.00