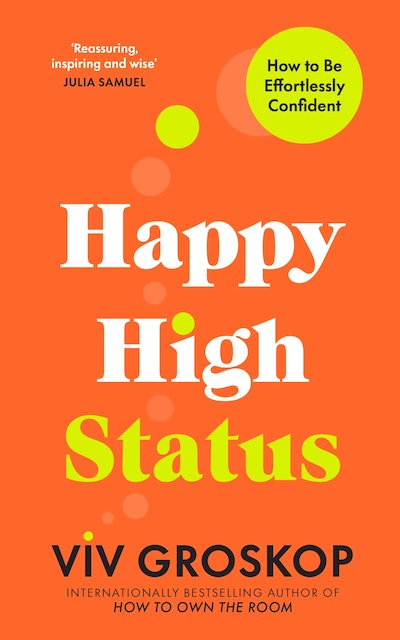 Published:

17 October 2023

ISBN:

9781911709275

Imprint:

Torva

Format:

Hardback

Pages:

304

RRP:

$35.00
Happy High Status
How to Be Effortlessly Confident
---
---
Viv Groskop, executive coach and stand-up comedian, shares powerful and proven advice to help us channel a sense of authentic high status effortlessly, redefining what confidence looks like at home and at work.
Redefine what confidence looks like at home and at work.
Everyone wants to be able to face challenging situations without feeling daunted, intimidated or stressed. But no-one wants to be labelled over-confident, arrogant or smarmy, or to get caught up in their own hype. So how can you feel authentically confident - without the cringe, and without pretending to be something you're not?
Happy high status is a new way of thinking about confidence and how you relate to yourself. It's how actors and comedians enhance their presence on stage and screen. It lends strength and energy to your interactions, big and small, and is a way of projecting status, minimising self-doubt and moving effortlessly through life.
Drawing on research, practical tips and lessons from the worlds of comedy, film, television, politics and sport, Viv Groskop offers a masterclass in how you can access this new form of confidence at any time. All, crucially, with no risk of anyone thinking that you are your own biggest fan.
"Viv always makes me feel more confident. Get the magic now in book form" - Katy Brand
"I recommend Viv Groskop to anyone wanting more self-confidence" - Philippa Perry
"Reassuring, inspiring and wise - a practical handbook for anyone held back by self-doubt" - Julia Samuel
Published:

17 October 2023

ISBN:

9781911709275

Imprint:

Torva

Format:

Hardback

Pages:

304

RRP:

$35.00
Praise for Happy High Status
Friendly, fun and incredibly useful

Cathy Rentzenbrink
Reassuring, inspiring and wise - a practical handbook for anyone held back by self-doubt

Julia Samuel
Viv Groskop always makes me feel more confident. Get the magic now in book form

Katy Brand
Inspiring. Amazing. Empowering yet relatable, Happy High Status shows you how to channel confidence and embody strength and leadership without feeling like you're being a dick about it. It has made me feel that I - a normal woman with thick ankles and frizzy hair - can embody the charming, insouciant confidence of Michelle Obama or Julia Roberts. I love this - everyone should read it.

Lucy Porter
Like all of Viv's writing, this is joyous, thoughtful and, best of all, bloody useful

Cariad Lloyd
How can you seem confident, gracious and charming when inside you're anxious, annoyed and on a short fuse? Is it ok to pretend to be someone you're not? If people are looking to you for confidence and clarity when all around you is complexity and chaos, you could do a lot worse than read this guide to being yourself while also being charming, calm and authoritative. Simple, powerful, funny and practical - I wish I'd read it years ago.

Matt Brittin, President of EMEA Business & Operations, Google
Viv Groskop reinvents the very idea of confidence - she turns tired old 'one size fits all' advice on its head and lets us see how we all have 'happy high status' within us. Listen to yourself, not to other people - the results will astonish you. This book changes the way we think about confidence and success.

Isabel Berwick, host of Financial Times' Working It podcast
Viv Groskop's no-nonsense approach to confidence is entertaining yet transformative. Show up as you on your best day, every day.

Sara Davies, star of Dragon's Den