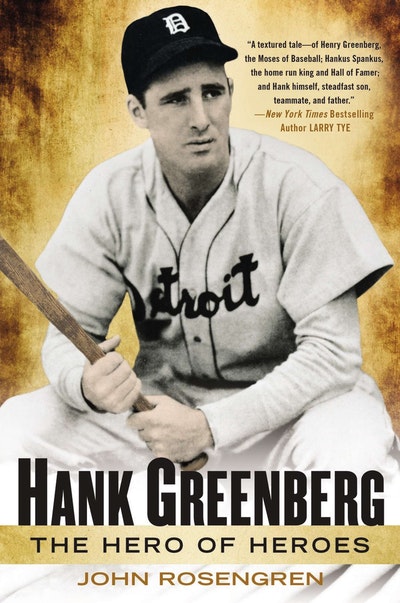 Published:

4 March 2014

ISBN:

9780451416025

Imprint:

Berkley

Format:

Paperback

Pages:

416

RRP:

$29.99
Hank Greenberg
The Hero of Heroes
---
---
Baseball during the Great Depression of the 1930s galvanized communities and provided a struggling country with heroes. Jewish player Hank Greenberg gave the people of Detroit—and America—a reason to be proud.
But America was facing more than economic hardship. Hitler's agenda heightened the persecution of Jews abroad while anti-Semitism intensified political and social tensions in the U.S. The six-foot-four-inch Greenberg, the nation's most prominent Jew, became not only an iconic ball player, but also an important and sometimes controversial symbol of Jewish identity and the American immigrant experience.
Throughout his twelve-year baseball career and four years of military service, he heard cheers wherever he went along with anti-Semitic taunts. The abuse drove him to legendary feats that put him in the company of the greatest sluggers of the day, including Babe Ruth, Jimmie Foxx, and Lou Gehrig. Hank's iconic status made his personal dilemmas with religion versus team and ambition versus duty national debates.
Hank Greenberg is an intimate account of his life—a story of integrity and triumph over adversity and a portrait of one of the greatest baseball players and most important Jews of the twentieth century.
INCLUDES PHOTOS
Published:

4 March 2014

ISBN:

9780451416025

Imprint:

Berkley

Format:

Paperback

Pages:

416

RRP:

$29.99
Praise for Hank Greenberg
"Rosengren pens a textured tale—of Henry Greenberg, the Moses of Baseball; Hankus Spankus, the home run king and Hall of Famer; and Hank himself, steadfast son, teammate, and father."—Larry Tye, New York Times bestselling author of Satchel: The Life and Times of an American Legend   "The best and most important biography ever written about Hank Greenberg....Well written, deeply sensitive, and thoroughly researched."—Glenn Stout, author of Fenway 1912   "Rosengren's copious research offers new insights into the hurdles that Hank Greenberg faced, as well as his tenacity as a player and bravery during World War II that made him the hero of heroes."—Aviva Kempner, director of The Life and Times of Hank Greenberg