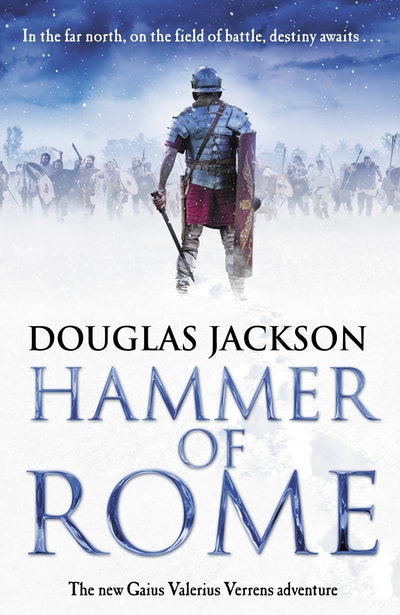 Published:

17 September 2018

ISBN:

9780593076187

Imprint:

Bantam Press

Format:

Trade Paperback

Pages:

480

RRP:

$32.99
Hammer of Rome
Gaius Valerius Verrens 9
---
---
---
Britain, in the late 1st century AD, and a dangerous alliance of tribes now stands in the way of the infamous Ninth Legion as it marches north. At its head rides that 'Hero of Rome' Gaius Valerius Verrens - pursued by intrigues and hatreds, his duty is to his emperor and to his men and he intends to stay alive long enough to lead them to victory . . .
AD 80 Gaius Valerius Verrens is back where he belongs, at the head of a legion. But this is no ordinary legion. His command is the 'unlucky' Ninth, tainted by four decades of ill fortune and poor leadership. A unit regarded as expendable by Valerius's superior, Gnaeus Julius Agricola, governor of Britannia.
Yet all that can be swept aside by a single moment of glory, and the long heralded invasion of the north of the province provides the perfect opportunity. Valerius leads his men to a devastating victory against the recalcitrant Brigantes, infuriating Agricola in the process. Soon, even greater honours beckon with the death of Emperor Vespasian and the succession of Valerius's friend, Titus.
But, back in Rome, the new emperor faces his own challenges, not least from his own brother, Domitian, a man with an insatiable ambition for power and a deadly hatred of Valerius.
All Valerius can do is forget the great prizes on offer, concentrate on defeating the savage tribes who lie in the path of the Ninth, and ignore Agricola's intrigues.
But watching his every move is the most formidable enemy he has ever faced: mighty Calgacus, war chief of the Northern alliance.
Published:

17 September 2018

ISBN:

9780593076187

Imprint:

Bantam Press

Format:

Trade Paperback

Pages:

480

RRP:

$32.99
Praise for Hammer of Rome
Spectacular and satisfying . . . thrilling and dramatic . . . Roman historical fiction at its very best.

SUNDAY EXPRESS
A wonderful novel . . . the battle scenes are as thrilling as ever . . . Douglas Jackson is one of the finest writers about today, irrespective of genre. This series is a glorious achievement and so too is the book that completes it'

FOR WINTER NIGHTS