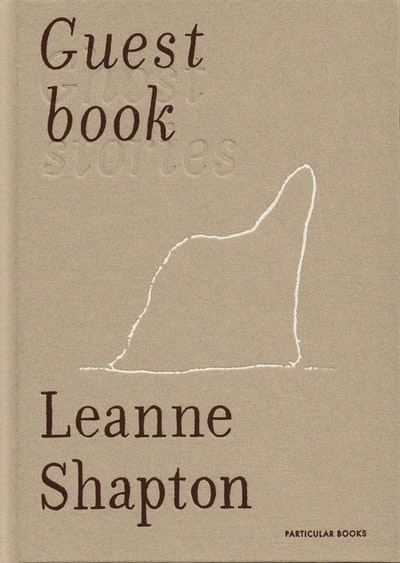 Published:

28 March 2019

ISBN:

9780141971490

Imprint:

Penguin eBooks

Format:

EBook

Pages:

250
Guestbook
Ghost Stories
---
---
---
What haunts us? What can't we let go of? One of our most imaginative writers and artists explores the visitations that disturb us in the midst of life, and reinvents the very way we narrate experience.
Here a tennis prodigy collapses after his wins, crediting them to an invisible, not entirely benevolent presence. A series of ghosts appear at the foot of their former beds, some distraught, some fascinated at the sight of their unfamiliar occupants. A woman returns from a visit to Alcatraz with an uncomfortable feeling. The spirit of a prisoner has attached himself to you, a friend tells her. He sensed the empathy you had for those men.
In more than two dozen stories and vignettes accompanied by an evocative curiosity cabinet of artifacts and images - found photographs, original paintings, Instagram-style portraits - Guestbook presents the glimmering, unsettling evidence that marks our paths through life. Shapton explores the earthly and sublime experience of existence by expanding the traditional ghost story into a new constellation of words and images.
Published:

28 March 2019

ISBN:

9780141971490

Imprint:

Penguin eBooks

Format:

EBook

Pages:

250
Leanne Shapton has a way of making books entirely new, surreal, and uncanny, always experimenting with the ways image and text can be mixed to tell new stories, in new ways. Guestbook is a delicious haunting and leaves one with a chill of recognition for how we live as ghosts in this distant, distracted, and image-obsessed time.

Sheila Heti
Guestbook reveals Shapton as a ventriloquist, a diviner, a medium, a force, a witness, a goof, and above all, a gift. One of the smartest, most moving, most unexpected books I have read in a very long time.

Rivka Galchen, author of Atmospheric Disturbances
It looks like a book, about the strangeness and sadness of love, but is really a house, and the house is haunted, and is still haunting me.

John Jeremiah Sullivan, writer for the New York Times and editor for Harper's Magazine and the Paris Review
Leanne Shapton's "Guestbook" lifts the veil on what is unknowable, but deeply felt in periphery. Buy this book!

Richard McGuire, graphic novelist and illustrator for the New York Times and the New Yorker
In this perfectly uncanny collection of stories, Leanne Shapton explores the many things that follow and haunt us as we go about our lives, unsettling us in sometimes terrifying and sometimes exhilarating ways. Shapton's words are interwoven with images of art and artifacts, adding to the surreal aura of each of the stories, reminding us of the always pulsing energy that imbues nearly everything around us, always, whether we feel it right away or not.

Nylon, '50 Books You'll Want To Read In 2019'
It's fascinating to see what happens when we try to tell stories we don't quite have words for. That's why Leanne Shapton's Guestbook-comprised of vignettes, photographs, and original paintings-is the perfect medium (get it?) for these ghost stories.

LitHub, 'Most Anticipated Books of 2019'
I can't wait to see how form and function unite here.

TOR.com, 'The Books We're Looking Forward to in 2019'
'Ghost' is a good word for all the nameless longing that doesn't get resolved in this lifetime. Shapton has created a mystical territory - a performance, an exhibition, a guestbook - in which I felt the ghost within myself; the thing that will outlive me. A fearless and exquisite book.

Miranda July
Guestbook discretely ushers us into the realms of the profound and the other worldly via the profane, the staged and the everyday. A rare and thrilling synthesis of literary sensibility and the artist's eye. The kind of picture book every grown up dreams of reading.

Adam O'Riordan, author of 'In the Flesh' and 'The Burning Ground'
In this astounding book, full of exquisitely disquieting narrative gestures and found ghosts, Leanne Shapton proves herself a master scrap-booker of the unconscious, a brilliant bricolage comic, and a fierce and subtle artistic provocateur. Enter these worlds at your peril, and to your guaranteed delight.

Sam Lipsyte, author of 'Hark' and 'The Ask'
Shapton inventively explores the space between presence and absence, craftily blending images and text to articulate what cannot be explained, only sensed, making for a uniquely haunting and uncanny work.

Publishers Weekly
Hard to describe and impossible to forget, Guestbook is genuinely haunting and wholly original: a book to be experienced more than read.

Lottie Moggach, author of 'Kiss Me First'
A book like no other: Shapton can lift up the most everyday things - family photographs, ordinary rooms, vintage dresses, Christmas wrapping-paper - and give the reader a glimpse of the teeming ghostworld beneath.

Joanne Limburg
Through her experimental prose, Leanne Shapton has created a unique meditation on spectrality. Both a selection of mystical ghost stories and a tracing of ephemera and archival imagery, Guestbook identifies the uncanny nature of everyday life. Shapton glides seamlessly through each of the many vignettes that make up this haunting work which is part poem, part novel, part artwork, and everything in between.

Hans Ulrich Obrist