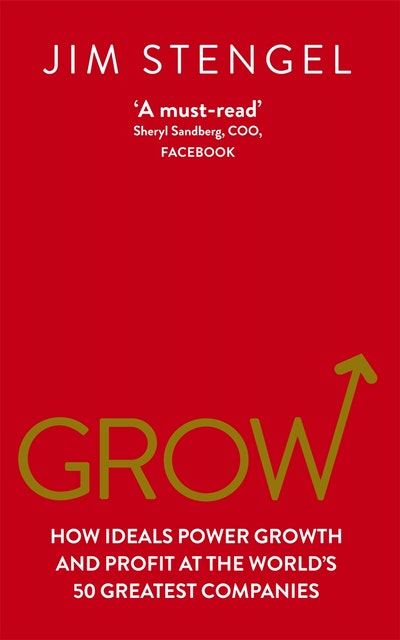 Published:

1 February 2012

ISBN:

9780753540664

Imprint:

Virgin Books

Format:

Trade Paperback

Pages:

336

RRP:

$29.99
Grow
How Ideals Power Growth and Profit at the World's 50 Greatest Companies
---
---
What makes a business grow beyond the competition? What powers it to the top and keeps it there?
Great businesses naturally have many things in common: superbly designed products and services, knockout customer experiences, sustained excellence at execution, outstanding talent and teamwork, and great leadership. But there's also something else, an X factor that keeps renewing and strengthening great businesses through good times and bad.
Based on almost ten years of empirical research involving 50,000 companies, Jim Stengel shows how the world's 50 best businesses - as diverse as Apple, Red Bull, Pampers and Petrobras - have a cause and effect relationship between financial performance and their ability to connect with fundamental human emotions, hopes, values and greater purposes.
In this, the next big idea book, Stengel deftly blending timeless truths about human behaviour and values into an action framework, to show us how by embracing what he describes as 'brand ideals', the world's best businesses can achieve incredible growth and drastically improve their performance.
Published:

1 February 2012

ISBN:

9780753540664

Imprint:

Virgin Books

Format:

Trade Paperback

Pages:

336

RRP:

$29.99
In seven years as global marketing officer of Procter & Gamble, Jim Stengel was influenced by celebrated management writers such as Jim Collins, author of Good to Great, and Stephen Covey ... Grow stands a chance of becoming a similarly influential text for a new generation of executives

Financial Times
By combining a scientist's rigor with a storyteller's gifts, Jim Stengel has produced a brilliant, must-read book supremely suited to our times

Arianna Huffington
When you start reading Grow, you may well feel a little sceptical about the ideal and its bottom-line value. But you'll soon become intrigued - and then utterly convinced. Jim Stengel shares his beliefs and his experience with a generosity bordering on the reckless; and has the hard, clean numbers to bear his teachings out

Sir Martin Sorrell, CEO, WPP
A new, powerful model for business. ... A must-read ... for all business leaders

Sheryl Sandberg, COO, Facebook
Grow is a tool kit for turning the power of ideals...into competitive advantage and sustainable growth

Robert A. McDonald, chairman, president, and CEO, Procter & Gamble
A landmark book tailor-made for the times

Tom Peters, coauthor of In Search of Excellence
This breakthrough book, filled with original ideas and engaging stories, will inspire you to rethink what truly matters to your company and career

William C. Taylor, founding editor, Fast Company, bestselling author of Practically Radical
Jim Stengel shows quite conclusively the power of galvanizing your company around a noble cause. It's a great way to think about your business

David C. Novak, Chairman and CEO, Yum! Brands, Inc.
In this fascinating book...I personally discovered ideas that are exactly what we need in today's business environment

Maurice Levy, chairman and CEO, Publicis Group
Jim Stengel is a pioneer. Not only has he cracked the code on growth, unlocking the mysteries of what drives supercharged performance, he gives us something more profound. When you truly and measurably improve other people's lives, your life and the life of your business and brand improves exponentially. Mystery solved. Truth unleashed

Roy Spence, chairman and cofounder, GSD&M; CEO and cofounder, The Purpose Institute; and author of It's Not What You Sell, It's What You Stand For
By combining a scientist's rigor with a storyteller's gifts, Jim Stengel has produced a brilliant, must-read book supremely suited to our times

Arianna Huffington