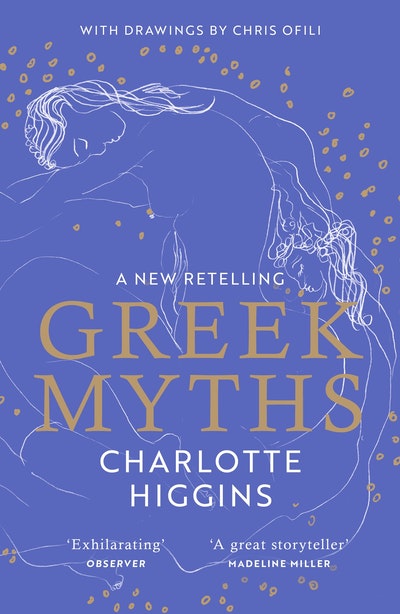 Published:

1 November 2022

ISBN:

9781529111118

Imprint:

Vintage

Format:

Paperback

Pages:

336

RRP:

$22.99
Greek Myths
A New Retelling, with drawings by Chris Ofili
---
---
---
A major new retelling of the Greek myths for a new generation, with original drawings by world-renowned artist Chris Ofili.
In this spellbinding new collection, Charlotte Higgins reinterprets some of Greek mythology's most enduring stories.
'A great storyteller' Madeline Miller, author of Circe
Here are the myths of Heracles and Theseus, the Trojan war, Thebes and Argos and Athens. They are stories of love and desire, adventure and magic, destructive gods, helpless humans, fantastical creatures and resourceful witches.
In this telling the female characters take centre stage as Athena, Helen, Circe, Penelope and others weave these stories into elaborate imagined tapestries. In Charlotte Higgins's thrilling new interpretation of these ancient stories, their tales combine to form a dazzling, sweeping epic of storytelling.
With a series of original drawings by Chris Ofili.
Published:

1 November 2022

ISBN:

9781529111118

Imprint:

Vintage

Format:

Paperback

Pages:

336

RRP:

$22.99
Charlotte Higgins captures the raw, magical originality of the Greek myths in this beguiling book, charmingly illustrated by Chris Ofili... She knows her classics - and her myths - inside out.

Harry Mount, Catholic Herald
We are in the hands of a fine, fluent storyteller... Higgins, like the bards who first unspooled these tales, creates the illusion of spontaneity and handles suspense brilliantly... Chris Ofili's drawings complement the lyricism of the prose descriptions. Higgins depicts art mediating life - the reason, I think, that we read books... I loved this book.

Sara Wheeler, Spectator
[A] scholarly, capacious reimagining... Higgins makes you feel for these tormented, accursed mortals afresh.

Claire Allfree, The Times
A gritty and exhilarating new version of the ancient stories in which the female characters take centre stage.

Katy Guest, Guardian
Higgins invests the tales with surprising new meanings... The command of Higgins herself, as the master weaver of myths, emerges forcefully....Ancient myths here acquire compelling modern form.

Booklist, Starred Review
[Higgins] leads us through the labyrinth of interconnected stories in a startlingly fresh way. It throws radiant new light on their meanings... This excellent book should delight many generations of story lovers to come.

Edith Hall, Guardian
The feminism is subtle but persistent... This isn't about imposing modern values on ancient texts... her compendium deftly tracks the format of Ovid's Metamorphoses, one tale blurring into the next. But even readers who think they know their classics will discover some surprises.

Rachel Cunliffe, New Statesman
Higgins is a wonderful scholar, and a great story teller. I've been loving these retellings, cleverly centered around the theme of myths told in tapestry.

Madeline Miller, author of THE SONG OF ACHILLES and CIRCE
[An] erudite and exhilarating collection... luminous, astute retellings.

Hephzibah Anderson, Observer
A beautifully designed book, with Chris Ofili's accompanying drawings giving it an extra sparkle.

Susan Swarbrick and Teddy Jamieson, Herald, *Christmas Gift Guide 2021*
Exceptionally well researched... The prose is almost neoclassical, in being limpid and allusive, clear and nebulous at one and the same time.

Stuart Kelly, The Scotsman, Books of the Year