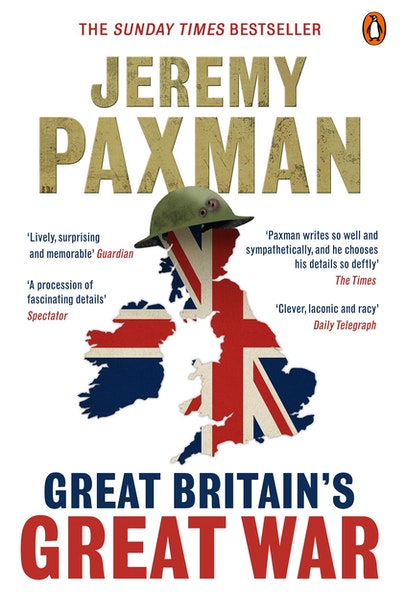 Published:

3 October 2013

ISBN:

9780670919642

Imprint:

Penguin eBooks

Format:

EBook

Pages:

368
Great Britain's Great War
---
---
---
The renowned broadcaster and bestselling author's magnificent history of the First World War, ahead of his 4-part flagship BBC TV series to mark its 100th Anniversary
What was life actually like for the British during the First World War?
The images we have of the First World War -- a Tommy buried in the mud of the Western Front; the pointing finger of Lord Kitchener; the memorial poppies of remembrance day -- all reinforce the idea that it was, in the end, an utterly pointless waste of life, and very little more. So why did we fight it so willingly and how did we endure it for so long?
Using a wealth of first-hand source material, Jeremy Paxman brings vividly to life the day-to-day experience of the British over the entire course of the war, from politicians, newspapermen, campaigners and Generals, to Tommies, factory-workers, nurses, wives and children, capturing the whole mood and morale of the nation and explaining how life and identity in Britain were utterly transformed, not always for the worse, by this experience. Rich with personalities, surprises and ironies, this broad narrative history paints a picture of courage and confusion, doubts and dilemmas, and is written with Jeremy Paxman's characteristic flair for story-telling, wry humour and pithy observation.
Published:

3 October 2013

ISBN:

9780670919642

Imprint:

Penguin eBooks

Format:

EBook

Pages:

368
Praise for Great Britain's Great War
He writes so well and sympathetically, and chooses his detail so deftly, that if there is one new history of the war that you might actually enjoy from the very large centennial selection this is very likely it

The Times
A fine introduction to the part Britain played in the first of the worst two wars in history. The writing is lively and the detail often surprising and memorable

Guardian
Incisive, colourful. Paxman delves into every aspect of British life to capture the mood and morale of the nation - from the corridors of power to the factory shop floor

Daily Express ****
Clever, laconic and racy. Paxman gets the balance right between political, military, economic and cultural points of view. There is a judicious mix between individual stories and the 'bigger picture' ... a book that engages the minds and emotions

Telegraph
A procession of fascinating details ... he narrates with brio ... conveys the texture of the times ... write[s] with clarity and sympathy

Spectator
Paxman is particularly good ... in showing how much a modern perspective distorts our understanding ... summarises well how class barriers were shattered ... refreshingly combative in arguing that the war was not futile

Prospect
Mixing pragmatism with sardonic observation ... one is left with a better understanding of how the Great Britain that began the war became more like ordinary Britain, shorn of global power and prestige, by its end

Sunday Times
A beautifully lucid account of the impact of the first World War on the British way of life . . . Blends anecdote with cold fact to create a picture not merely of what happened but also of how it felt to those involved

Irish Times