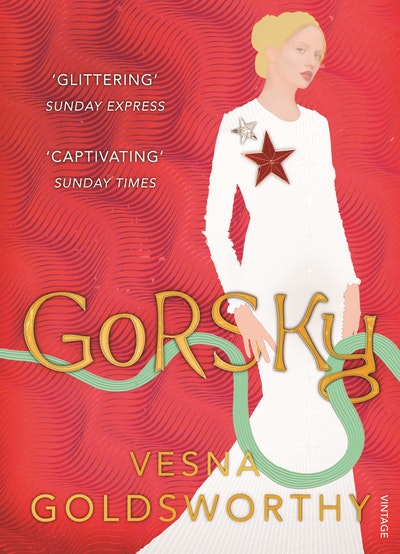 Published:

9 April 2015

ISBN:

9781473521124

Imprint:

Vintage Digital

Format:

EBook

Pages:

288
Gorsky
---
---
---
It was a piece of business that comes along once in a lifetime. If you are lucky.
A captivating tale of big money, Russian beauty and good books.
Longlisted for the Baileys Women's Prize for Fiction
'Captivating' Sunday Times
'Glittering' Sunday Express
London dances to the tune of Gorsky's billions.The most enigmatic of oligarchs, Gorsky desires and gets the best of everything and now he has his sights set on Natalia. That she is already married is an inconvenient detail.
Nick works in a shabby-chic bookshop. When Gorsky approaches him with the commission of a lifetime, Nick suddenly gains access to the world of the wealthy and the beautiful. But this privilege comes at a price and Nick finds his new life suddenly fraught with danger...
Published:

9 April 2015

ISBN:

9781473521124

Imprint:

Vintage Digital

Format:

EBook

Pages:

288
Entertaining and poignant, ironic and serious, Gorsky is both a literary homage and the work of a highly original imagination. Goldsworthy is brilliant on money, clothes. romantic love and decadent sex -- and on various kinds of immigrant species. A jeu d'esprit with a heart and mind.

Eva Hoffman
The spell-binding story of a Russian billionaire setting up home in London's 'Chelski'. With wit and poetic verve, Vesna Goldsworthy explores our fascination with money, glamour, parties and sex and, ultimately, offers a haunting elegy to love

Sofka Zinovieff
Here, at last, is the 'Gatsby' for today's London - the holy city of the Russian super-rich. In a marvellously written, wickedly imagined novel, sometimes hauntingly sad and sometimes very funny, Vesna Goldsworthy evokes the loneliness which goes with sudden and gigantic wealth, as it falls upon men and women with no previous background of privilege. 'Gorsky' provides a crowded satire on the mob of hangers-on who follow the billionaires, and a clear-eyed panorama of Kensington and Chelsea as new money floods over old dignity.

Neal Ascherson
It's a clever, telling story asking questions about love, power, beauty and books. Where better to find love than among the shelves of a dusty bookshop?

Patrick Neale, Bookseller
Its charm lies in its literary and historical adornments

John Owen, Country & Town House
I was swept up in the characters and the setting of this brilliant book and hope that it will become a classic

Charlotte Courthold, Mature Times
Clever... entertaining... elegant

Rose Wild, The Times
There's no mistaking F Scott Fitzgerald's The Great Gatsby as the inspiration behind Vesna Goldsworthy's glittering, glamorous novel

Eithne Farry, Sunday Express, S Magazine
Evocative, captivating and acutely observed

Patricia Nicol, Sunday Times
It's surprising there haven't been more novels drawing on London's fascination with Russian oligarchs. But how to write about them without it all seeming a bit Jackie Collins? Vesna Goldsworthy has hit on the perfect solution with her witty novel Gorsky

Viv Groskop, Spectator
Her sharp observation of London's super-rich...is an unexpected and elegant bonus in this retelling of a classic story

The Times
This is the most enjoyable fiction I've come across this year. Gorsky is engaging and, best of all.manages to cast London in a new and softer light. I defy anyone who revelled in Fitzgerald's original not to have fun with Goldsworthy's attempt to transpose arguably the greatest American novel back to the old world

Peter Carty, Financial Times
It's a great story by any measure

Kathy Watson, Tablet
An eternal, melancholy story which never fails to tug at the heartstrings

Maxim Jakubowski, Lovereading
Written with such narrative elegance that you're led irresistibly on, as with some exquisite dish, from one perfect melting mouthful to the next

Michael Frayn
Goldsworthy's mischievous debut updates that constant trope about gaining the world and losing your soul in a contemporary London setting that is two parts Bulgakov to one part Richard Curtis's Notting Hill

Michael Conaghan, Belfast Telegraph Morning