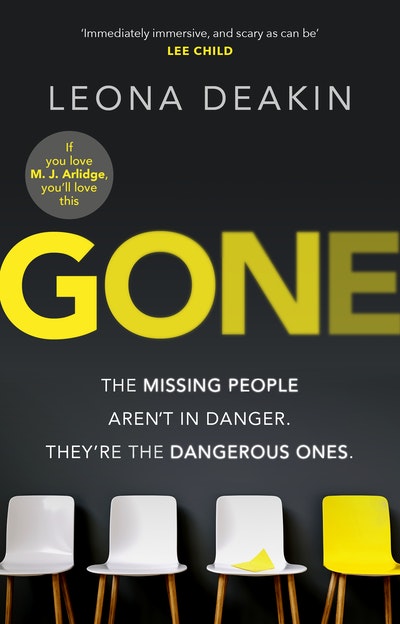 Published:

3 December 2019

ISBN:

9781784164089

Imprint:

Black Swan

Format:

Paperback

Pages:

384

RRP:

$22.99
Gone
---
---
---
A MAJOR LAUNCH OF A NEW INVESTIGATIVE THRILLER SERIES
A spectacular new thriller with an ingenious hook that turns the missing person plot on its head... What if the missing people are the dangerous ones?
WOMAN & HOME'S BEST THRILLER OF THE YEAR
'If you like a proper, twisty nerve-wracking thriller, here's one for you!'
Emma Curtis, author of One Little Mistake
Four strangers are missing. Left at their last-known locations are birthday cards that read:
YOUR GIFT IS THE GAME.
DARE TO PLAY?
The police aren't worried - it's just a game. But the families are frantic. As psychologist and private detective Dr Augusta Bloom delves into the lives of the missing people, she finds something that binds them all.
And that something makes them very dangerous indeed.
As more disappearances are reported and new birthday cards uncovered, Dr Bloom races to unravel the mystery and find the missing people.
But what if, this time, they are the ones she should fear?
WHAT READERS ARE SAYING ABOUT GONE:
'Sensational' *****
'I will say phenomenal. Although that doesn't cover how good this book is' *****
'Complete mind-twisting and gripping suspense' *****
'I raced through it desperate to get to the end while not wanting it to end' *****
'What a riveting psychological thriller' *****
'It is dark, riveting, twisty and cruel' *****
'Wow . . . this book was fabulous' *****
'Belter of a psychological thriller' *****
'Please write another novel soon, I need the adrenaline rush' *****
Published:

3 December 2019

ISBN:

9781784164089

Imprint:

Black Swan

Format:

Paperback

Pages:

384

RRP:

$22.99
If you like a proper, twisty nerve-wracking thriller, here's one for you!

Emma Curtis, author of 'One Little Mistake'
With a scorching finale and a psychologist-cum-private detective to savour, this is the one to watch!

T A Cotterell, author of 'What Alice Knew'
Fabulous. Beautifully imagined, beautifully written, immediately immersive, and scary as can be.

Lee Child
Clever and well plotted, this is a true original that will stay with you long after it's chilling close.

Woman & Home
An interesting novel, pleasantly different from most crime fiction that deals with psychopathy.

Literary Review
One of the best books to buy this Christmas!

Gransnet
The latest thriller you need to add to your reading list, especially for those who love nothing more than solving a mystery.

The Sun
Dark, with a focus on psychopathy, this is undoubtedly our favourite thriller of 2019. Shiver as Dr August Bloom is drawn into a chilling game with very high stakes. What sets this novel apart is the final reveal, which comes as a genuine shock, and will linger in your mind long after finishing the book.

Woman & Home
A fascinating thriller with a unique concept that will immerse you from the get-go

Crime Monthly
The story contains more twists and turns than a fairground ride

The Crime Hub