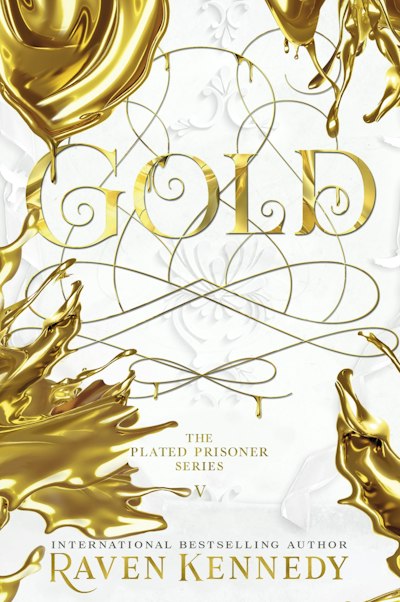 Published:

12 December 2023

ISBN:

9780241621622

Imprint:

Michael Joseph

Format:

Trade Paperback

Pages:

672

RRP:

$32.99
Gold
The next exciting novel in the TikTok-beloved, smash-hit series by the Sunday Times bestseller (Plated Prisoner, 5)
---
---
---
The final book in the Plated Prisoner Series - the TikTok dark fantasy phenomenon that has sold over half a million copies worldwide
Every end is also a beginning.
I was going to die. If it weren't for Slade, I would have. But he ripped the world open for me and I went through it.
To Annwyn.
To home.
Annwyn is the realm of the fae, a magical place full of beauty and danger.
Here, I am known as Lyäri Ulvêre – the golden one gone.
And there are people in this world who want to keep me that way.
But I am not that girl in the gilded cage anymore, and no one is going to use me again. Or stop me from finding my way back to Slade.
I am my own woman. And I will find him.
In this world, or the next.
Published:

12 December 2023

ISBN:

9780241621622

Imprint:

Michael Joseph

Format:

Trade Paperback

Pages:

672

RRP:

$32.99
Other books in the series
Praise for The Plated Prisoner Series

:
Praise for The Plated Prisoner Series

:
Praise for The Plated Prisoner Series

:
Praise for The Plated Prisoner Series

:
Praise for The Plated Prisoner Series

:
Praise for The Plated Prisoner Series

:
Praise for The Plated Prisoner Series

:
Praise for The Plated Prisoner Series

:
Praise for The Plated Prisoner Series

:
Praise for The Plated Prisoner Series

:
Praise for The Plated Prisoner Series

:
Praise for The Plated Prisoner Series

:
Praise for The Plated Prisoner Series

:
Praise for The Plated Prisoner Series

:
Praise for The Plated Prisoner Series

:
This series has stolen my heart, my breath, my regard for anything else. I've never been so immersed in a story before-never read characters that have felt so real. I've cried, laughed, screamed, thrown my kindle across the room, picked it up again, swooned . . . These characters, this WORLD . . . it's everything. Raven has written a story for the ages, destined to go down as one of the epics

Sarah A Parker, author of To Bleed a Crystal Bloom
This series has stolen my heart, my breath, my regard for anything else. I've never been so immersed in a story before-never read characters that have felt so real. I've cried, laughed, screamed, thrown my kindle across the room, picked it up again, swooned . . . These characters, this WORLD . . . it's everything. Raven has written a story for the ages, destined to go down as one of the epics

Sarah A Parker, author of To Bleed a Crystal Bloom
This series has stolen my heart, my breath, my regard for anything else. I've never been so immersed in a story before-never read characters that have felt so real. I've cried, laughed, screamed, thrown my kindle across the room, picked it up again, swooned . . . These characters, this WORLD . . . it's everything. Raven has written a story for the ages, destined to go down as one of the epics

Sarah A Parker, author of To Bleed a Crystal Bloom
This series has stolen my heart, my breath, my regard for anything else. I've never been so immersed in a story before-never read characters that have felt so real. I've cried, laughed, screamed, thrown my kindle across the room, picked it up again, swooned . . . These characters, this WORLD . . . it's everything. Raven has written a story for the ages, destined to go down as one of the epics

Sarah A Parker, author of To Bleed a Crystal Bloom
This series has stolen my heart, my breath, my regard for anything else. I've never been so immersed in a story before-never read characters that have felt so real. I've cried, laughed, screamed, thrown my kindle across the room, picked it up again, swooned . . . These characters, this WORLD . . . it's everything. Raven has written a story for the ages, destined to go down as one of the epics

Sarah A Parker, author of To Bleed a Crystal Bloom
This series has stolen my heart, my breath, my regard for anything else. I've never been so immersed in a story before-never read characters that have felt so real. I've cried, laughed, screamed, thrown my kindle across the room, picked it up again, swooned . . . These characters, this WORLD . . . it's everything. Raven has written a story for the ages, destined to go down as one of the epics

Sarah A Parker, author of To Bleed a Crystal Bloom
This series has stolen my heart, my breath, my regard for anything else. I've never been so immersed in a story before-never read characters that have felt so real. I've cried, laughed, screamed, thrown my kindle across the room, picked it up again, swooned . . . These characters, this WORLD . . . it's everything. Raven has written a story for the ages, destined to go down as one of the epics

Sarah A Parker, author of To Bleed a Crystal Bloom
This series has stolen my heart, my breath, my regard for anything else. I've never been so immersed in a story before-never read characters that have felt so real. I've cried, laughed, screamed, thrown my kindle across the room, picked it up again, swooned . . . These characters, this WORLD . . . it's everything. Raven has written a story for the ages, destined to go down as one of the epics

Sarah A Parker, author of To Bleed a Crystal Bloom
This series has stolen my heart, my breath, my regard for anything else. I've never been so immersed in a story before-never read characters that have felt so real. I've cried, laughed, screamed, thrown my kindle across the room, picked it up again, swooned . . . These characters, this WORLD . . . it's everything. Raven has written a story for the ages, destined to go down as one of the epics

Sarah A Parker, author of To Bleed a Crystal Bloom
This series has stolen my heart, my breath, my regard for anything else. I've never been so immersed in a story before-never read characters that have felt so real. I've cried, laughed, screamed, thrown my kindle across the room, picked it up again, swooned . . . These characters, this WORLD . . . it's everything. Raven has written a story for the ages, destined to go down as one of the epics

Sarah A Parker, author of To Bleed a Crystal Bloom
This series has stolen my heart, my breath, my regard for anything else. I've never been so immersed in a story before-never read characters that have felt so real. I've cried, laughed, screamed, thrown my kindle across the room, picked it up again, swooned . . . These characters, this WORLD . . . it's everything. Raven has written a story for the ages, destined to go down as one of the epics

Sarah A Parker, author of To Bleed a Crystal Bloom
This series has stolen my heart, my breath, my regard for anything else. I've never been so immersed in a story before-never read characters that have felt so real. I've cried, laughed, screamed, thrown my kindle across the room, picked it up again, swooned . . . These characters, this WORLD . . . it's everything. Raven has written a story for the ages, destined to go down as one of the epics

Sarah A Parker, author of To Bleed a Crystal Bloom
This series has stolen my heart, my breath, my regard for anything else. I've never been so immersed in a story before-never read characters that have felt so real. I've cried, laughed, screamed, thrown my kindle across the room, picked it up again, swooned . . . These characters, this WORLD . . . it's everything. Raven has written a story for the ages, destined to go down as one of the epics

Sarah A Parker, author of To Bleed a Crystal Bloom
This series has stolen my heart, my breath, my regard for anything else. I've never been so immersed in a story before-never read characters that have felt so real. I've cried, laughed, screamed, thrown my kindle across the room, picked it up again, swooned . . . These characters, this WORLD . . . it's everything. Raven has written a story for the ages, destined to go down as one of the epics

Sarah A Parker, author of To Bleed a Crystal Bloom
This series has stolen my heart, my breath, my regard for anything else. I've never been so immersed in a story before-never read characters that have felt so real. I've cried, laughed, screamed, thrown my kindle across the room, picked it up again, swooned . . . These characters, this WORLD . . . it's everything. Raven has written a story for the ages, destined to go down as one of the epics

Sarah A Parker, author of To Bleed a Crystal Bloom
Raven writes with a magic that comes to life on the page. Every single word gleams like gold

Beck Michaels, author of Divine Blood
Raven writes with a magic that comes to life on the page. Every single word gleams like gold

Beck Michaels, author of Divine Blood
Raven writes with a magic that comes to life on the page. Every single word gleams like gold

Beck Michaels, author of Divine Blood
Raven writes with a magic that comes to life on the page. Every single word gleams like gold

Beck Michaels, author of Divine Blood
Raven writes with a magic that comes to life on the page. Every single word gleams like gold

Beck Michaels, author of Divine Blood
Raven writes with a magic that comes to life on the page. Every single word gleams like gold

Beck Michaels, author of Divine Blood
Raven writes with a magic that comes to life on the page. Every single word gleams like gold

Beck Michaels, author of Divine Blood
Raven writes with a magic that comes to life on the page. Every single word gleams like gold

Beck Michaels, author of Divine Blood
Raven writes with a magic that comes to life on the page. Every single word gleams like gold

Beck Michaels, author of Divine Blood
Raven writes with a magic that comes to life on the page. Every single word gleams like gold

Beck Michaels, author of Divine Blood
Raven writes with a magic that comes to life on the page. Every single word gleams like gold

Beck Michaels, author of Divine Blood
Raven writes with a magic that comes to life on the page. Every single word gleams like gold

Beck Michaels, author of Divine Blood
Raven writes with a magic that comes to life on the page. Every single word gleams like gold

Beck Michaels, author of Divine Blood
Raven writes with a magic that comes to life on the page. Every single word gleams like gold

Beck Michaels, author of Divine Blood
This is one of those series that started off phenomenal, and only gets better with every subsequent book.

Laura Thalassa, author of The Bargainer Series
This is one of those series that started off phenomenal, and only gets better with every subsequent book.

Laura Thalassa, author of The Bargainer Series
This is one of those series that started off phenomenal, and only gets better with every subsequent book.

Laura Thalassa, author of The Bargainer Series
This is one of those series that started off phenomenal, and only gets better with every subsequent book.

Laura Thalassa, author of The Bargainer Series
This is one of those series that started off phenomenal, and only gets better with every subsequent book.

Laura Thalassa, author of The Bargainer Series
This is one of those series that started off phenomenal, and only gets better with every subsequent book.

Laura Thalassa, author of The Bargainer Series
This is one of those series that started off phenomenal, and only gets better with every subsequent book.

Laura Thalassa, author of The Bargainer Series
This is one of those series that started off phenomenal, and only gets better with every subsequent book.

Laura Thalassa, author of The Bargainer Series
This is one of those series that started off phenomenal, and only gets better with every subsequent book.

Laura Thalassa, author of The Bargainer Series
This is one of those series that started off phenomenal, and only gets better with every subsequent book.

Laura Thalassa, author of The Bargainer Series
This is one of those series that started off phenomenal, and only gets better with every subsequent book.

Laura Thalassa, author of The Bargainer Series
This is one of those series that started off phenomenal, and only gets better with every subsequent book.

Laura Thalassa, author of The Bargainer Series
This is one of those series that started off phenomenal, and only gets better with every subsequent book.

Laura Thalassa, author of The Bargainer Series
This is one of those series that started off phenomenal, and only gets better with every subsequent book.

Laura Thalassa, author of The Bargainer Series
This is one of those series that started off phenomenal, and only gets better with every subsequent book.

Laura Thalassa, author of The Bargainer Series
Get ready to be enthralled from the first word, and begging for more by the last. Raven Kennedy crafts an astonishing world that's filled with captivating characters and a story you won't be able to put down

Ivy Asher, bestselling author of The Osseous Chronicles and The Lost Sentinel Series
Get ready to be enthralled from the first word, and begging for more by the last. Raven Kennedy crafts an astonishing world that's filled with captivating characters and a story you won't be able to put down

Ivy Asher, bestselling author of The Osseous Chronicles and The Lost Sentinel Series
Get ready to be enthralled from the first word, and begging for more by the last. Raven Kennedy crafts an astonishing world that's filled with captivating characters and a story you won't be able to put down

Ivy Asher, bestselling author of The Osseous Chronicles and The Lost Sentinel Series
Get ready to be enthralled from the first word, and begging for more by the last. Raven Kennedy crafts an astonishing world that's filled with captivating characters and a story you won't be able to put down

Ivy Asher, bestselling author of The Osseous Chronicles and The Lost Sentinel Series
Get ready to be enthralled from the first word, and begging for more by the last. Raven Kennedy crafts an astonishing world that's filled with captivating characters and a story you won't be able to put down

Ivy Asher, bestselling author of The Osseous Chronicles and The Lost Sentinel Series
Get ready to be enthralled from the first word, and begging for more by the last. Raven Kennedy crafts an astonishing world that's filled with captivating characters and a story you won't be able to put down

Ivy Asher, bestselling author of The Osseous Chronicles and The Lost Sentinel Series
Get ready to be enthralled from the first word, and begging for more by the last. Raven Kennedy crafts an astonishing world that's filled with captivating characters and a story you won't be able to put down

Ivy Asher, bestselling author of The Osseous Chronicles and The Lost Sentinel Series
Get ready to be enthralled from the first word, and begging for more by the last. Raven Kennedy crafts an astonishing world that's filled with captivating characters and a story you won't be able to put down

Ivy Asher, bestselling author of The Osseous Chronicles and The Lost Sentinel Series
Get ready to be enthralled from the first word, and begging for more by the last. Raven Kennedy crafts an astonishing world that's filled with captivating characters and a story you won't be able to put down

Ivy Asher, bestselling author of The Osseous Chronicles and The Lost Sentinel Series
Get ready to be enthralled from the first word, and begging for more by the last. Raven Kennedy crafts an astonishing world that's filled with captivating characters and a story you won't be able to put down

Ivy Asher, bestselling author of The Osseous Chronicles and The Lost Sentinel Series
Get ready to be enthralled from the first word, and begging for more by the last. Raven Kennedy crafts an astonishing world that's filled with captivating characters and a story you won't be able to put down

Ivy Asher, bestselling author of The Osseous Chronicles and The Lost Sentinel Series
Get ready to be enthralled from the first word, and begging for more by the last. Raven Kennedy crafts an astonishing world that's filled with captivating characters and a story you won't be able to put down

Ivy Asher, bestselling author of The Osseous Chronicles and The Lost Sentinel Series
Get ready to be enthralled from the first word, and begging for more by the last. Raven Kennedy crafts an astonishing world that's filled with captivating characters and a story you won't be able to put down

Ivy Asher, bestselling author of The Osseous Chronicles and The Lost Sentinel Series
Get ready to be enthralled from the first word, and begging for more by the last. Raven Kennedy crafts an astonishing world that's filled with captivating characters and a story you won't be able to put down

Ivy Asher, bestselling author of The Osseous Chronicles and The Lost Sentinel Series
This series is amazing and I can't recommend it enough. It is one of the best New Adult Fantasy books out there.

Kay Thatcher, author of Prince of Blades
This series is amazing and I can't recommend it enough. It is one of the best New Adult Fantasy books out there.

Kay Thatcher, author of Prince of Blades
This series is amazing and I can't recommend it enough. It is one of the best New Adult Fantasy books out there.

Kay Thatcher, author of Prince of Blades
This series is amazing and I can't recommend it enough. It is one of the best New Adult Fantasy books out there.

Kay Thatcher, author of Prince of Blades
This series is amazing and I can't recommend it enough. It is one of the best New Adult Fantasy books out there.

Kay Thatcher, author of Prince of Blades
This series is amazing and I can't recommend it enough. It is one of the best New Adult Fantasy books out there.

Kay Thatcher, author of Prince of Blades
This series is amazing and I can't recommend it enough. It is one of the best New Adult Fantasy books out there.

Kay Thatcher, author of Prince of Blades
This series is amazing and I can't recommend it enough. It is one of the best New Adult Fantasy books out there.

Kay Thatcher, author of Prince of Blades
This series is amazing and I can't recommend it enough. It is one of the best New Adult Fantasy books out there.

Kay Thatcher, author of Prince of Blades
This series is amazing and I can't recommend it enough. It is one of the best New Adult Fantasy books out there.

Kay Thatcher, author of Prince of Blades
This series is amazing and I can't recommend it enough. It is one of the best New Adult Fantasy books out there.

Kay Thatcher, author of Prince of Blades
This series is amazing and I can't recommend it enough. It is one of the best New Adult Fantasy books out there.

Kay Thatcher, author of Prince of Blades
This series is amazing and I can't recommend it enough. It is one of the best New Adult Fantasy books out there.

Kay Thatcher, author of Prince of Blades
This series is amazing and I can't recommend it enough. It is one of the best New Adult Fantasy books out there.

Kay Thatcher, author of Prince of Blades
TEN GILDED STARS! Remarkably original . . .and the prose, people . . . gorgeous, gorgeous, gorgeous

Olivia Wildenstein, USA Today Bestselling Author
TEN GILDED STARS! Remarkably original . . .and the prose, people . . . gorgeous, gorgeous, gorgeous

Olivia Wildenstein, USA Today Bestselling Author
TEN GILDED STARS! Remarkably original . . .and the prose, people . . . gorgeous, gorgeous, gorgeous

Olivia Wildenstein, USA Today Bestselling Author
TEN GILDED STARS! Remarkably original . . .and the prose, people . . . gorgeous, gorgeous, gorgeous

Olivia Wildenstein, USA Today Bestselling Author
TEN GILDED STARS! Remarkably original . . .and the prose, people . . . gorgeous, gorgeous, gorgeous

Olivia Wildenstein, USA Today Bestselling Author
TEN GILDED STARS! Remarkably original . . .and the prose, people . . . gorgeous, gorgeous, gorgeous

Olivia Wildenstein, USA Today Bestselling Author
TEN GILDED STARS! Remarkably original . . .and the prose, people . . . gorgeous, gorgeous, gorgeous

Olivia Wildenstein, USA Today Bestselling Author
TEN GILDED STARS! Remarkably original . . .and the prose, people . . . gorgeous, gorgeous, gorgeous

Olivia Wildenstein, USA Today Bestselling Author
TEN GILDED STARS! Remarkably original . . .and the prose, people . . . gorgeous, gorgeous, gorgeous

Olivia Wildenstein, USA Today Bestselling Author
TEN GILDED STARS! Remarkably original . . .and the prose, people . . . gorgeous, gorgeous, gorgeous

Olivia Wildenstein, USA Today Bestselling Author
TEN GILDED STARS! Remarkably original . . .and the prose, people . . . gorgeous, gorgeous, gorgeous

Olivia Wildenstein, USA Today Bestselling Author
TEN GILDED STARS! Remarkably original . . .and the prose, people . . . gorgeous, gorgeous, gorgeous

Olivia Wildenstein, USA Today Bestselling Author
TEN GILDED STARS! Remarkably original . . .and the prose, people . . . gorgeous, gorgeous, gorgeous

Olivia Wildenstein, USA Today Bestselling Author
TEN GILDED STARS! Remarkably original . . .and the prose, people . . . gorgeous, gorgeous, gorgeous

Olivia Wildenstein, USA Today Bestselling Author
TEN GILDED STARS! Remarkably original . . .and the prose, people . . . gorgeous, gorgeous, gorgeous

Olivia Wildenstein, USA Today Bestselling Author
An emotional rollercoaster

Elizabeth Brown, author of Blood Crown
An emotional rollercoaster

Elizabeth Brown, author of Blood Crown
An emotional rollercoaster

Elizabeth Brown, author of Blood Crown
An emotional rollercoaster

Elizabeth Brown, author of Blood Crown
An emotional rollercoaster

Elizabeth Brown, author of Blood Crown
An emotional rollercoaster

Elizabeth Brown, author of Blood Crown
An emotional rollercoaster

Elizabeth Brown, author of Blood Crown
An emotional rollercoaster

Elizabeth Brown, author of Blood Crown
An emotional rollercoaster

Elizabeth Brown, author of Blood Crown
An emotional rollercoaster

Elizabeth Brown, author of Blood Crown
An emotional rollercoaster

Elizabeth Brown, author of Blood Crown
An emotional rollercoaster

Elizabeth Brown, author of Blood Crown
An emotional rollercoaster

Elizabeth Brown, author of Blood Crown
An emotional rollercoaster

Elizabeth Brown, author of Blood Crown
What I've enjoyed so far about this series is how it's a metaphor about real, emotional issues

Day Leitao, author of Kingdom of Curses and Shadows Series
What I've enjoyed so far about this series is how it's a metaphor about real, emotional issues

Day Leitao, author of Kingdom of Curses and Shadows Series
What I've enjoyed so far about this series is how it's a metaphor about real, emotional issues

Day Leitao, author of Kingdom of Curses and Shadows Series
What I've enjoyed so far about this series is how it's a metaphor about real, emotional issues

Day Leitao, author of Kingdom of Curses and Shadows Series
What I've enjoyed so far about this series is how it's a metaphor about real, emotional issues

Day Leitao, author of Kingdom of Curses and Shadows Series
What I've enjoyed so far about this series is how it's a metaphor about real, emotional issues

Day Leitao, author of Kingdom of Curses and Shadows Series
What I've enjoyed so far about this series is how it's a metaphor about real, emotional issues

Day Leitao, author of Kingdom of Curses and Shadows Series
What I've enjoyed so far about this series is how it's a metaphor about real, emotional issues

Day Leitao, author of Kingdom of Curses and Shadows Series
What I've enjoyed so far about this series is how it's a metaphor about real, emotional issues

Day Leitao, author of Kingdom of Curses and Shadows Series
What I've enjoyed so far about this series is how it's a metaphor about real, emotional issues

Day Leitao, author of Kingdom of Curses and Shadows Series
What I've enjoyed so far about this series is how it's a metaphor about real, emotional issues

Day Leitao, author of Kingdom of Curses and Shadows Series
What I've enjoyed so far about this series is how it's a metaphor about real, emotional issues

Day Leitao, author of Kingdom of Curses and Shadows Series
What I've enjoyed so far about this series is how it's a metaphor about real, emotional issues

Day Leitao, author of Kingdom of Curses and Shadows Series
What I've enjoyed so far about this series is how it's a metaphor about real, emotional issues

Day Leitao, author of Kingdom of Curses and Shadows Series
I devoured [the] first book and it ended on such a nice cliff-hanger that I am thirsting for the next one

Emmie Hamilton, author of Chosen to Fall
I devoured [the] first book and it ended on such a nice cliff-hanger that I am thirsting for the next one

Emmie Hamilton, author of Chosen to Fall
I devoured [the] first book and it ended on such a nice cliff-hanger that I am thirsting for the next one

Emmie Hamilton, author of Chosen to Fall
I devoured [the] first book and it ended on such a nice cliff-hanger that I am thirsting for the next one

Emmie Hamilton, author of Chosen to Fall
I devoured [the] first book and it ended on such a nice cliff-hanger that I am thirsting for the next one

Emmie Hamilton, author of Chosen to Fall
I devoured [the] first book and it ended on such a nice cliff-hanger that I am thirsting for the next one

Emmie Hamilton, author of Chosen to Fall
I devoured [the] first book and it ended on such a nice cliff-hanger that I am thirsting for the next one

Emmie Hamilton, author of Chosen to Fall
I devoured [the] first book and it ended on such a nice cliff-hanger that I am thirsting for the next one

Emmie Hamilton, author of Chosen to Fall
I devoured [the] first book and it ended on such a nice cliff-hanger that I am thirsting for the next one

Emmie Hamilton, author of Chosen to Fall
I devoured [the] first book and it ended on such a nice cliff-hanger that I am thirsting for the next one

Emmie Hamilton, author of Chosen to Fall
I devoured [the] first book and it ended on such a nice cliff-hanger that I am thirsting for the next one

Emmie Hamilton, author of Chosen to Fall
I devoured [the] first book and it ended on such a nice cliff-hanger that I am thirsting for the next one

Emmie Hamilton, author of Chosen to Fall
I devoured [the] first book and it ended on such a nice cliff-hanger that I am thirsting for the next one

Emmie Hamilton, author of Chosen to Fall
I devoured [the] first book and it ended on such a nice cliff-hanger that I am thirsting for the next one

Emmie Hamilton, author of Chosen to Fall
An emotional rollercoaster of a book that brings vivid and layered characters into a magical realm. The world building and pace is intricate and fast, this is a book you will race through

Glamour
Video
The Plated Prisoner Series (Gild, Glint and Gleam) by Raven Kennedy
Gild is first book in The Plated Prisoner - the 44M view Tik Tok Fantasy phenomenon. It follows Auren - the woman King Midas turned to gold - as she escapes the King and faces fearsome enemies, and her own demons, to find her voice. Buy now: https://www.penguin.com.au/books/gild-the-plated-prisoner-series-vol-1-9781405955003