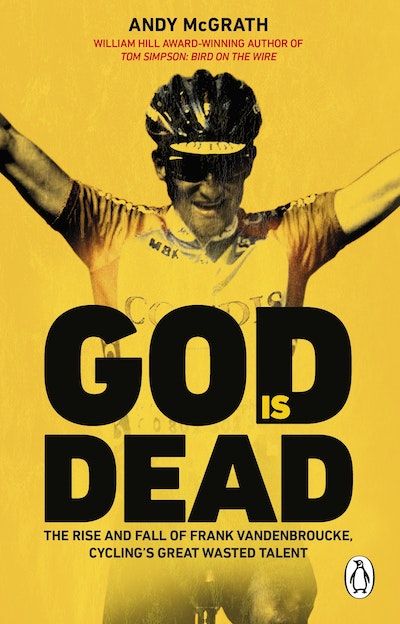 Published:

10 March 2022

ISBN:

9781473563377

Imprint:

Transworld Digital

Format:

EBook

Pages:

320
God is Dead
The Rise and Fall of Frank Vandenbroucke, Cycling's Great Wasted Talent
---
---
---
The remarkable untold story of the mercurial cycling prodigy Frank Vandenbroucke. Featuring exclusive contributions from his family, friends and teammates, William Hill award-winning author Andy McGrath lays bare Vandenbroucke's chaotic and complicated life.
'How doping killed cycling's 'golden boy'. A shocking, clear-sighted and sympathetic account of a talent destroyed by drugs.' The Times
'Sensitive yet compelling.' The Observer
They called him God.
For his grace on a bicycle, for his divine talent, for his heavenly looks. Frank Vandenbroucke had it all, and in the late nineties he raced with dazzling speed and lived even faster.
The Belgian won most of cycling's most prestigious races, including Liège-Bastogne-Liège and Paris-Nice, enthralling a generation of cycling fans. Off the bike, he only had one enemy - himself.
His rise to prominence coincided with a rampant period of doping and Vandenbroucke had a wayward streak. He regularly fell out with team managers and had all-night party sessions mixing sleeping pills and alcohol. A drugs scandal started a long fall from grace, leading to addiction, car crashes, court appearances, marital problems and suicide bids, punctuated by sporting comebacks. His life was like a soap opera and its premature ending shocked many.
In October 2009, aged thirty-four, Vandenbroucke was found dead in a Senegalese hotel room - in mysterious circumstances.
Led by candid contributions from his closest family, friends and associates, William Hill award-winning author Andy McGrath lays bare Vandenbroucke's turbulent life story. God is Dead is the compelling biography of this mercurial cycling prodigy.
-
'With his talent, Frank is the Johan Cruyff of cycling. He could win anything.' Eddy Merckx, FIVE TIMES WINNER OF THE TOUR DE FRANCE
'Captures the charisma and chaos of Vandenbroucke's short life perfectly.' Cyclist
'A cautionary tale. Gripping yet harrowing.' Bikeradar
Published:

10 March 2022

ISBN:

9781473563377

Imprint:

Transworld Digital

Format:

EBook

Pages:

320
'With his talent, Frank is the Johan Cruyff of cycling. He could win anything.'

Eddy Merckx
'I sometimes wonder if he was too intelligent to be a rider. He was a genius.'

Patrick Lefevere
'In Belgium, we need heroes, examples. People who don't break, people who release us from our daily mediocrity. People who can fly, who do things that we cannot. VDB on the Saint-Nicolas.'

Matthias Declercq
'He was shy and introverted, not the extrovert. We could think that he was macho, but he wanted to be loved.'

Jef Brouwers
'People always love comeback stories. Because they recognise that in life, it's all about falling down and standing up.'

Steve De Wolf
How doping killed cycling's 'golden boy'. A shocking, clear-sighted and sympathetic account of a talent destroyed by drugs.

Melanie Reid, The Times
Frank Vandenbroucke had the world at his pedals in the late 1990s ... but off [the bike] the Belgian lived in a soap opera, a mess of addictions, marital problems and, finally, death. McGrath is a sensitive yet compelling guide through this turbulence.

Ben East, The Observer
A stunning biography of this troubled individual. 320 pages of brilliance.

Washing Machine Post
Captures the charisma and chaos of Vandenbroucke's short life perfectly.

Cyclist
A cautionary tale. Gripping yet harrowing.

Bikeradar
9/10

Road.cc
'Belgian cyclist Frank Vandenbroucke was one of the sport's greatest ever talents - a charismatic but hard-partying maverick who was nicknamed 'God' by his legions of fans. So how did he end up dead in a Senegal hotel room at the age of just 34? Andy McGrath tells his tragic story.'

The Daily Telegraph
Superb. A riveting, warts-an-all dive into a complex, deeply flawed rider and man during professional cycling's lowest ebb.

Cycling Plus
'A riveting, warts-an-all dive into a complex, deeply flawed rider and man'

Cycling Plus
'McGrath covers the rise and fall of Frank Vandenbroucke with sensitivity and not sensationalism... from winning Liège-Bastogne-Liège to doping and addiction, suicide attempts, court appearances and his death, no stone is left unturned when delivering the truth about 'cycling's great wasted talent'

Cyclist