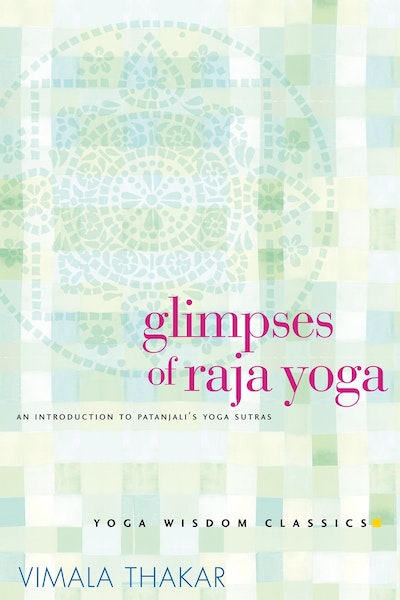 Published:

15 December 2016

ISBN:

9781930485075

Imprint:

Rodmell Press

Format:

Trade Paperback

Pages:

128

RRP:

$38.00
Glimpses Of Raja Yoga
---
---
In Glimpses of Raja Yoga, Vimala Thakar introduces the basic concepts of Patanjali's Yoga Sutras by focusing on a different sutra, or aphorism, in each of the twelve chapters. In her opening chapter, she presents the historical and cultural background of Patanjali's Raja Yoga. Chapter 2 contains an eloquent invocation of the dimension of Silence—the meditative state that one enters with the stilling of the mind. Chapters 3–6 examine the ethical principles and observances (the yamas and niyamas) that form the foundation of a healthy spiritual practice. Here Vimala discusses the importance of ahimsa (non-violence) and satya (truthfulness), and offers a radical interpretation of brahmacarya based on her understanding of Sanskrit. Chapter 7 concerns the kleshas or causes of suffering such as avidya (ignorance) and asmita (egotism). Chapter 8 discriminates between dharana (meditation with deliberate focus) and dhyana (effortless meditation), and reflects Vimala's own experience. Chapter 9 describes the relation of prakriti (matter) and purusha (spirit) according to Patanjali. Chapters 10–12 describe the ultimate goal of the yogic journey—the absolute freedom of samadhi.
Published:

15 December 2016

ISBN:

9781930485075

Imprint:

Rodmell Press

Format:

Trade Paperback

Pages:

128

RRP:

$38.00
Praise for Glimpses Of Raja Yoga
Born in India, Vimala Thakar began her spiritual search at the tender age of five. As a young woman, she traveled and lectured for the Land Gift Movement of Vinoba Bhave, an associate of Mahatma Gandhi. Her meetings with Krishnamurti, from 1956 to 1961, had a profound effect on her life. From the 1960s to the 1980s, she taught meditation retreats in thirty-five countries. She stopped traveling outside of India in 1991 and now resides in Mount Abu, in Rajasthan, where she meets with people from all over the world.