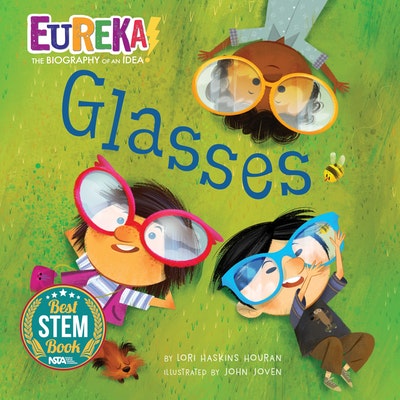 Published:

19 October 2021

ISBN:

9781635924251

Imprint:

Astra Publishing House

Format:

Paperback

Pages:

32

RRP:

$12.99
Glasses
Eureka! The Biography of an Idea
---
---
---
NSTA/CBC Best STEM Book
EUREKA! Great things happen when science crosses history! Discover the all-true stories of your favorite inventions with this new multicultural STEM series that takes readers on a journey through time and around the world. A perfect choice for kids ages 4–8 who love to figure out how things work!
Without glasses, everything can be a blur! Here is a "biography" of glasses, an essential invention that helps people see clearly.
Ever since someone first noticed that a jar of water magnified what was behind it, people have worked to improve their vision. Glasses is a fun and informative look at an invention that makes a huge difference in our lives. This STEAM nonfiction title is part of the new Eureka! series, each book focusing on one groundbreaking, world-changing discovery that millions of people use every single day.
Published:

19 October 2021

ISBN:

9781635924251

Imprint:

Astra Publishing House

Format:

Paperback

Pages:

32

RRP:

$12.99