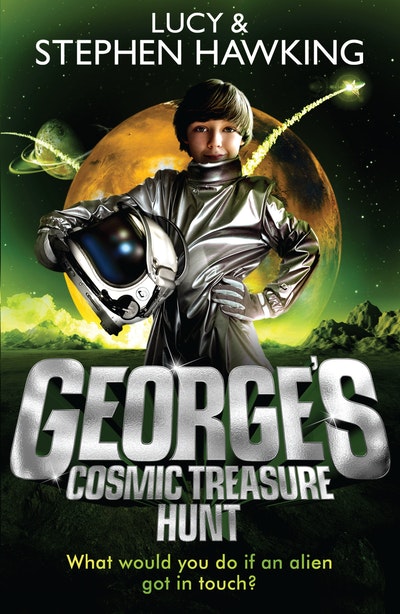 Published:

1 November 2012

ISBN:

9780552559614

Imprint:

Corgi Childrens

Format:

Paperback

Pages:

352

RRP:

$16.99
George's Cosmic Treasure Hunt
---
---
---
Following the smash-hit success of the George series, comes a second out-of-this-world adventure from Lucy Hawking and her father, Professor Stephen Hawking, the most famous science genius in the Universe! Plus there's exclusive, real-life information from the world's leading scientists - including Professor Hawking himself. Perfect for any curious mind.
'We are going,' said Annie, 'on a great cosmic journey. So listen up, Savers of Planet Earth, and prepare to meet the Universe.'
George's best friend Annie needs help. Her scientist father, Eric, is working on a space project - and it's all going wrong. A robot has landed on Mars, but is behaving very oddly. And now Annie has discovered something wierd on her dad's super-computer.
Is it a message from an alien? Could there be life out there? How do you find a planet in outer space? And if you could talk to aliens, what would you say?
Published:

1 November 2012

ISBN:

9780552559614

Imprint:

Corgi Childrens

Format:

Paperback

Pages:

352

RRP:

$16.99
Praise for George's Cosmic Treasure Hunt
As with Lucy Hawking's first book about George, this is an exciting tale for children, interspersed with some serious science. I came away from this one feeling that the short essays on all manner of spacey stuff could easily be used to teach people older than ten about astrophysics, too. There is something about getting the cream of space/physics/astronomy to write on serious subjects, but aimed at young children...It's not only astrophysics you get. There is a fair bit on the environment, too, and not all through George's parents, who are rather Green. Plenty of food for thought in here.

Bookwitch
I COULDN'T wait to get my hands on George's Cosmic Treasure Hunt, written by scientist and professor Stephen Hawking. Not only is it a brilliant adventure story that I didn't want to put down, but I learnt lots of scientific facts about the universe and enjoyed looking at the colour photos taken in space, too. A book to get readers interested in space and, as per the wish of its authors, a book that means you never stop asking: "Why?"

Sebastian Westwood, age 11, First News
What better way to interest young readers in science-and specifically in its relevance to the long-term survival of humankind-than for one of the world's most renowned theoretical physicists to put his subject at the center of a children's book? Stephen Hawking, his novelist daughter, and French physicist Galfard create two inquisitive, middle-school heroes, then send them on wondrous adventures through time and space

Publishers Weekly