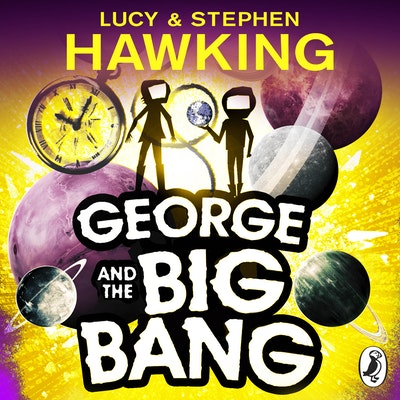 Published:

4 August 2011

ISBN:

9781446453155

Imprint:

Penguin Audio

Format:

Audio Download

Length:

6 hr 4 min

Narrator:

James Goode

RRP:

$19.99
George and the Big Bang
---
---
---
Following the success of GEORGE'S SECRET KEY TO THE UNIVERSE and GEORGE'S COSMIC TREASURE HUNT comes a third out of this world adventure from Lucy Hawking and Professor Stephen Hawking, the most famous science genius in the Universe!
Going back to the beginning of time . . . Discover the final chapter in this out-of-this-world adventure series!
One of the biggest science experiments of all time is about to take place - and George and Annie have got front-row seats! Eric, Annie's scientist dad, is heading to the Large Hadron Collider to explore the earliest moments of the Universe - the Big Bang. Armed with his trusty super-computer, Cosmos, nothing can possibly go wrong . . . until George and Annie discover a fiendish plot to destroy the experiment!
George is swept into a terrifying adventure - through wormholes, into far-flung galaxies and to the edge of knowledge itself - while he and Annie race to outwit a sinister group who are bent on the destruction of science . . . But will they succeed?
This incredible adventure story includes some of the latest scientific theories about time travel and the Big Bang, as well as special essays from some of the leading scientists in the world - including Professor Stephen Hawking himself!
"An engrossing and thrilling story, written with all the insight you would expect from these authors. Complemented by full colour photos of our galaxy and many pages of scientific facts, this is a really good read." ParentsinTouch.co.uk
Published:

4 August 2011

ISBN:

9781446453155

Imprint:

Penguin Audio

Format:

Audio Download

Length:

6 hr 4 min

Narrator:

James Goode

RRP:

$19.99
Praise for George and the Big Bang
An engrossing and thrilling story, written with all the insight you would expect from these authors. Complemented by full colour photos of our galaxy and many pages of scientific facts, this is a really good read.

Parents In Touch
World famous scientist Stephen Hawking and his daughter Lucy have created a third amazing adventure cleverly blended with real science...The latest theories of time travel and the Big Bang are all included in this great adventure which is brought vividly to life in the full colour photos of real images from space.

Julia Eccleshare, Love Reading 4 Kids
This gripping adventure sets your mind racing from the very first page. Add to that the equally as fascinating scientific facts provided by Stephen Hawking and what you have is a really great book to read.

Scribbler Magazine
For any children 9 years and over who are interested in science and space, this book would be a fantastic read...Great for those children who want a book to read that really makes them think. Although the science can be a bit complicated for children, the book also contains a series of brilliant factual sections... There are also several very interesting, child-friendly essays on the latest scientific theories, written by scientists such as Dr Stephen Hawking. Finally, as is all that wasn't enough, there are also lots of beautiful colour picture sections full of amazing photos of Earth, galaxies and our Solar System. This is a really good book, perfect for older children, with a good mix of fiction and non-fiction. Children will learn a great deal from the factual sections as well as enjoying a really exciting story. I would highly recommend it...Hopefully it will inspire the next generation of scientists.

The School Run
Taken for its story alone, these tales are rich enough to appeal to children of nearly all ages (and that's not a small claim), but there's more. As you might expect from a father and daughter team with the name of Hawking, there are some super powerful physics lessons embedded into both the plot, and as added nonfiction "further" information through the story. It's written at a perfect pitch for children - neither too complex to understand, nor too "dumbed down" to excite. Throughout each of the books, there's a palpable underlying sense of wonder in the point of discovery we're now at with physics, and children (adults too) will certainly feel that...A book like this could spark a love of science that might last a lifetime, but even at its simplest level, it's a great story... Either way, it's a fun filled ride full of drama, action, and above all, discovery.

Blog Critics