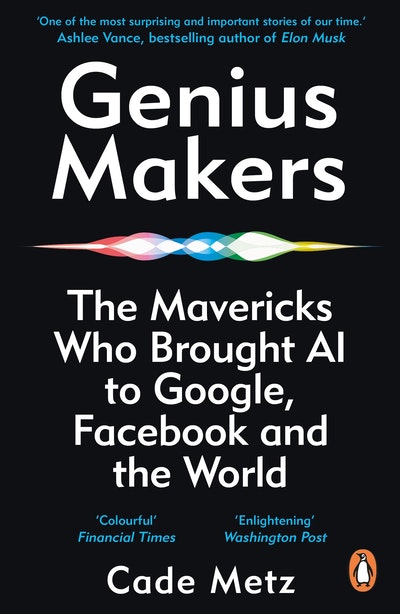 Published:

31 May 2022

ISBN:

9781847942159

Imprint:

Random House Business

Format:

Paperback

Pages:

320

RRP:

$22.99
Genius Makers
The Mavericks Who Brought A.I. to Google, Facebook, and the World
---
---
---
A ground-breaking account of the race to create Artificial Intelligence
'This colourful page-turner puts artificial intelligence into a human perspective . . . Metz explains this transformative technology and makes the quest thrilling.' Walter Isaacson, author of Steve Jobs
____________________________________________________

Long dismissed as a technology of the distant future, artificial intelligence was a project consigned to the fringes of the scientific community. Then two researchers changed everything. One was a 64-year old computer science professor and the other was a 36-year-old neuroscientist and chess prodigy. Though they took very different paths, together they helped catapult AI to the forefront of our daily lives and created a business worth billions.
This is the story of a technological revolution and the arms race it has sparked among companies such as Google, Microsoft, Facebook, and Elon Musk's OpenAI. It is also the story of the struggle between international powers, shareholder value, the pursuit of scientific knowledge, and the very human concerns about privacy, security, bias and prejudice that AI raises.
New York Times Silicon Valley journalist Cade Metz draws on unparalleled access to create an extraordinarily vivid account of an ongoing technological revolution. And he poses the question that will dominate the next half-century: where will AI take us next?
________________________________________________
'Metz tells his engrossing story through the lives of a dozen geniuses, scores of brilliant men (mostly), and an ongoing, cutthroat industrial and academic arms race . . . A must-read, fully-up-to-date report on the holy grail of computing.' Kirkus Reviews
Published:

31 May 2022

ISBN:

9781847942159

Imprint:

Random House Business

Format:

Paperback

Pages:

320

RRP:

$22.99
In Genius Makers, Cade Metz delivers the definitive take on how AI technology came to be and what its arrival will mean for us humans. The book relies on tireless reporting and delightful writing to bring to life one of the most surprising and important stories of our time. If you want to read one book to understand AI, this is the one.

Ashlee Vance, New York Times bestselling author of ELON MUSK
This colourful page-turner puts artificial intelligence into a human perspective. Through the lives of Geoff Hinton and other major players, Metz explains this transformative technology and makes the quest thrilling.

Walter Isaacson, #1 New York Times bestselling author of LEONARDO DA VINCI, STEVE JOBS and THE INNOVATORS
Cade Metz has produced an enthralling narrative of the advance of artificial intelligence. He describes the key personalities, the seminal meetings and the crucial breakthroughs with his customary eye for detail, building them into a dramatic history of this era-defining technology.

Kai-Fu Lee, author of AI SUPERPOWERS
This is the inside story of how AI entered Google, Facebook, and the rest of high tech. It is also the story of how Silicon Valley and its mega-bucks infiltrated AI and changed its course. Chock full of behind-the-scenes anecdotes and wry humour - we learn the true tale of the technology that is transforming humanity.

Oren Etzioni, chief executive, Allen Institute for Artificial Intelligence
One day soon, when computers are safely driving our roads and speaking to us in complete sentences, we'll look back at Cade Metz's elegant, sweeping Genius Makers as their birth story - the Genesis for an age of sentient machines.

Brad Stone, author of THE EVERYTHING STORE and THE UPSTARTS
The book is thorough and well researched. It provides a good grounding in the challenges and issues that AI has faced, and the big ethical issues that will need to be addressed going forwards too.It is also written in an accessible and non jargon heady manner, which ensures that it is a good read for the general reader . . . Overall it is a great read, thought provoking, readable and a really useful AI primer.

Irish Tech News
Colourful and readable . . . As computers steadily encroach into almost every corner of our lives, these AI researchers are emerging as the architects of our algorithmic age, shaping the information we absorb and the decisions we make. As you would expect from a New York Times technology reporter, Metz's book draws on extensive access and meticulous research.

John Thornhill, Financial Times
The book brings forth a compelling narrative that does not only put into perspective what AI means to us humans, but also tells a definitive story of how a project confined to the fringes of scientific community became a buzzword for humanity . . . it's a story that shows both the inventive best of humankind and its darker side.

British Asia News
I hope that Cade Metz is already working on the sequel to this . . . an author with a firm grip on his field, he makes a knowledgeable guide to the intriguing corners of Silicon Valley and beyond.

Times Higher Education