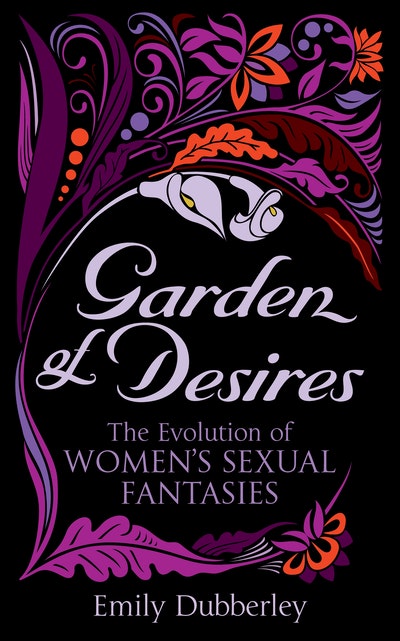 Published:

12 September 2013

ISBN:

9780753549810

Imprint:

Virgin Digital

Format:

EBook

Pages:

320
Garden of Desires
The Evolution of Women's Sexual Fantasies
---
---
---
A provocative new collection of women's sexual fantasies for the Fifty Shades generation
Female sexual fantasy began in 1973 with Nancy Friday's multi-million-selling collection of real women's fantasies, My Secret Garden. Until that book was published, female sexual fantasy did not exist; not even within the pages of Cosmopolitan, their opinion at the time being: 'Women do not have sexual fantasies, period. Men do.'
Friday's book changed all that. Now, exactly forty years on from Friday's masterpiece, leading sex writer Emily Dubberley is curating a brand new female fantasy classic for the modern era. It's a post-Fifty Shades, post-Sex and the City world and in Garden of Desires, hundreds of real women share details of their most private thoughts.
This is an exploration of the meaning of desire. Dare to read, dare to dream, and dare to discover the new truths of female sexuality. The stories are red hot and completely original. And they're going to make your heart beat faster – and make headlines nationwide.
Published:

12 September 2013

ISBN:

9780753549810

Imprint:

Virgin Digital

Format:

EBook

Pages:

320
Praise for Garden of Desires
Nancy Friday's My Secret Garden was a hugely influential book in my life, landing in the bookshops at a time when I was just beginning to learn about my own sexuality. It's fantastic to see it brought up to date in the highly capable hands of accomplished sex writer Emily Dubberley. A must read for anyone who has ever wondered what really goes on in a woman's head!

Suzanne Portnoy, erotic memoirist and bestselling author of The Butcher, the Baker, the Candlestick Maker.
What's so wonderful about Garden of Desires is the array of female voices. By taking into account all genders and sexual orientations, it perfectly demonstrates just how vast and varied female fantasies are. This is what makes Garden of Desires feel like it has fully bloomed.

Rose Crompton, sex writer and journalist
A worthy successor to Nancy Friday's groundbreaking work in the area.

Rob Page, founder of the Lovers' Guide
When Nancy Friday's My Secret Garden hit the bookshelves in 1973, there was a seismic shift in the world view of the female gender. For the first time, we had to acknowledge that women had sexual fantasies; in so doing, we also understood as never before what women's sexuality really meant. With Garden of Desires, Emily Dubberley brings that understanding up to date. She offers us not only the sexual fantasies of modern day women, but also a widely informed and deeply-thoughtful analysis of what those fantasies represent. Dubberly, like Friday before her, has changed the world view of the female gender.

Susan Quilliam, relationship psychologist and author of the new Joy of Sex
A worthy successor to Nancy Friday's groundbreaking work.

Rob Page, founder of The Lovers' Guide
What's so wonderful about the Garden of Desires is the array of female voices. By taking into account all genders and sexual orientations, it perfectly demonstrates just how vast and varied female fantasies are. This is what makes the Garden of Desires feels like it has fully bloomed.

Rose Crompton