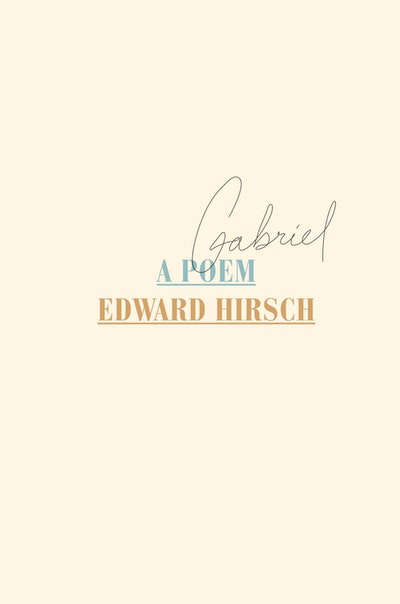 Published:

15 March 2016

ISBN:

9780804172875

Imprint:

Doubleday US

Format:

Trade Paperback

Pages:

96

RRP:

$26.99
Gabriel
---
---
Never has there been a book of poems quite like Gabriel, in which a short life, a bewildering death, and the unanswerable sorrow of a father come together in such a sustained elegy. This unabashed sequence speaks directly from Hirsch's heart to our own, without sentimentality. From its opening lines—"The funeral director opened the coffin / And there he was alone / From the waist up"—Hirsch's account is poignantly direct and open to the strange vicissitudes and tricks of grief. In propulsive three-line stanzas, he tells the story of how a once unstoppable child, who suffered from various developmental disorders, turned into an irreverent young adult, funny, rebellious, impulsive. Hirsch mixes his tale of Gabriel with the stories of other poets through the centuries who have also lost children, and expresses his feelings through theirs. His landmark poem enters the broad stream of human grief and raises in us the strange hope, even consolation, that we find in the writer's act of witnessing and transformation. It will be read and reread.
From the Hardcover edition.
Published:

15 March 2016

ISBN:

9780804172875

Imprint:

Doubleday US

Format:

Trade Paperback

Pages:

96

RRP:

$26.99
"Hirsch's poem Gabriel, is as raw, as relentless in its inconsolability, as anything I've read." --David Ulin, Los Angeles Times "Part tribute; part existential howl; part intellectual investigation of our most primal emotions; part novella-like, buoyant, unsentimental romp through the life of Hirsch's 'wild spirit, beloved son…'"--Emily Rapp, New York Times Book Review "Hirsch's lightening-lit portrait of and surging lament for his hurricane of a son is a courageous, generous, and reverberating epic of fatherly love and mourning."--Donna Seaman, Booklist, starred reivew "Embedded within Gabriel is a picaresque novella about a tempestuous boy and young man, a part Hirsch calls 'the adventures of Gabriel...' [The poet] Eavan Boland described Gabriel as 'a masterpiece of sorrow. . . the creation of the loved and lost boy is one of the poem's most important effects.'"--Alec Wilkinson, The New Yorker "Unpunctuated, unrhymed triplets serve Hirsch's grief and tell his story well. . . a near-unforgettable book-length verse memoir describing the life and death, the rambunctious childhood, the adventurous youth, the funeral, and the enduring memory, of the poet's only son."--Publishers Weekly "Gabriel resists sentimentality at every line break, though it is the most heartfelt poem I have read."--Tim Adams, The Observer   "Gabriel is an exquisite document of loss."--Michael Andor Brodeur, Boston Globe From the Hardcover edition.