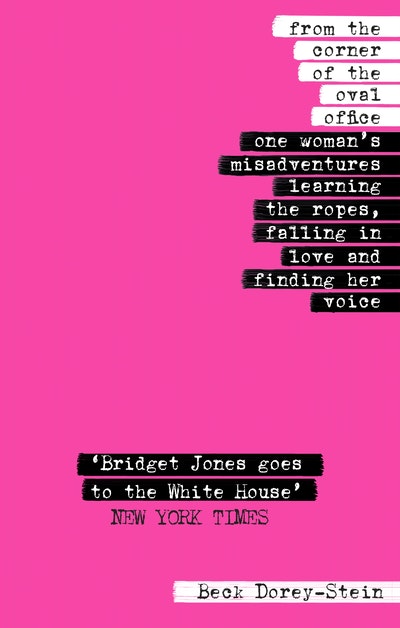 Published:

16 July 2019

ISBN:

9781784164126

Imprint:

Black Swan

Format:

Paperback

Pages:

352

RRP:

$22.99
From the Corner of the Oval Office
One woman's true story of her accidental career in the Obama White House
---
---
---
The compulsively readable, behind-the-scenes memoir that takes readers inside the Obama White House, through the eyes of a young staffer learning the ropes, falling in love and finding her place in the world
_____________________________
'If you've ever felt like you were out of your element, in over your head or working without a net, you will love this book. Funny, fast-paced, and so emotionally true it hurts.' Piper Kerman, author of Orange is the New Black
_____________________________
Guidelines for aspiring stenographers:
· Neutral tones set the tone
· Be discreet and neat - like a librarian or well-paid prostitute
· Breathe quietly or not at all
· Above all else, keep the secrets to yourself.
In 2012, Beck Dorey-Stein was just scraping by in Washington DC when an unusual job interview landed her in the Oval Office as one of Barack Obama's stenographers. She joined the elite team who accompanied the President wherever he went, recorder and mic in hand. On whirlwind trips across time zones, Beck forged friendships with a tight group of fellow travellers - young men and women who, like her, left their real lives behind to hop aboard Air Force One in service of the President. But as she learned the ropes of protocol, Beck became romantically entangled with a colleague, and suddenly, the political became all too personal.
Set against the backdrop of a White House full of glamour, drama and intrigue, this is the story of a young woman making unlikely friendships, getting her heart broken, learning what truly matters and discovering her voice in the process.
_____________________________
Praise for From the Corner of the Oval Office
'Who knew the West Wing could be so sexy? Beck's unparalleled access is obvious on every page, along with her knife-sharp humour... Lots of books claim to give real insider glimpses, but this one actually delivers.'
Lauren Weisberger, author of The Devil Wears Prada
'This memoir is good and gossipy, will make you wish that you got to hang out with Barack and Michelle on a daily basis and is the missing link between The West Wing and Bridget Jones's Diary.' Red
'Set against the backdrop of a White House full of glamour, drama and intrigue, this is the story of a young woman making unlikely friendships, getting her heart broken, learning what truly matters and discovering her voice in the process.' GLAMOUR's Best Books of 2018

Published:

16 July 2019

ISBN:

9781784164126

Imprint:

Black Swan

Format:

Paperback

Pages:

352

RRP:

$22.99
Praise for From the Corner of the Oval Office
Who knew the West Wing could be so sexy? Beck's unparalleled access is obvious on every page, along with her knife-sharp humour... Lots of books claim to give real insider glimpses, but this one actually delivers.

</i>Lauren Weisberger, author of <i>The Devil Wears Prada
A sassy, genuinely hilarious and poignant tale... This marvellously addictive read is worth the cover price for its insider account of Obama's presidency alone.

Caroline Sanderson, Bookseller
If you've ever felt like you were out of your element, in over your head, or working without a net, you will love this book. Beck Dorey-Stein offers an endlessly fascinating perspective on power and history in the making. This memoir is funny, fast-paced, and so emotionally true that it hurts.

</i>Piper Kerman, author of <i>Orange Is the New Black
Love and heartbreak, ambition and jealousy, whirlwind travel to exotic locales and more page-turning drama than your favourite addictive novel. Consider yourself warned: this is not your father's White House memoir.

</i>Camille Perri, author of <i>The Assistants
This memoir is good and gossipy, will make you wish that you got to hang out with Barack and Michelle on a daily basis and is the missing link between The West Wing and Bridget Jones's Diary.

Red
This memoir by a former Oval Office stenographer is equal parts racy, pacy and funny. From barely keeping her head above financial waters in Washington DC to hopping on board Air Force One with Barack Obama and his elite team, Dorey-Stein doesn't so much dish the dirt as mop up the mess left at her feet by the drama of politics and the heartbreak of romance.

Irish Independent
Hilarious . . . [Beck] Dorey-Stein writes with honesty and panache.

Publishers Weekly
If you're like me and you pour yourself a cocktail and look at pictures of Obama and cry, you will adore From the Corner of the Oval. If you're a normal person who ever wanted to be a fly on the wall in a singularly historic place in time, you will find this book fascinating. Beck Dorey-Stein's warmth, humor, and keen view made me wistful, happy, hopeful, and only sad when the book ended.

</i>Julie Klam, author of <i>The Stars in Our Eyes
An incredible story

GQ
An insider account of Obama's presidency in this fascinating memoir by former White House staffer Beck Dorey-Stein

Good Housekeeping
Intriguing and funny

Prima
Bright pink and zinging with energy and sparkle...this book beautifully recaptures those vanished days of Obama's gentle wisdom. What makes it stand out among fly-on-the-wall accounts of the White House is Beck's honesty about the roller-coaster love affair she embarks on with a senior staffer, a grade-one, Jilly-Cooper-novel rotter.

Daily Mail
Sex, lies and the White House... Dorey-Stein details her extraordinary experiences at the side of the former leader of the free world. Incredible.

Telegraph
An entertaining behind-the-scenes memoir of a young Obama White House staffer.

Lorraine Candy, Sunday Times Style Magazine
As someone who loves The West Wing, From the Corner of the Oval Office spoke to my geeky heart and gives great, sometimes surprising, insights into what it's like to work for one of the most powerful person on the planet.

Sarah Shaffi, Stylist
Addictively readable... From the Corner of the Oval shatters the genre of the Washington memoir. Dorey-Stein writes with a fine eye for detail and conveys it with freshness, candor and humor. She takes her readers with her on a vertiginous tour of the world [...] and her sparkling, crackling prose had me cheering for her through each adventure. She never loses her starry-eyed optimism, her pinch-me wonderment, her "Working Girl" pluck. Which makes From the Corner of the Oval somehow, against the odds, a story of hope

Paul Begala, New York Times
A White House story with shades of Bridget Jones... Dorey-Stein is perceptive and has made an unusually interesting contribution to the groaning shelves of presidential history.

Evening Standard
Delightful... a bit Legally Blonde. What's most surprising about this isn't the hot pink cover, it's that we haven't had such a book before. Washington DC is famously a city of eager twentysomethings who work and date within the same pool. Where has the workplace relationship comedy been this whole time?

Mail on Sunday
For five years Beck Dorey-Stein was a stenographer in the White House, giving her a front-row seat as US political history was made.

Observer
An entertaining, relatable and refreshingly frank guide to life in the orbit of the President... This lively, entertaining story offers a joyful nostalgia trip back to more hopeful times.

Express
An extraordinary behind-the-scenes glimpse into Obama's White House, from a young woman who stumbles her way almost by chance into a job as a stenographer amongst the inner circle of the West Wing. Dorey-Stein's memoir navigates intimate liaisons and world history, from hotel gyms to Air Force One.

Vogue
[This] breezy page turner is essentially Bridget Jones goes to the White House.

New York Times
Set against the backdrop of a White House full of glamour, drama and intrigue, this is the story of a young woman making unlikely friendships, getting her heart broken, learning what truly matters and discovering her voice in the process.

Glamour's best books to read in 2018
An apolitical, fundamentally human story, and one with which many women will identify.

Refinery29