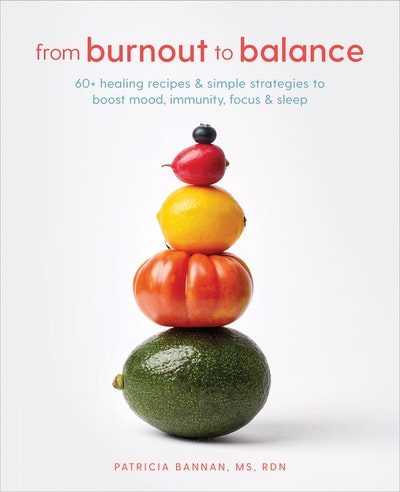 Published:

18 January 2022

ISBN:

9780593232422

Imprint:

Harmony/Rodale

Format:

Paperback

Pages:

240

RRP:

$34.99
From Burnout to Balance
60+ Healing Recipes and Simple Strategies to Boost Mood, Immunity, Focus, and Sleep
---
---
A complete food and wellness guide featuring 80 recipes specifically designed to combat the challenging symptoms of burnout: stress, anxiety, depression, fatigue, weakened immune system, inability to focus, and disrupted sleep.
We've all had those days whenwe're just trying to hold it all together. But when "one of those days" turns into weeks, then months, then longer, you start to feel like you're drowning. Stress, anxiety, depression, and fatigue come creeping in. Your immune system goes haywire, your sleep schedule goes out the window, and your brain feels like it's turning to mush. You know that something has to change, but when you're spending all your energy just trying to keep your head above water, change feels impossible.
If this sounds like you, From Burnout to Balance is here to be your life preserver. Patricia Bannan, MS, RDN, has been where you are now and knows how to break the cycle. She explains the science of burnout and shares compassion, stories, support, and guidance to improve the areas of your life that burnout hits hardest: mood, focus, immunity, and sleep.Then, she offers week-long meal plans for each symptom along with 60 super-charged, delicious recipes that combine the vital nutrients your body needs to combat that symptom.
If spending time and energy on meal plans and cooking sounds like the last thing you want to do, know that the recipes are designed for simplicity and the book is packed with tips and shortcuts to make your life easier. Recipes include vegan, one-dish,kid-friendly, freezable, and 15-minutes or less options, and time-saving tricks like "Nearly No-Cook" meals will get nourishing food on the table with nothing more than some savvy pantry picks.There are no strict rules to follow—just a guiding hand reaching out to help bring balance back into your life.
Published:

18 January 2022

ISBN:

9780593232422

Imprint:

Harmony/Rodale

Format:

Paperback

Pages:

240

RRP:

$34.99