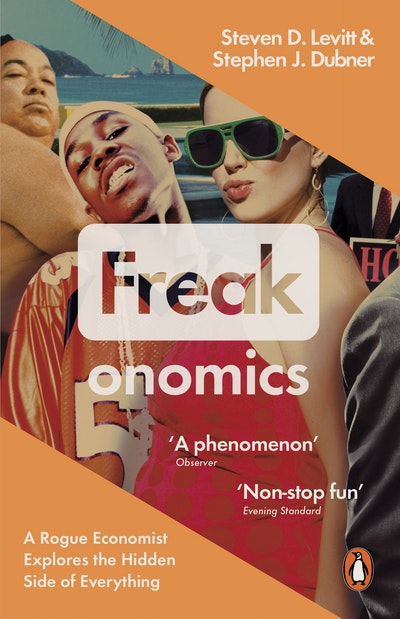 Published:

5 June 2006

ISBN:

9780141019017

Imprint:

Penguin Press

Format:

Paperback

Pages:

320

RRP:

$24.99
Freakonomics
---
---
Assume nothing, question everything.
This is the message at the heart of Freakonomics, Levitt and Dubner's rule-breaking, iconoclastic book about crack dealers, cheating teachers and bizarre baby names that turned everyone's view of the world upside-down and became an international multi-million-copy-selling phenomenon.
'Prepare to be dazzled' Malcolm Gladwell
'A sensation ... you'll be stimulated, provoked and entertained. Of how many books can that be said?' Sunday Telegraph
'Has you chuckling one minute and gasping in amazement the next' Wall Street Journal
'Dazzling ... a delight' Economist
'Made me laugh out loud' Scotland on Sunday
%%%Steven D. Levitt & Stephen J. Dubner's Freakonomics: A Rogue Economist Explores the Hidden Side of Everything is the cult bestseller that will show you a totally new way of seeing the world.
What do estate agents and the Ku Klux Klan have in common?
Why do drug dealers live with their mothers?
What do schoolteachers and sumo wrestlers have in common?
How can your name affect how well you do in life?
The answer: Freakonomics. It's at the heart of everything we do and the things that affect us daily, from sex to crime, parenting to politics, fat to cheating, fear to traffic jams. And it's all about using information about the world around us to get to the heart of what's really happening under the surface of everyday life.
Now updated with the authors' New York Times columns and blog entries!
'A phenomenon' Observer
'Non-stop fun' Evening Standard
'Brilliant ... you'll be stimulated, provoked and entertained. Of how many books can that be said?' Sunday Telegraph
Steven Levitt, the man with 'the most interesting mind in America' (Malcolm Gladwell), is the rogue economist whose controversial ideas have caused a sensation on both sides of the Atlantic. In Freakonomics he joins forces with Stephen Dubner, New York Times and New Yorker journalist and bestselling author of Turbulent Souls and Confessions of a Hero Worshipper, to create a gripping, revolutionary new take on the world.
%%%Steven D. Levitt & Stephen J. Dubner's Freakonomics: A Rogue Economist Explores the Hidden Side of Everything is the cult bestseller that will show you a totally new way of seeing the world.
What do estate agents and the Ku Klux Klan have in common?
Why do drug dealers live with their mothers?
What do schoolteachers and sumo wrestlers have in common?
How can your name affect how well you do in life?
The answer: Freakonomics. It's at the heart of everything we do and the things that affect us daily, from sex to crime, parenting to politics, fat to cheating, fear to traffic jams. And it's all about using information about the world around us to get to the heart of what's really happening under the surface of everyday life.
Now updated with the authors' New York Times columns and blog entries!
'A phenomenon' Observer
'Non-stop fun' Evening Standard
'Brilliant ... you'll be stimulated, provoked and entertained. Of how many books can that be said?' Sunday Telegraph

Published:

5 June 2006

ISBN:

9780141019017

Imprint:

Penguin Press

Format:

Paperback

Pages:

320

RRP:

$24.99