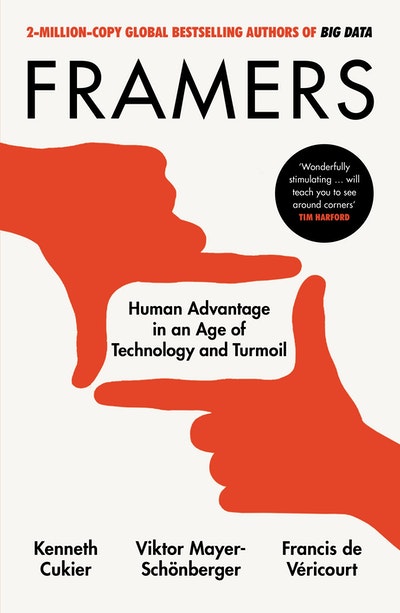 Published:

13 July 2021

ISBN:

9780753554982

Imprint:

WH Allen

Format:

Hardback

Pages:

352

RRP:

$39.99
Framers
Human Advantage in an Age of Technology and Turmoil
---
---
---
The breakout bestselling authors of Big Data now turn to what data can't accomplish: the power of human ingenuity and ability to frame new questions to get better results than anyone could have previously imagined.
As technology and artificial intelligence advances, are humans at risk of becoming obsolete?
No. Humans have a unique ability to think around any problem and find fresh ways to frame it in different ways. This crucial skill is an overlooked aspect of what has made humans so successful as a species, but it's one we must learn to do better to manage a complex future.
Frames are mental models of the world that we use to understand problems, and come up with new or refined solutions. From Copernicus to the Wright Brothers to the discovery of biomarkers for PTSD, Framers builds upon surprising and fascinating examples to show how we can choose the best frames and switch between them as the situation demands. The better we are at doing so, the more certain we can be that control over the most important decisions will remain in the hands of people rather than machines.
Framers will change how you think about human potential, teach you the power of dreaming with constraints, letting your mind wander in a methodical and structured way. It will show you a way to improve how to make decisions in the era of algorithms, and how to develop the key skills to prosper amid the growing power of the machine age.
Published:

13 July 2021

ISBN:

9780753554982

Imprint:

WH Allen

Format:

Hardback

Pages:

352

RRP:

$39.99