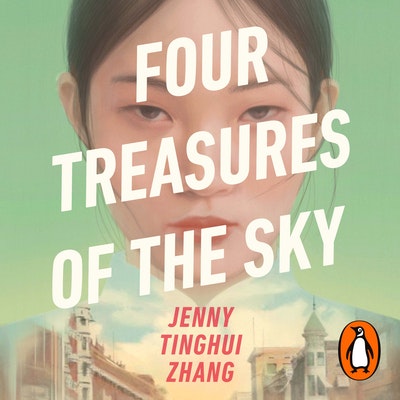 Published:

28 April 2022

ISBN:

9781405952446

Imprint:

Penguin Audio

Format:

Audio Download

RRP:

$26.00
Four Treasures of the Sky
---
---
---
A powerful debut of race, gender, heritage and survival, set against the backdrop of nineteenth-century America
Daiyu is the orphaned daughter of a once influential, now missing, family. Alone and on the streets, she must rely on her wits to discover what happened to her family.
But when Daiyu is kidnapped and smuggled from China to America, she relinquishes the future she imagined.
Over the years that follow, she is forced to reinvent herself to survive. From a calligraphy school to a San Francisco brothel, to a shop tucked into the Idaho mountains of the Wild West, we follow Daiyu on a desperate quest to outrun the tragedy that chases her. As anti-Chinese sentiment sweeps across the country in a wave of unimaginable violence, Daiyu must draw on each of the selves she has been - including the ones she most wants to leave behind - in order to finally claim her own name and story.
Published:

28 April 2022

ISBN:

9781405952446

Imprint:

Penguin Audio

Format:

Audio Download

RRP:

$26.00
Praise for Four Treasures of the Sky
An engulfing, bighearted and heartbreaking novel. Illuminates shocking injustices, making us stop and consider how many survive to this day

Ann Patchett, author of Women's Prize longlisted <i>The Dutch House</i>
A sweeping adventure of identity, love and belonging

C Pam Zhang, Man Booker longlisted author of <i>How Much of These Hills are Gold</i>
Brilliant and devastating. Four Treasures of the Sky tells the story of Daiyu, who is brought to America against her will and forced to hide who she is even as she grows into her true self. Weaving together myth and history, Zhang's work is both timeless and utterly necessary right now.

Anna North, author of the <i>New York Times</i> bestseller <i>Outlawed</i>
An instant and necessary classic, easily among the best novels of this past decade. The story lingers long after its final pages

T Kira Madden, author of <i>Long Live the Tribe of Fatherless Girls</i>
This unforgettable novel dazzles. An exhilarating rush of character, history and storytelling

Kali Fajardo-Anstine, US National Book Award finalist author of <i>Sabrina & Corina</i>
An astonishing novel propelled by private and public histories, rich with reflections on self-making, moral calling, great love, and profound injustice

Megha Majumdar, author of <i>A Burning</i>
Brings alive a heroine for the ages, an indomitable teenage girl whose relentless spirit and self-reinvention carries this story. Daiyu is sure to take her place in the canon of great Western heroines next to True Grit's Mattie Ross

Juliet Grames, author of <i>The Seven or Eight Deaths of Stella Fortuna</i>
This book is haunting, luscious and precise - it's historical fiction as we most want and need it to be. Four Treasures of the Sky paints a neglected chapter in history with sharp and devastating brushstrokes

Julia Fine, author of <i>The Upstairs House</i>
A lyrical and sweeping Bildungsroman, fierce and moving

Publishers Weekly, starred review
A sweeping adventure of identity, love, and belonging

C Pam Zhang, Man Booker longlisted author of 'How Much of These Hills are Gold'
An exhilarating rush of character, history, and storytelling. This unforgettable novel dazzles

Kali Fajardo-Anstine, National Book Award finalist author of 'Sabrina & Corina'
An instant and necessary classic, easily among the best novels of this decade. The story lingers long after its final pages

T Kira Madden, acclaimed author of 'Long Live the Tribe of Fatherless Girls'
Brilliant and devastating. Weaving together myth and history, it is both timeless and utterly necessary right now

Anna North, 'Outlawed'
An engulfing, bighearted, and heartbreaking novel. Illuminates the shocking injustices suffered in the 1800s, and in doing so, makes us stop and consider how much of that cruelty and injustice survives to this day

Ann Patchett