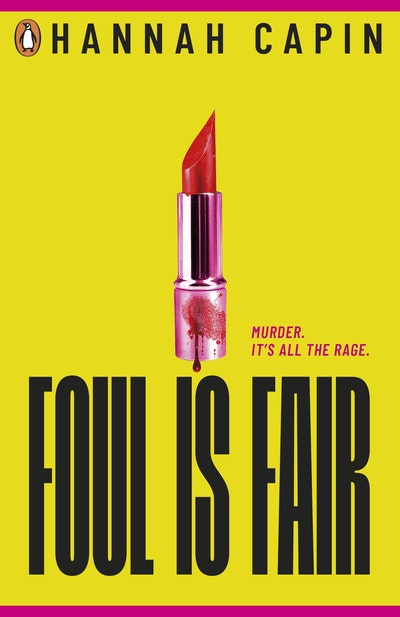 Published:

21 January 2020

ISBN:

9780241404973

Imprint:

Penguin

Format:

Paperback

Pages:

336

RRP:

$22.99
Foul is Fair
a razor-sharp revenge thriller for the #MeToo generation
---
---
---
Intensely voice-driven, hugely compelling and brilliantly savage, this roaring rampage of a revenge novel is a YA thriller unlike any other
In the morning I put on going-out makeup, and I go to Nailed It with a coffee so hot it burns my throat. The old lady gives me new nails and looks at the bruises on my neck and the scratches across my face, but she doesn't say anything.

So I point at my hair, and I say, This color. You know what it's called?
She shakes her head: No.
I say, REVENGE.
Jade Khanjara and her three best friends rule their glittering LA circle. They decide how the party ends - every night but one. The night four boys spike Jade's drink, and brutally attack her. The night they try to ruin her.
But they chose the wrong girl. Certain that the boys will face no consequences, Jade and her friends take vengeance into their own hands. Now there's no mercy left, and Jade won't rest until she gets bloody satisfaction . . .
Published:

21 January 2020

ISBN:

9780241404973

Imprint:

Penguin

Format:

Paperback

Pages:

336

RRP:

$22.99
Capin's writing will seduce you with its beauty and then, when you least suspect it, slice you to the bone - just like Foul is Fair's captivating, vicious, entirely unforgettable heroine, Jade

Layne Fargo, author of Temper and co-host of Unlikeable Female Characters podcast
Fierce, vicious, and electric. If books had teeth, Foul Is Fair would have fangs. Capin's language glitters dark and her writing cuts deep. Revenge is a dish best served by this deliciously unapologetic coven

Laurie Elizabeth Flynn, author of Firsts and Last Girl Lied To
Vicious and beautifully brutal, Foul is Fair gives a sword to every girl who has ever been a victim and makes them a warrior. This book is pulls no punches . . . An unapologetic feminist battle-cry that leaves you breathless and thirsting for vengeance

Sonia Hartl, author of Have a Little Faith in Me
Foul is Fair delivers the story of a girl who snatches control back from a world that stole it away, through whatever means necessary. Hannah Capin deftly combines stunningly lyrical prose with the raw power of engulfing fury, sending a message written in blood. In a world where too many are forced into silence, this book roars back

Sophie Gonzales, author of The Law of Inertia and Only Mostly Devastated
Jade does what uncounted sexual assault survivors have dreamed of doing - she takes matters into her own hands. What ensues is part [...] revenge fantasy, part diabolically well-planned manipulation, and it's all done in lyrical prose that feels dreamy and so much like Shakespeare. A gorgeous, scorchingly emotional novel

Wendy Heard, author of Hunting Annabelle and The Kill Club and cohost of Unlikeable Female Characters podcast
[A] dark, brutal revenge fantasy, sharply feminist and brimming with melodic prose. Capin's sophomore novel is bloody brilliant - exceedingly bloody, and every bit as brilliant

Dana Mele, author of People Like Us
Rhythmic, propulsive prose drives this bloody retelling of Macbeth at a relentless pace all the way to its violent end...impossible to put down.

Kirkus
This revenge fantasy told from the point of view of a rape survivor will shock and awe.

School Library Journal
Fierce, ruthless and unputdownable

Karen McManus, bestselling author of One Of Us Is Lying
Post-#MeToo, novels aimed at teenage girls frequently revolve around topics of consent, slut-shaming and revenge porn. The haste to be timely can mean half-cooked ingredients, something Hannah Capin's Foul Is Fair could never be accused of: rather Capin turns the heat up high to roast setting...wicked fun!

Financial Times
This isn't a how-to-murder-your-classmates manual; it's a ferocious, frenzied reaction to a world that has, for too long, treated women as collateral damage in stories that have been deemed more important than theirs ... Jade's first-person narrative, steeped in rage and drenched, unapologetically, with gore, moves at a relentless pace.

Booklist, starred review
Capin's twisty, blood-soaked take on Shakespeare's play is a propulsive, white-hot juggernaut of vengeance that packs a viscerally satisfying punch.

Publishers Weekly
This book is not to be missed.

Paste
A tale of power and retribution - Macbeth for Gen Z

The Sun
Rhythmic, propulsive prose drives this bloody retelling of Macbeth at a relentless pace all the way to its violent end...impossible to put down.

Kirkus
[A] dark, brutal revenge fantasy, sharply feminist and brimming with melodic prose. Capin's sophomore novel is bloody brilliant - exceedingly bloody, and every bit as brilliant

Dana Mele, author of People Like Us
Capin's writing will seduce you with its beauty and then, when you least suspect it, slice you to the bone - just like Foul is Fair's captivating, vicious, entirely unforgettable heroine, Jade

Layne Fargo, author of Temperand and co-host of Unlikeable Female Characters podcast
Fierce, vicious, and electric. If books had teeth, Foul Is Fair would have fangs. Capin's language glitters dark and her writing cuts deep. Revenge is a dish best served by this deliciously unapologetic coven

Laurie Elizabeth Flynn, author of Firsts and Last Girl Lied To
Vicious and beautifully brutal, Foul is Fair gives a sword to every girl who has ever been a victim and makes them a warrior. This book is pulls no punches . . . An unapologetic feminist battle-cry that leaves you breathless and thirsting for vengeance

Sonia Hartl, author of Have a Little Faith in Me
Foul is Fair delivers the story of a girl who snatches control back from a world that stole it away, through whatever means necessary. Hannah Capin deftly combines stunningly lyrical prose with the raw power of engulfing fury, sending a message written in blood. In a world where too many are forced into silence, this book roars back

Sophie Gonzales, author of The Law of Inertia and Only Mostly Devastated
Jade does what uncounted sexual assault survivors have dreamed of doing - she takes matters into her own hands. What ensues is part [...] revenge fantasy, part diabolically well-planned manipulation, and it's all done in lyrical prose that feels dreamy and so much like Shakespeare. A gorgeous, scorchingly emotional novel

Wendy Heard, author of Hunting Annabelle and The Kill Club and cohost of Unlikeable Female Characters podcast